Madigan made… simple DIY gold and cement paper weight crafts.
Even though our world is constantly becoming more and more paperless…. I have a thing for paperweights. I don't know why. Maybe it is because they are small, dense, cute and useful. They hold your papers down with purpose and style.
And I must say that a paperweight is THE simplest concrete craft! It is the perfect project for newbies that might be nervous working with cement.
Interested in crafting with concrete?  Please check out my simple concrete craft tips for a full supply list and detailed step-by-step instructions to make a concrete project.
In addition to the supplies listed in that post, for this project you will need two empty small plastic containers for your molds. I used an empty yogurt and a fruit cup container for mine.  If desired, you can grab some brass tacks and gold craft paint if you want, too.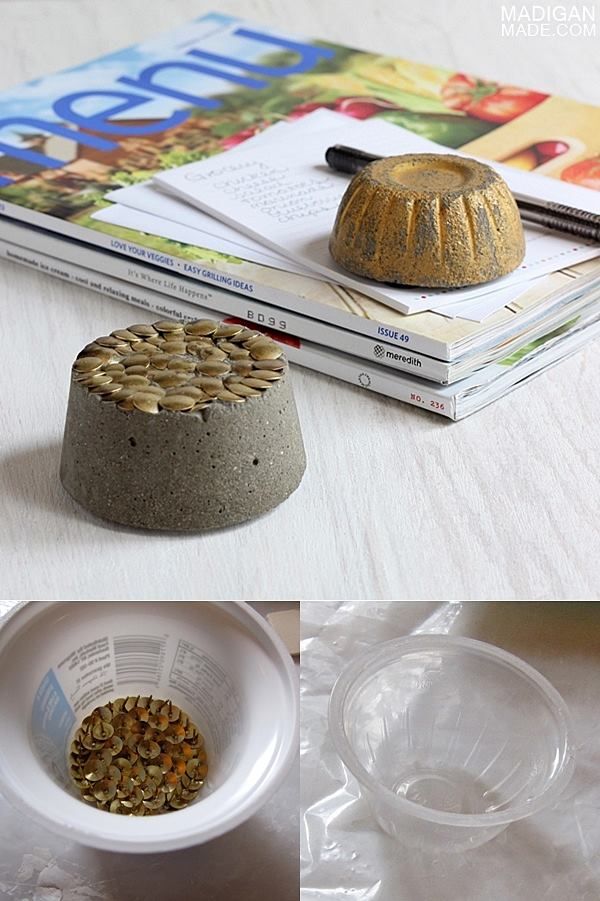 If you like the embedded 'tack' look at the top of your paperweight, arrange a layer of brass tacks in the bottom of your container with the sharp ends pointing up before pouring concrete on top.  Just be careful not to disturb the layer of tacks as you pour. Instead of tacks, you also could try some pretty decorative rocks or shells, too.
Once the cement is cured  and you peel away the plastic, you can use a sanding block to level any rough surfaces on the 'bottoms' of each paperweight. Carefully chip and/or brush away any concrete around the brass tacks that you don't like, too.
If desired, paint your concrete piece with gold craft paint (or any color you like!).  I liked the textures and shapes I got with a fruit cup container, so I roughly brushed on some gold craft paint and wiped/sanded away the color in some parts. It left the gold paint in the crevices but the concrete showed through in the raised areas.
The tacks stayed securely in the cement… and I noticed that if the concrete got around the tack to the bottom of the container, it reacted with the surface of the metal and turned the color a little in some places. I kinda like the burnt effect.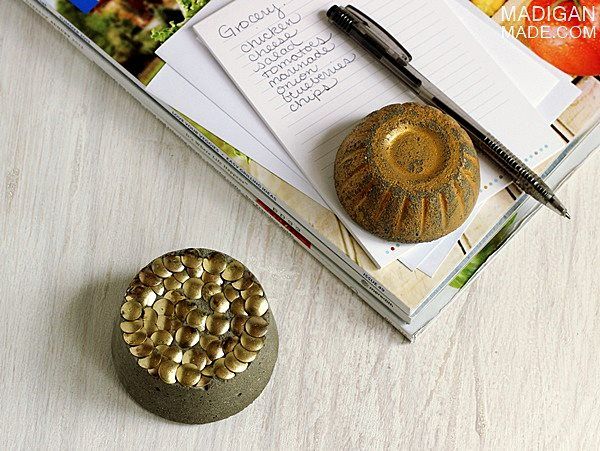 I sprayed my cement pieces with a sealant spray, too. (I did not go out and buy special cement sealer, I just used a clear enamel based spray that I already had on hand.) This kept the pieces from feeling a little dusty when handled.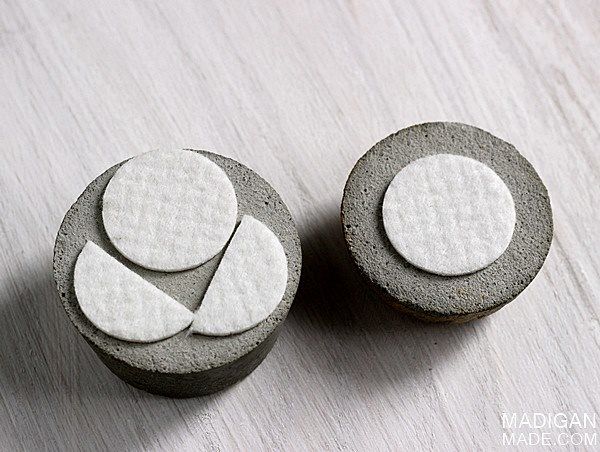 I attached stick-on furniture pads attached to the bottoms of each paperweight to protect my furniture from the risk of scratches.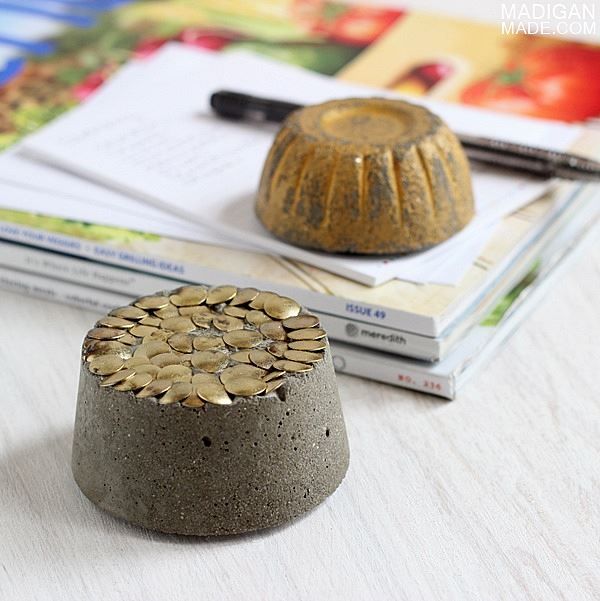 These weights were so easy to make, I want to experiment and make a bunch more in other colors or shapes. (I love paperweights, remember?)
I love how the rough, pedestrian concrete looks against the lux tones of the brass colors. I think these paperweights would make a fun handmade gift for someone.
Nothing says "I love you" like a large rock with a little gold, right?
Thanks for reading Madigan Made!
Content Copyright:2010-14. Madigan Made.