Madigan made… a gold and Lucite tray from an old frame.
Sometimes my mind is blown by the simplest, easiest tip.
Want to jump on the trendy Lucite train? Sure you do. Clear goes with everything. Plus, I promise that a clear tray is easy and cheap to create.
Now, I cannot take credit for this genius idea… I learned this Lucite décor hack from the talented Aunt Peaches. Just grab one of those cheap-y cheap clear box frames that no one uses anymore. You can buy it new, but I found my small one for under a buck at the thrift store. Remove the interior cardboard, clean it up and flip it over. Instant clear Lucite tray!
Now, I like the idea of a plain, clear tray but part of me wanted to add something to the bottom of the tray. (And yes, one reason was because the plastic of my tray was a little scratched and beat up!) I thought about using decorative paper, contact paper or vinyl on the bottom… but I decided to go with a tried and true method. Really, this should come as no surprise to my regular readers.
I think you heard this from me before… but when in doubt, the answer is always glitter. Gold glitter this time! (I'm on a roll this month, I know. Glitter tables. Glitter books. Glitter candles. I can't stop!)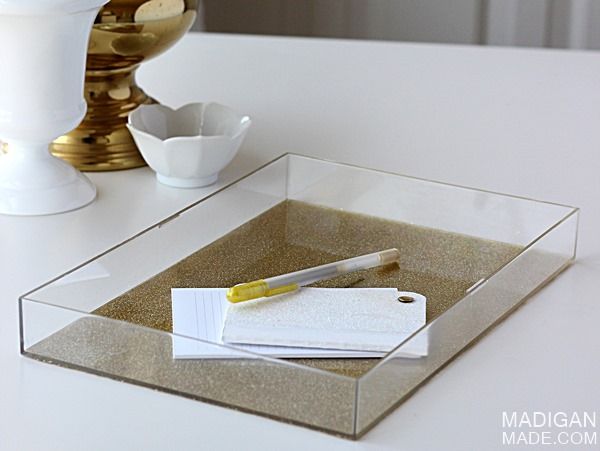 Want to see how to make it?
Gold Glitter and Lucite DIY Tray
Supplies used:
Clear plastic frame, with cardboard insert removed and cleaned
Glitter
Decoupage
Brush
Plate or paint tray
Painter's tape
Clear sealant spray
Clear cabinet bumpers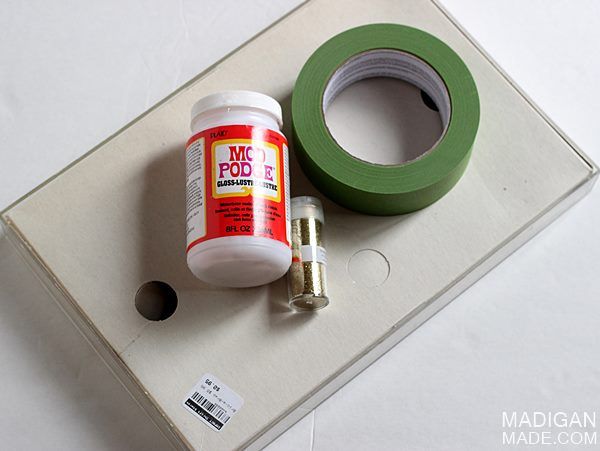 Instructions:
Tape off the edges of the bottom of the tray.
On your plate, mix some glitter into the decoupage. Brush a thick coat of the glitter mix onto the bottom of the tray.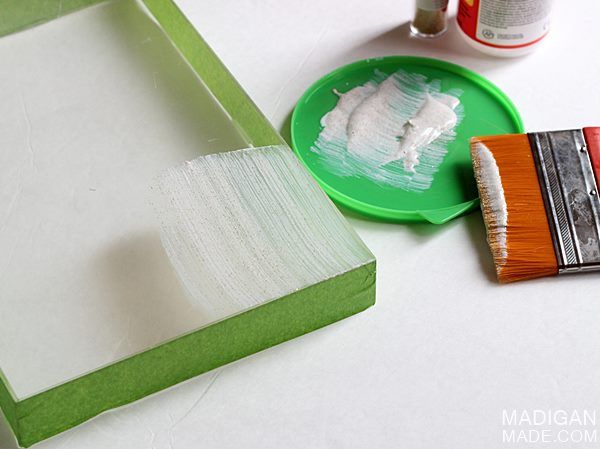 Shake more glitter over top of that layer. Allow the glue to dry and shake off any excess glitter. Repeat, if needed to get an even coat of glitter on the bottom of your tray and then remove the tape.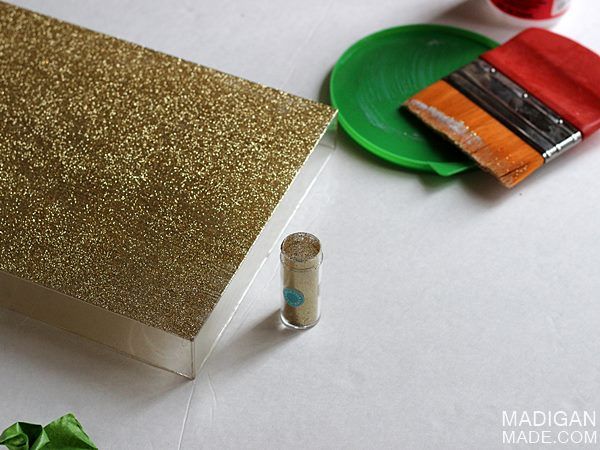 Once the decoupage is fully dry, I highly recommend sealing it to protect the decoupage. (Decoupage on plastic is always a little tricky. It is a bit of a trial and error. Sometimes the glue does peel up for me, so any protection you can offer it is a good thing.) I  retaped the sides and sprayed several light coats of a sealer over the bottom and then removed the tape while still wet.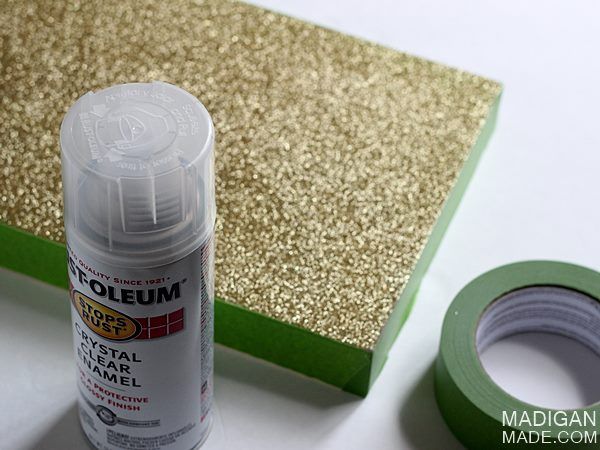 Once that was dry, to protect the bottom even more I attached some clear, stick-on cabinet bumpers to each corner.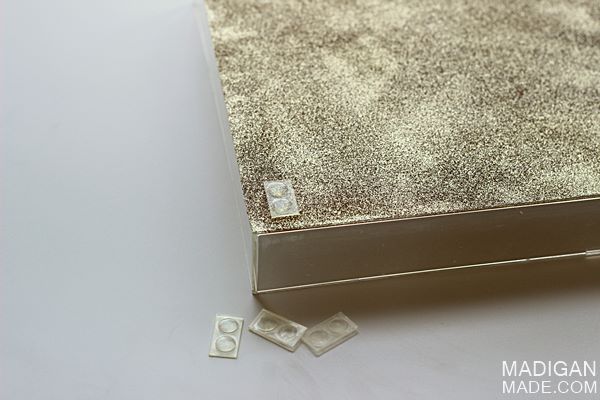 I'll still need to handle the bottom of this tray with care. The decoupage could start to peel if I got a big scratch in the surface. Since most of the wear and tear will occur on the inside of the tray, I think the bottom will be pretty safe if I don't move the tray around much.
I plan to use this tray on my gold bamboo edged desk in my office to corral all my office supplies. But I wanted to show the tray to you kinda empty so we can all oooh and aahhh over the pretty sparkle.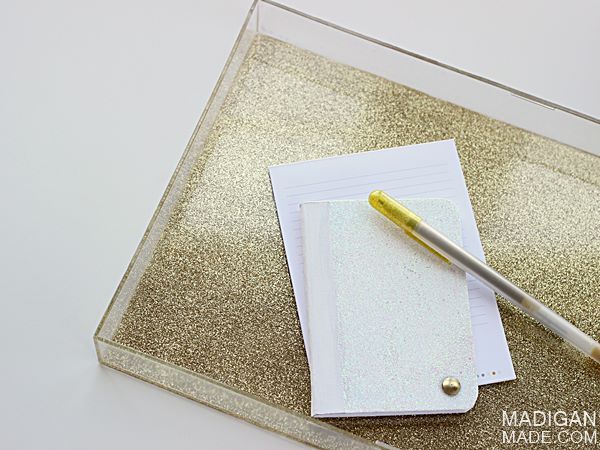 Together now: OoooOoooh. AaaAaahh.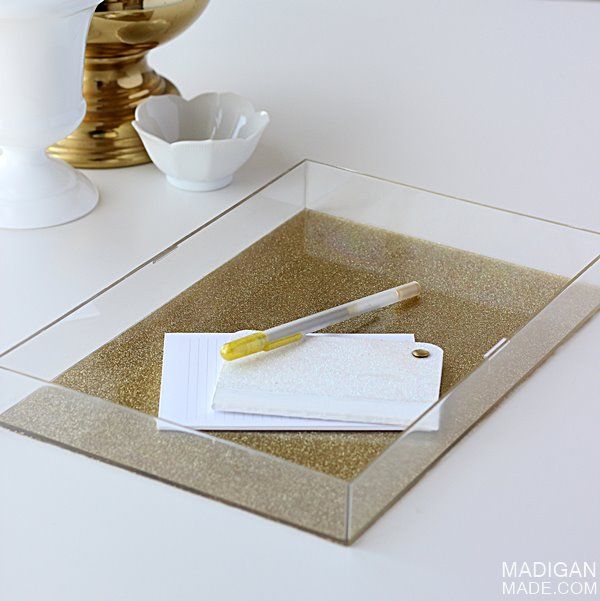 Glitter and clear plastic? Love this combo. And I'm lovin' how easy this tray was to create!
Thanks for reading Madigan Made!
Content Copyright:2010-14. Madigan Made.