This post brought to you by FrogTape brand painter's tape. All opinions are 100% mine.
Madigan made… a painted jar candle craft.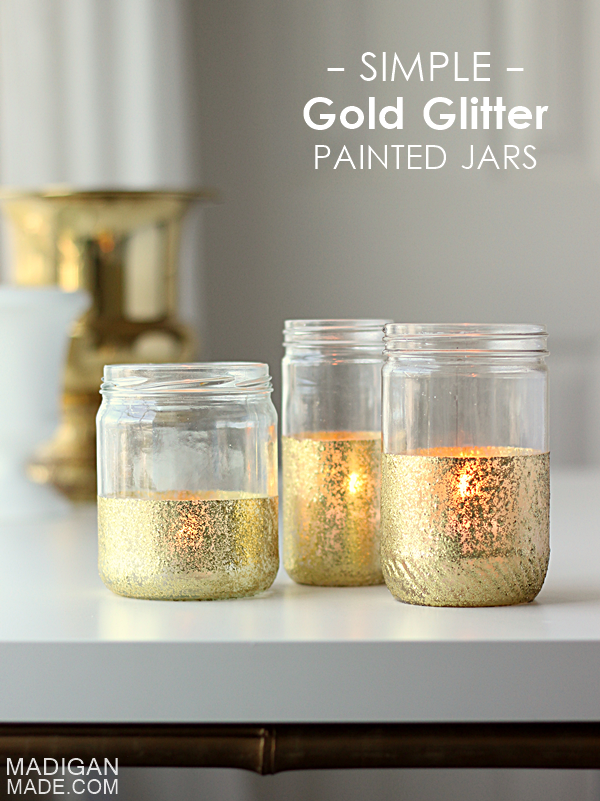 Here are six things I never seem to tire of: Easy crafts. Gold hues. Recycled projects. Painting. GLITTER. Candles.
This simple jar project has all of those qualities…  and I am in love with the end result!
I recently receive a roll of  FrogTape painter's tape and wanted to make a paint project for my fall decor.  I was thrilled to hear that this multi-surface painter's tape can be used on many surfaces like unfinished wood, metal, glass, carpet and stone. Apparently, the tape has PaintBlock® technology that seals the edges of the tape, which helps prevent paint from bleeding. A super absorbent polymer on the tape reacts with the water in latex paint and instantly gels to form a barrier with the surface. I love a good, crisp paint line, so I was excited to try out this tape!
I decided to use the tape with some empty jars from our recycling bin to create sparkly candle holders with glass paint. (I was inspired by these pretty vases at The Sweetest Occasion.)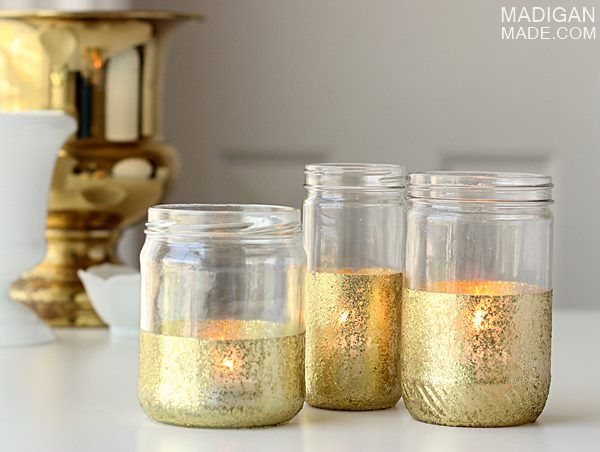 Want to see how to make them? It is really easy!
DIY Glitter Covered Jars
Supplies used:
Empty jars
FrogTape®
Alcohol (rubbing or isopropyl)
Brush
Craft paint (designed for glass)
Candles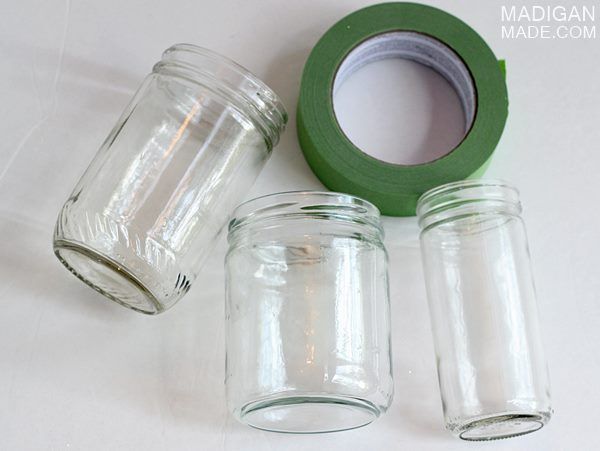 How to paint jars for a dipped effect:
First, I cleaned out my jars and removed the labels. Right before I was ready to paint, I cleaned the outside of the glass with alcohol.
I wanted to paint the outside, bottom area of the jars with a water-based craft paint. I used a paint that could be applied to glass and that contained glitter. When in doubt, go for the glitter, right? (If you wanted tips about the types of glass paints that I like to use, please read my advice for using glass paint.)
I took strips of the Frog Tape® and wrapped the tape around the top of each jar, being sure to press the tape firmly and evenly onto the glass (more on that below).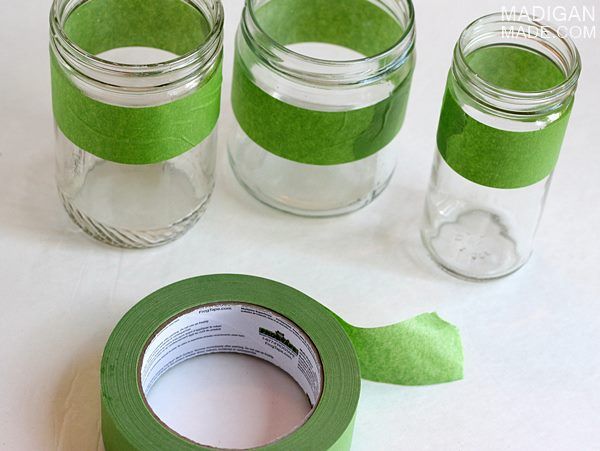 Then, I brushed on my gold glitter paint. Now, normally when painting with tape, it is highly recommended to remove the tape right after you apply (while the paint is still wet) so you get a nice, crisp line in the paint.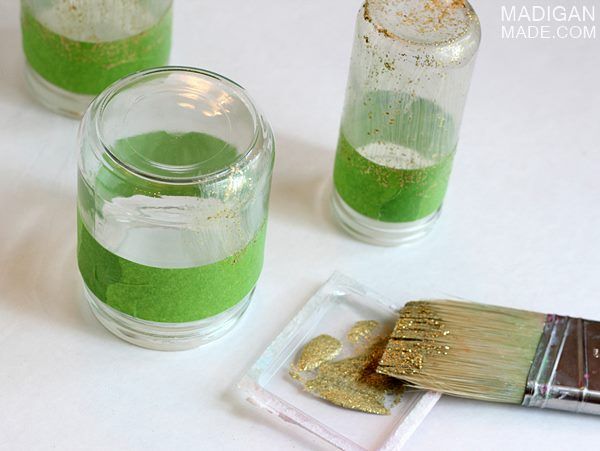 But, as you can see, glitter paint does not cover very well after one coat. I wanted a thick coat of glitter on my glass, so I applied a couple more coats of the gold paint (allowing each coat to dry for at least 1 hour between).
I was a little nervous removing the tape with the paint dry, but I was so happy to see that I ended up with a crisp, straight line in my paint! Yay for Frog Tape®!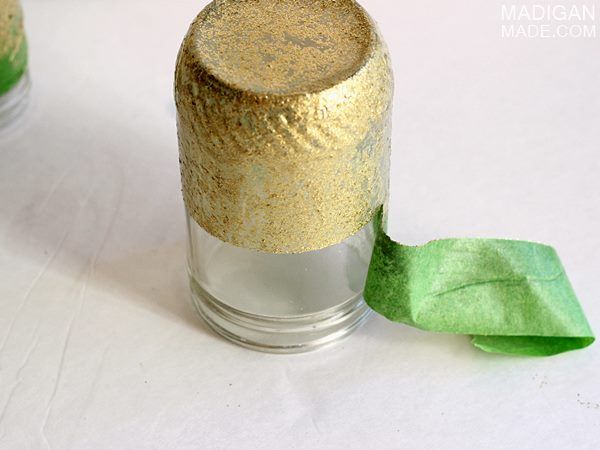 The only areas I had a little paint seepage under the tape was where the tape wrinkled as I applied it to the glass in the beginning (user error, not the tape's fault!).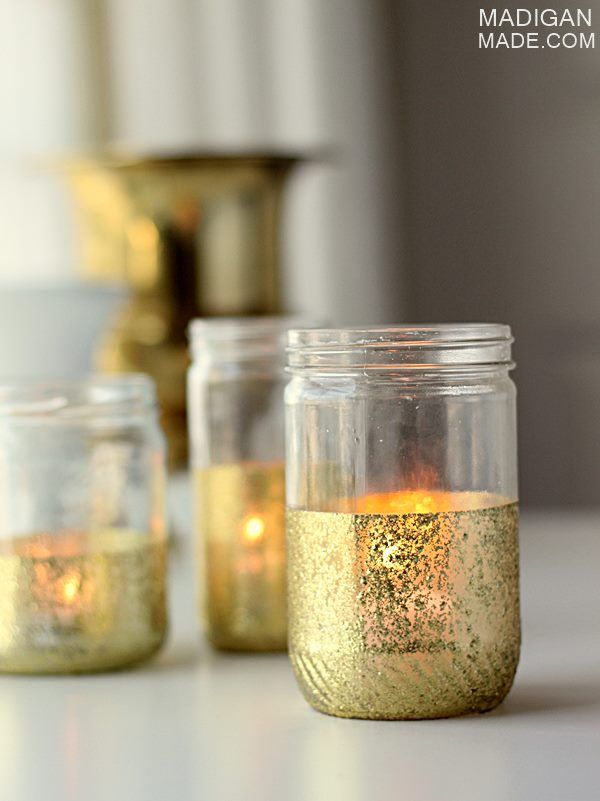 The glass paint I used will air-cure over the next 21 days to a hard, water resistant finish that can be washed. I plan to use the jars to hold candles or flowers.
Right now, I'm loving the glow of the candlelight through the glitter paint. There is something about candles in the fall, isn't there? And golden hues are so pretty in the autumn. I think these sparkly containers will transition perfectly into the holidays, too!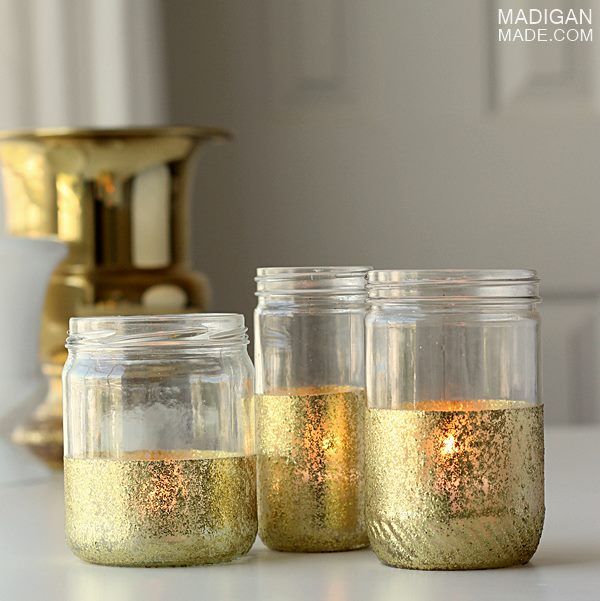 Do you have some fall paint projects that you want to work on this season? Grab some painter's tape and get busy! You can find Frog Tape® at participating Lowes and Walmart locations, and all Menards, Ace, Sherwin Williams, True Value and Do It Best stores across the US. Or follow them on on Twitter (@FrogTape) for more paint ideas!
Thanks for reading Madigan Made!
Content Copyright:2010-14. Madigan Made.