Madigan made… a fun and sparkly little side table!
When in doubt… the answer is always glitter.
Do you ever have a project that you know has potential but you are just not sure how to get it there? You work on the project… and you can't put your finger on it… but the results do not speak to you.  So, you work on it some more… and THEN it hits you? That little moment of inspiration?
Yeah. That's what happened with this cute little glitter covered table. My light bulb moment came from deep, emerald green glitter. Shocker, I know!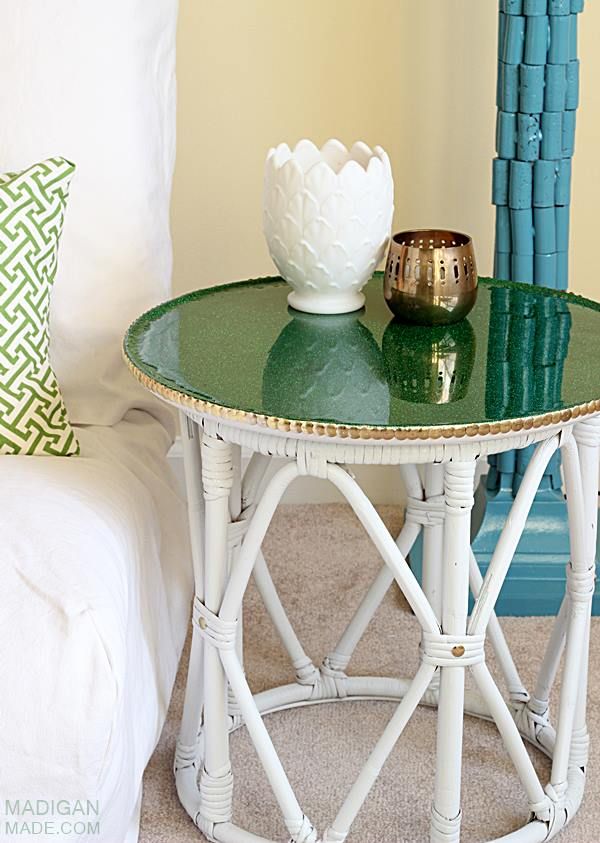 So, how did this sparkly table come to be?
Do any of you remember these two finds I showed you after thrifting last summer?
I found this little cane stool and a large, wooden lazy Susan. I found them thrift store shopping with Diane (from In My Own Style) and we were talking how the two pieces could make a table if they were glued to each other. I thought it would make a perfect, low side table next to my slipcovered futon couch in my new office area.
But, I have to confess that this DIY makeover  did not happen overnight. I've been working on this little table for awhile.  I was stuck on what color this little table should be. I'll spare you the play-by-play photos… but I experimented with orange spray paint… then back to white… then I tried to hammer tacks on the top… then I tried some gold leaf… None of it worked for me.  I FINALLY decided to try to cover the table with green glitter. At this point, I figured, why not?
And really… I can't go wrong with glitter, right?
Want to see how I made it?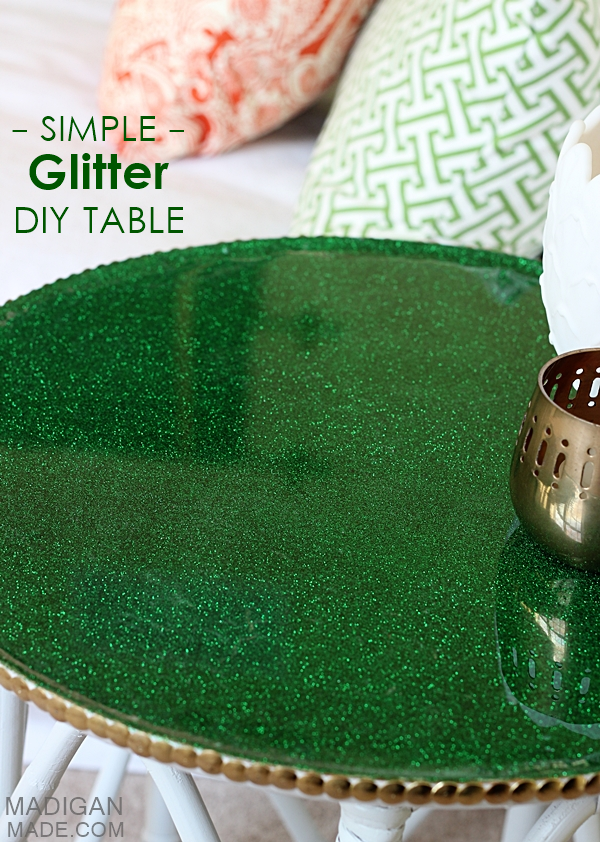 Glitter and Resin Covered Table
Materials List:
(NOTE: the links in this list are affiliate links. I may earn a small commission from purchases made through these links.)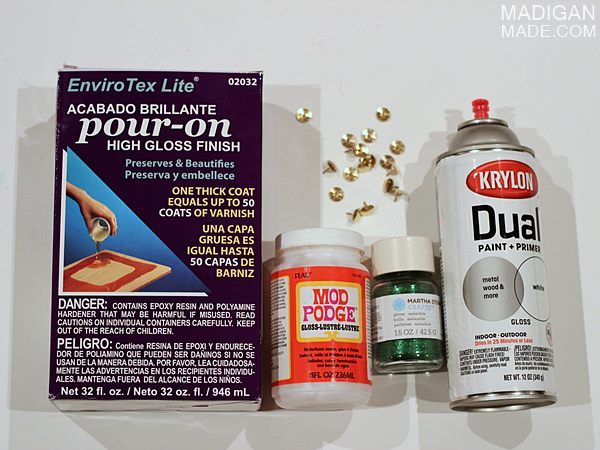 Steps Taken:
First, I cleaned the stool and the wood 'top'. I attached them together to form a table using a strong adhesive glue and let it dry overnight. They bonded nice and tight!
After the color trial and errors I mentioned above, I ended up spraying the table with white spray paint.
To adhere the glitter down on the top, I mixed up some of the glitter into the Mod Podge on a paper plate. I taped the edges of the table to avoid any spillage of glitter over the sides (more on that later). I liberally brushed the glitter/decoupage mixture onto the tabletop and then sprinkled more glitter over the entire surface of the glue. Yes it was messy. (but SO worth it!)
Once dry, I shook off any excess glitter and reapplied another layer of glue/glitter to ensure complete coverage of the tabletop. After that coat dried, I shook off the excess again and brushed on another coat of Mod Podge to seal it all down. Then I removed the tape.
To protect the glitter from everyday wear… I decided to pour some resin on top of the glitter once the decoupage was dry. I followed the instructions on the resin package. To work with this resin you just mix up equal parts of two liquids in a container and then pour them quickly over your surface. I wore gloves and worked in a ventilated area. (If you do try this, follow the package instructions for safety advice and how to minimize bubbles.) It's a pretty easy process – don't let resin intimidate you! The resin self-levels and will cure to a shiny, clear layer in 1-2 days. That green glitter is sealed and protected now! (I do wish I poured a little bit more resin on the top because it did not quite reach all the way to the edges… but it covers the bulk of the tabletop.)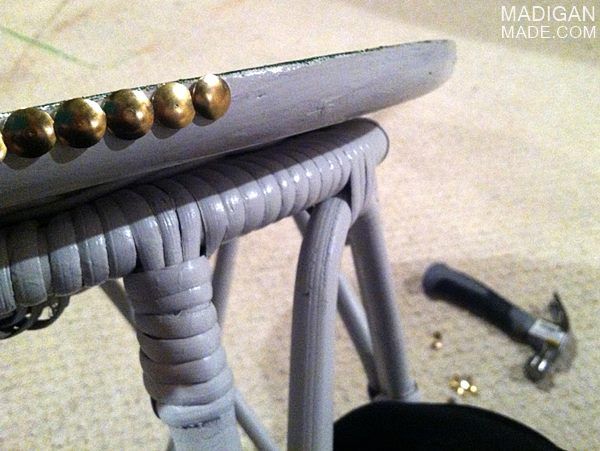 After the resin dried, I noticed that the edge where the glitter met the white paint was not completely crisp in some areas. So, to mask that line AND to add a little something more to the table, I pressed and hammered in a line of brass thumb tacks along the edge to trim out the edge in gold.
Why stop at glitter, right?
I added a tack to each middle junction of the caning below, too. I wanted to carry the gold down a little bit on the piece. I also hoped that the detail would bring the top and bottom together even more.
I love the table in the office space. It's the perfect place to rest a drink or my phone when I'm sitting on the futon.
The gold edging reminds me of the gold edge details on my white bamboo desk hack and my other white side table.
I grin every. single. time. I see this table. That tells me that I came to the right conclusion for its transformation.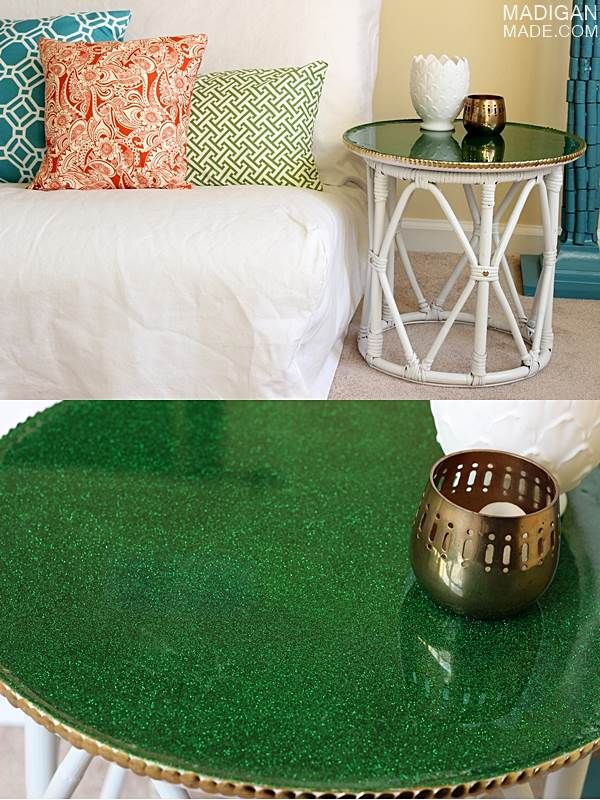 Not every room (or home owner!) can handle a glitter table… but this piece is just a small dose of sparkle. The green color works with the color scheme of the space. Plus, if you know the very personal story behind this room, then you recognize how important it is for this office to be a 'happy place' for me.
And glitter always puts a smile on my face.

Learn how to create simple, elegant and affordable ideas for your home.
Don't miss a craft or DIY idea! Follow us on Pinterest or get Madigan Made in your email inbox for FREE!
Thanks for reading Madigan Made!
Content Copyright:2010-14. Madigan Made.