Madigan made… a declaration that fall is around the corner with art.
Ok. I realize that our current season is technically summer, but I have FALL on the brain right now. You?
Autumn is my favorite time of year. From the cooler weather… to the yummy harvest veggies… to cozy scarves… to the gorgeous riot of fall colors… everything about this upcoming season is a treat for my senses.
I know. It is not fall yet. I have to be patient and wait to get my Halloween décor on. But you should know that as I type up this post… it is a Tuesday night in August and I am sitting on our deck in a long-sleeved shirt and long pants. It is starting to feel like fall, ok? (at least this week!)
So, since I have fall on the brain, this past week I decided to kinda-sorta start to decorate for fall. I might not be ready to set out pumpkins… but I can decorate for back-to-school season. (Yes, we don't have kids… but "back-to-school" is the spirit of this month, right? Work with me here or I will start to bring out the pumpkins!)
A few months ago I picked up a packet of these large oil board stencil letters on clearance at a craft store. You can use them as stencils with spray paint… but I wanted to use them 'as is'. When I saw them I immediately knew they would look great on my giant clipboard wall in our kitchen.
I pulled down the golf décor I had up earlier this summer and arranged a bunch of the letters randomly on the clipboard. I slipped a piece of black cardstock behind each letter to help them stand out.
I love how the oversized letters pop from the walls. The effect is modern and contrasts with our traditional kitchen table and chairs. Adore!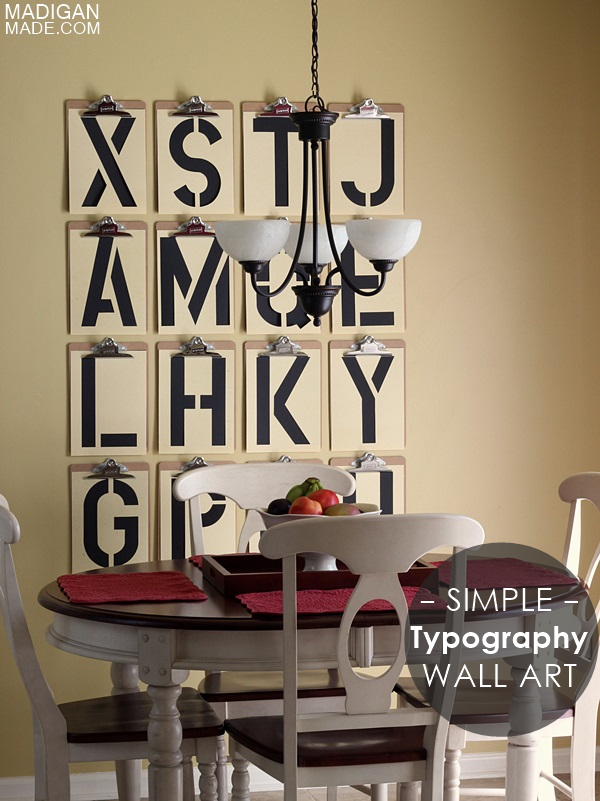 The alphabet-like appearance of this grouping is a bit of a nod to back-to-school things, don't you think?  It is my way of saying, "School season is fast approaching and SO IS FALL!" I hope the effect is subtle enough.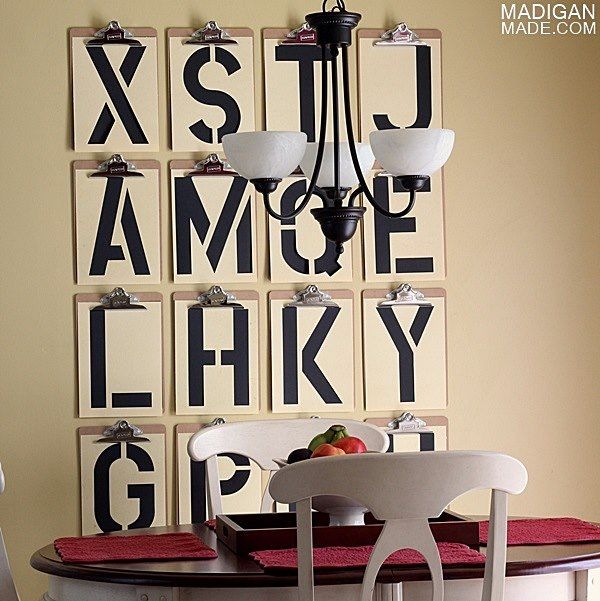 Please tell me I'm not the only one eager for autumn! Are you waiting for fall, too?
P.S. Did you notice that the "S" was upside-down? I just noticed it now and I hoped I wasn't the only one! Haha!
Thanks for reading Madigan Made!
Content Copyright:2010-14. Madigan Made.