Madigan made… a simple back-to-school pencil case craft.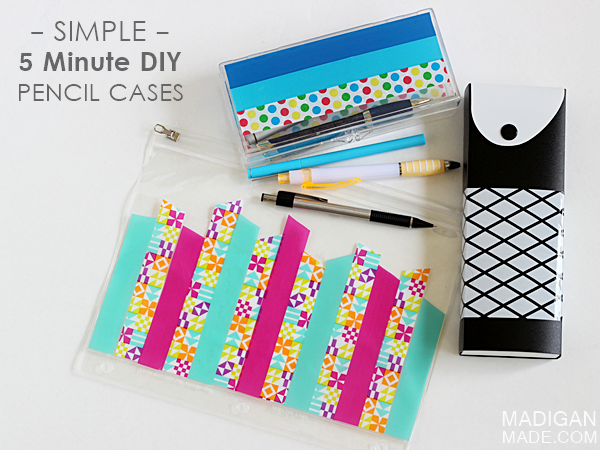 This super easy craft is sponsored by 3M. All opinions and words, as always, are my own.
Cute storage. Cute craft supply storage. It is something I think many of us here can appreciate.
Creating pretty storage for your pens and pencils is easy to do with just a few materials. Do you have a student in need of a fun way to store their markers? Or maybe you want to pretty-up your craft storage supplies? Well, all you need are a few fun rolls of tape and five minutes.
The folks from 3M recently sent me some samples of their new, decorative tape line: Scotch Expressions Tapes. There are apparently over 100 colors and patterns in this line!
Cute packing tape? Washi tape? Magic Tape? Fun masking tape? It was a box filled with inspiration.  I suddenly wanted to cover so many things I owned with pretty tape. But, I thought I'd start by decorating a few basic pencil cases for storage.
Want to see how to make them? The process is quick and easy.
Simple DIY Decorated Pencil Cases
Supplies:
Creative tapes (I used the Scotch Expressions Magic Tape and Packing Tape)
Scissors or craft blade
Pencil box or case of your choice
Instructions:
Clear Plastic Zipper Pencil Case:
I used scissors to trim each piece of  Scotch Expressions Magic Tape and attached it to the case. I arranged the tape in staggered stripes (You can do whatever pattern you choose!). I purposely cut the ends at an angle to add a little more interest.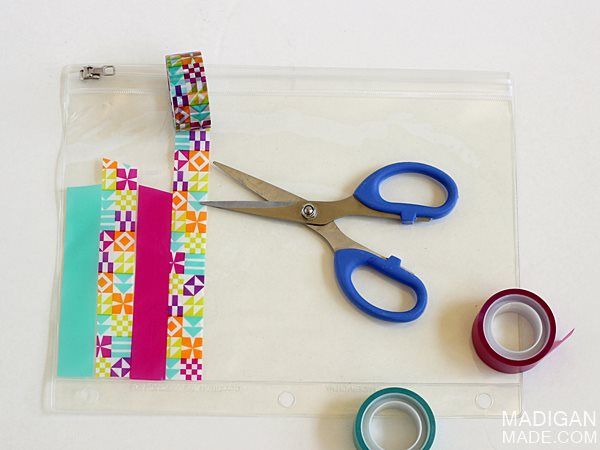 Hinged Pencil Box:
Again, I grabbed more Magic Tape and pressed the tape down in a striped pattern on the top and bottom of the box case. I used a craft knife to carefully cut each piece of tape to fit perfectly in the inset area of the plastic panel.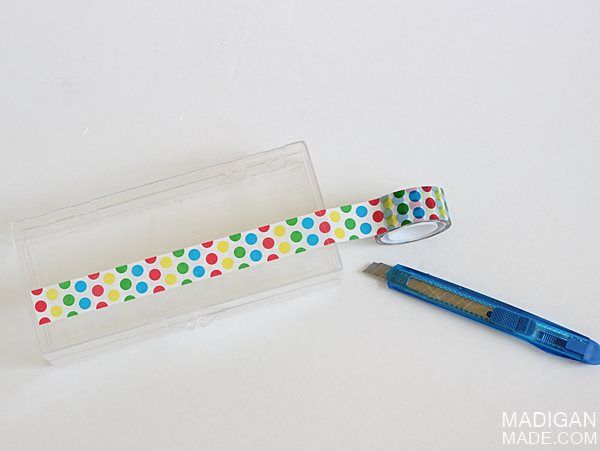 Plastic Sliding Pencil Box:
This time I used some fun black and white lattice packing tape. I wrapped the tape around the box and trimmed the ends with scissors. I loved that I was able to line up the pattern of the tape to get a really large panel of continuous decoration over the body of the case.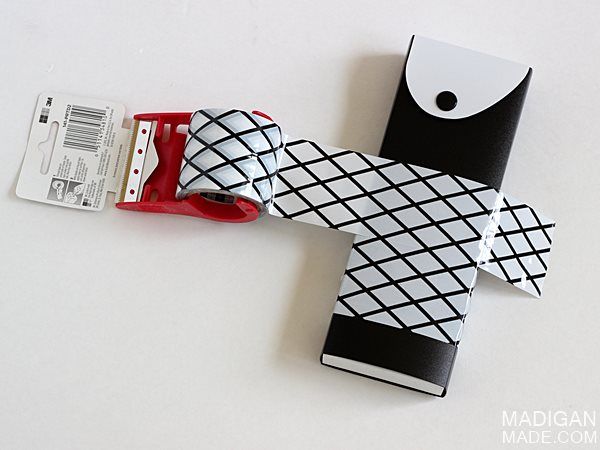 See… so simple and fast!
I like how the Scotch Expressions Magic Tape and packing tape are made of a plastic material. The plastic is more durable than traditional paper washi tape, so I think it will hold up to a lot of wear and tear. And if it eventually peels off? Well, you just break out more fun tape and create a new pattern!
I think my favorite container is the black and white one… or the staggered stripes. I can't decide!
Want to make a fun pencil case of your own? Head to Scotchbrand.com to order fun tape online or to find a retailer near you. (I spot this tape all the time in office supply stores and mass retailers.) Also, Office Depot is stocking limited edition One Direction tape to support an anti-bullying campaign. The price of their tape starts at $2.50 (singles) and goes up to $5.99 (triple pack). A few rolls will help you transform lots of storage supplies!  For more fun tape projects and to learn out about their 17th annual Scotch Brand Most Gifted Wrapper Contest, be sure to check out Scotch Brand on Facebook, Twitter, and Pinterest. (or follow the hashtag: #ScotchBTS)
Gotta love pretty storage, cute tape and fast projects!
Thanks for reading Madigan Made!
Content Copyright:2010-14. Madigan Made.