Madigan made… an easy gold, white and plaid tray.
I've been on a gold kick lately. And apparently a tray kick, too. Hey, well all go through our creative phases, right?
My affinity for gold may have to do with the upcoming season, too. I think I'm drawn to gold tones as the fall approaches. There is something about warm metallic hues… they glow, they have warmth and they shine a little. Those are all qualities I want around me as the weather turns cooler and the days grow shorter.
When I was at the Dollar Tree recently I picked up a metal baking pan, thinking I could decorate it for my autumn decor. Making a tray out of a cookie sheet is not a new idea…  and I decided to go with gold and white hues. I figured that combo (and a neutral plaid) will transition nicely from fall into winter.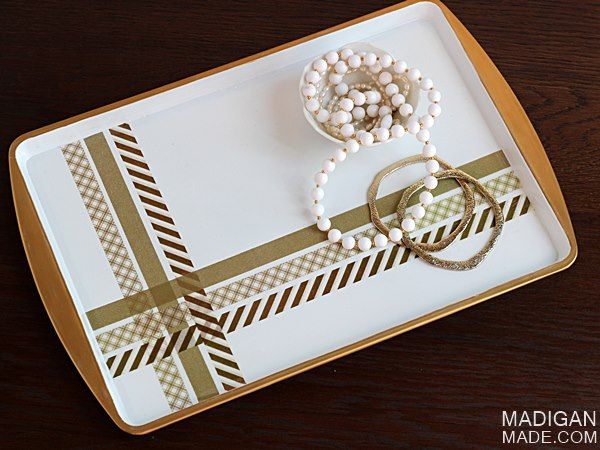 Want to see how to make it?
Turn a Baking Sheet into a Pretty Tray
Supplies Used:
(NOTE: Some of the supplies in this list were given to me complimentary for prior projects. The links in this list are affiliate links & I may earn a small commission off purchases made via those links. Thanks for your support!)
Instructions:
Spray the bottom of your sheet pan with several light coats of paint. After that has dried, flip it over and paint the top of the tray.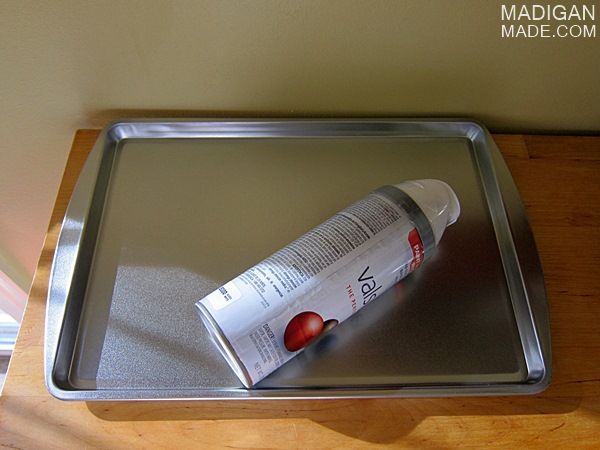 Once the paint has dried and cured, use a little gold wax and apply it to the top edges of the tray. A little goes a long way with that stuff. Apply it, then rub it in to buff the surface. I used a rag to apply/buff mine.
Apply strips of washi tape to the tray in an off-centered plaid pattern. (or a pattern of your choice) Lay the tape down and very carefully score/cut the tape along the edge of the tray. Be careful not to scratch the paint underneath.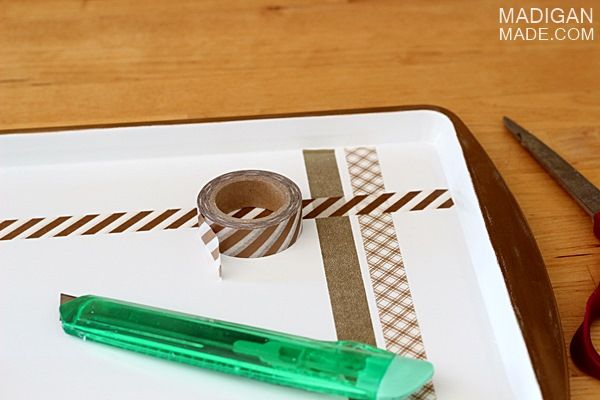 To protect the tray surface and the washi tape, I applied a coat of Mod Podge Super Gloss. As you can infer, it gives surfaces a super shiny coat. It is thick and protective and a great choice for sealing furniture and other decorative items. I brushed a coat of it onto the surface of the tray, being careful not to overwork the thick liquid. Once the material is dry and it cures for 4 weeks, it can be wiped down with a damp cloth. And it is super duper shiny and dramatic!
For added protection I attached stick-on, cabinet bumpers to each corner underneath, too.
This tray is going to come in handy. I love the simple plaid detail. Something about the bold pattern and gold edging makes this tray feel a wee bit mod or retro, don't you think?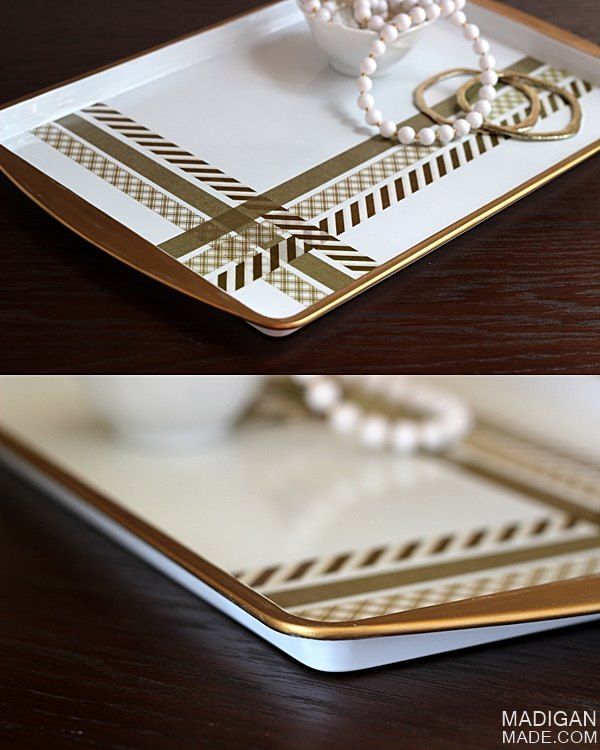 This was such an easy idea… I don't know why I haven't made a tray like this sooner. You can count on seeing more baking sheet trays in my future! (And probably more gold projects… especially this season!)
Thanks for reading Madigan Made!
Content Copyright:2010-14. Madigan Made.