Madigan made… an easy decorated baby onesie gift.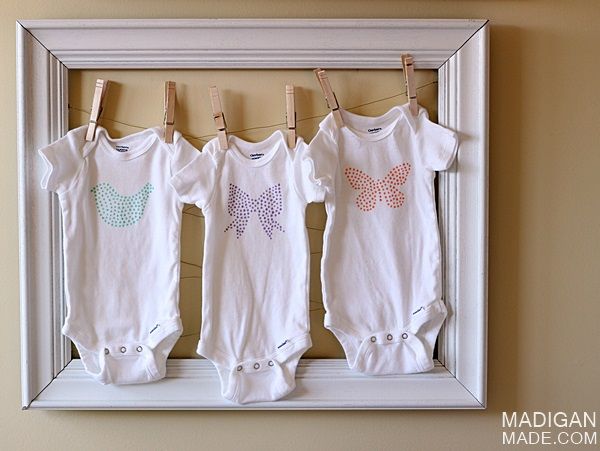 Big news!! I'm an AUNT, y'all!!
I'm so excited that my brother and his wife just had a baby this summer! (This is the first grandchild on our side, too!) They live in Ohio and I finally got to meet my sweet little niece this past month. And, as the constant crafter, I was also excited to make something for this wee princess.
I decided to keep the gift useful. You can never have enough onesies or burp cloths with babies (well, that's what I've been told!), and I wanted to make them cute with a little paint. My brother and sister-in-law warned me that they've been given enough pink stuff… so I chose to use lavender, turquoise and coral shades with a basic, dotted stencil technique.


Want to see how to make them? It was really simple.
Easy Stenciled Baby Onesie Craft
Supplies used:
(NOTE: Some of the supplies in this list were given to me complimentary for prior projects. Links in this list are affiliate links and I may earn a small commission off of purchases made via the link.)
Cotton baby onesies
Cotton diapers (to use as burp cloths)
Fabric paint or a multi surface paint that can be used on fabric
Large stencils (like Mod Podge Tracing Templates, Basic Shapes )
Textile medium
Paint brushes
Cardboard
Painter's tape
Iron
Instructions:
Pre-wash and dry your diapers and onesies to remove any sizing from the fabric.
Slip a piece of cardboard inside each onesie to protect the paint from seeping through to the other side.
Center and place your stencil on the front of the onesie. Tape the edges down.
Update: It is not pictured here (because I did not use it originally, but recommend now)… but it is best to mix a fabric/textile medium with your craft paint. (1 part medium to 2 parts paint)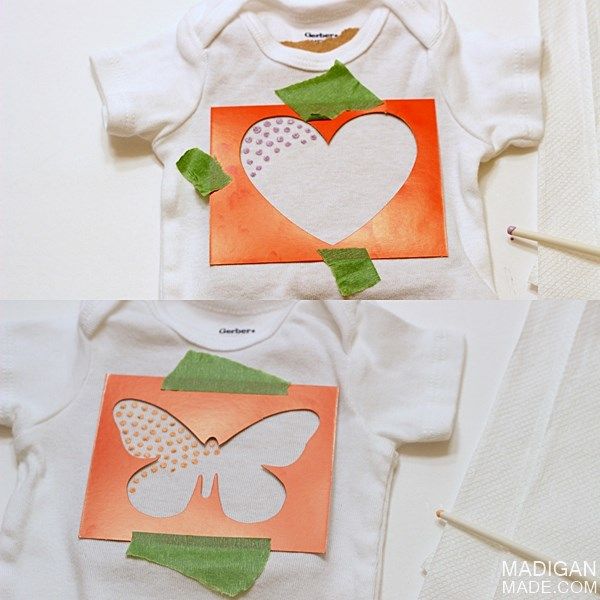 Using the ends of your paint brushes, apply small dots of paint on the inside of the stencil. Work your way across the stencil to fill in the entire area. Do your best to keep the dots spaced evenly apart.
Remove the stencil and allow the paint to dry. Repeat the above steps with all your onesies. You can use the same stencil/colors or mix it up. I chose to use three different colors in pastel shades.
For the burp cloths, I just used all three colors and randomly dotted the two shorter edges of each one with paint.


Once everything is dry, follow the paint manufacturer's instructions to set the paint. You can typically use an iron or pop them in the dryer inside-out for 30 minutes.
Then, wrap your cute (and practical) gift for you fav little baby!
I can't decide which stencil I like best. The flower and heart are cute: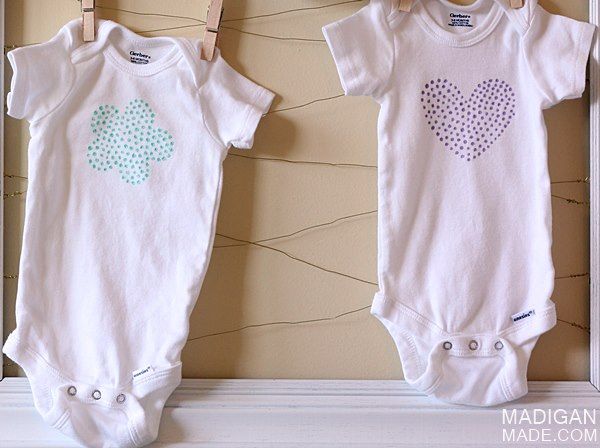 And so are the bow and the butterfly… but I think I like the little birdie the most. I'm sure my little niece will look cute in all of them!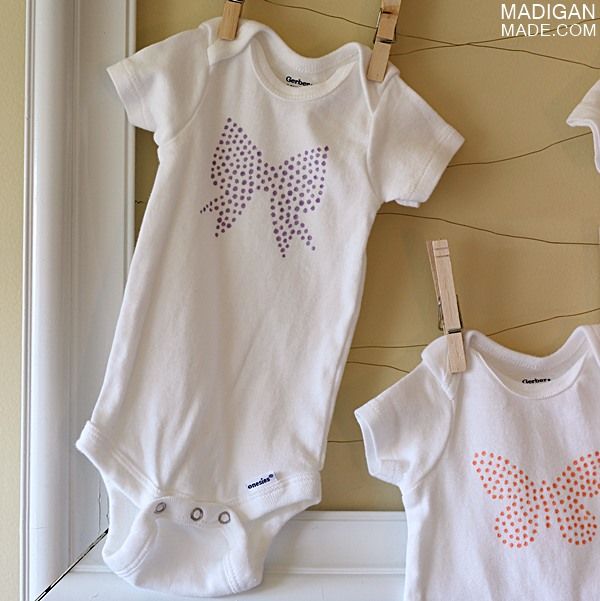 The matching burp cloths are simple and just 'enough'. The painted dots were an easy way to coordinate them with the onesies.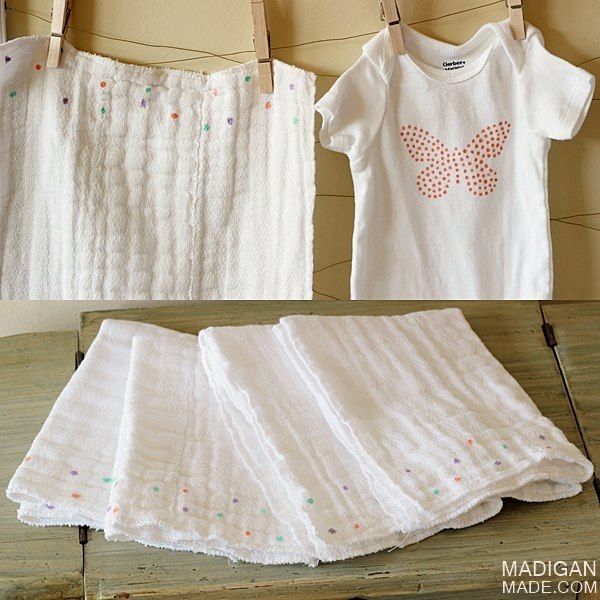 I love that you can use this dotted stencil technique in other ways, too. Kids shirts, pillows, wall art. It's got to be the easiest way I've ever stenciled!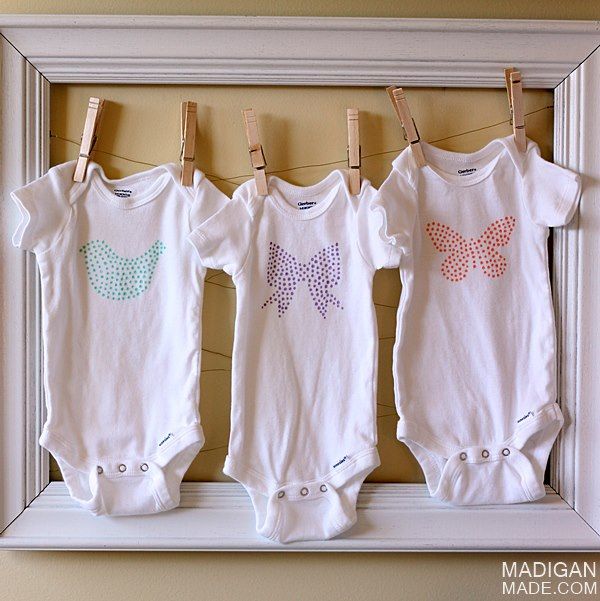 Do you know a little baby that might need a cute DIY gift like this one? Make a set this week!
Our family is blessed to welcome my little niece into the family. I can't wait to see her again!
Thanks for reading Madigan Made!
Content Copyright:2010-14. Madigan Made.