Madigan made… doily and spider covered glass candles.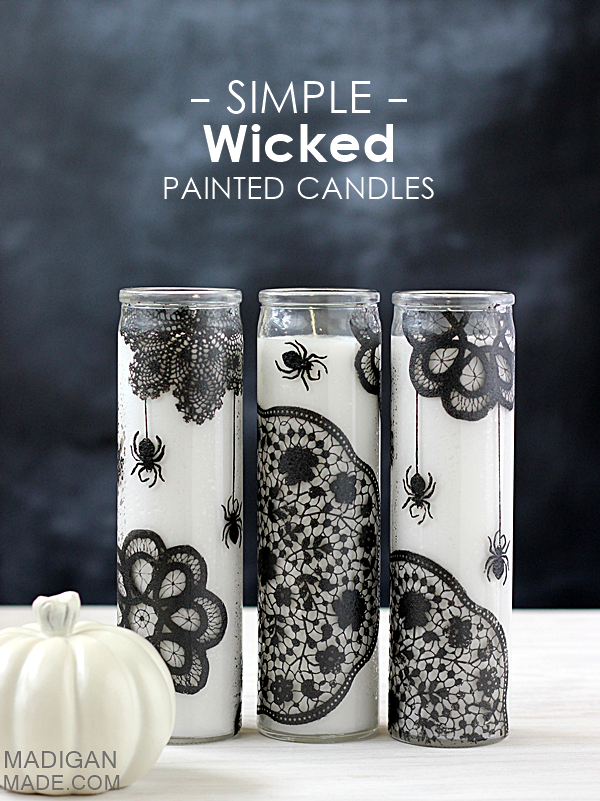 I've
never
been a fan of spiders.
Petrified
is an appropriate word to describe how I feel about these eight-legged creatures. In years past, even printed images or plastic toys would frighten me. Now, last year I told you that I
learned to semi-tolerate spiders
(from a distance, mind you!). I ventured so far as to create a
spider web covered candy dish
last fall, which was a big deal for me.
I'm not ready to start covering my home in spider décor, but this year I decided to push myself a little more and craft with a simple spider stencil. The insect's silhouette is more striking than scary to me. Mixed with something pretty, like a doily, and the little spider almost looks elegant.
A little wicked. A lot pretty. My kinda Halloween décor.
Want to see how to make it? Grab some tall pillar candles from the dollar store and get painting!
Simple Painted Halloween Candles
Supplies used:
(NOTE: Some of the supplies in this list were given to me complimentary for prior projects. The links in this list are affiliate links & I may earn a small commission off purchases made via those links. Thanks for your support!)
Instructions:
Clean the outside of the candles with soap and water. Right before you are about to paint, wipe the glass down with alcohol and let air dry.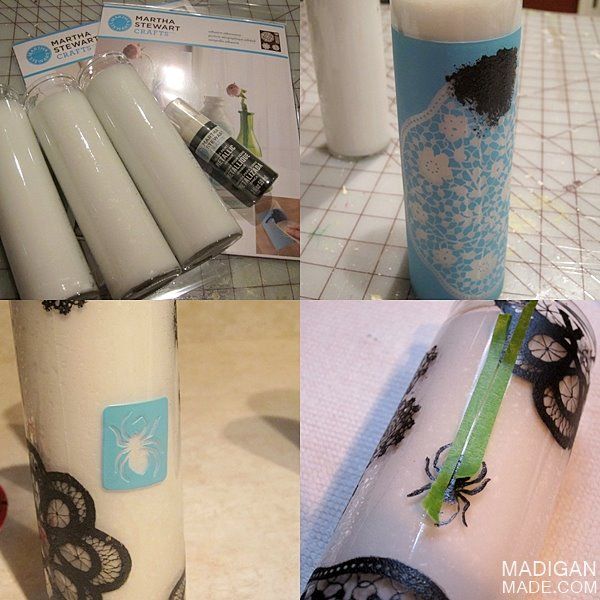 Cut out the silk screen you plan to use. Remove the protective back and press the screen sticky-side down onto the glass. Apply it smoothly to the glass to prevent any bubbles or pockets.
Dab paint over the silk screen evenly to cover all of the open areas in the design. Once you've applied the paint, remove the screen immediately and rinse the paint off of the screen with water. This will prevent the paint from drying on the screen and allow you to continue to reuse it. When the screen is dry, you can reapply it to another candle and repeat the same process. While you are waiting for that one to dry, you can get working with another doily.
Continue to work all around your candles to cover them with painted doilies in the pattern you choose.
Once the doilies are dry, you are going to basically repeat the same process with your spider-shaped stencil. The little stencil is not a silk screen, but you can still apply the adhesive back to the glass and dab paint on with your dauber. Like the screens, you will need to rinse and dry off this stencil in between each image.
After you have enough spiders covering your candles and the paint for them dried, you can add in a few hanging strings of 'web'. If you have a thin brush and steady hand, you can try to freehand the line. My hands are not that steady, so I used painter's tape to mark off a very thin line. I dabbed paint over the opening and immediately remove the tape.
Once the paint is dry, you can set out and enjoy your candle! You can't bake these candles in the oven to set the glass paint, but this paint will air dry and fully cure after 21 days.
Don't you love these tall pillar candles? They are inexpensive and can be painted in so many ways!
But I love the effect these stencils have on the glass. The contrast of the black silhouettes against the white candles is classic… yet a little spooky at the same time. This is how I can handle a few spiders in my décor. I can't wait to set these out with my white pumpkins and black vases!
Considering it is Friday the 13th, I have Halloween ideas on the brain. Do you want more scary inspiration? Check out these 100+ crafty/DIY ideas from a few of my blogging buds: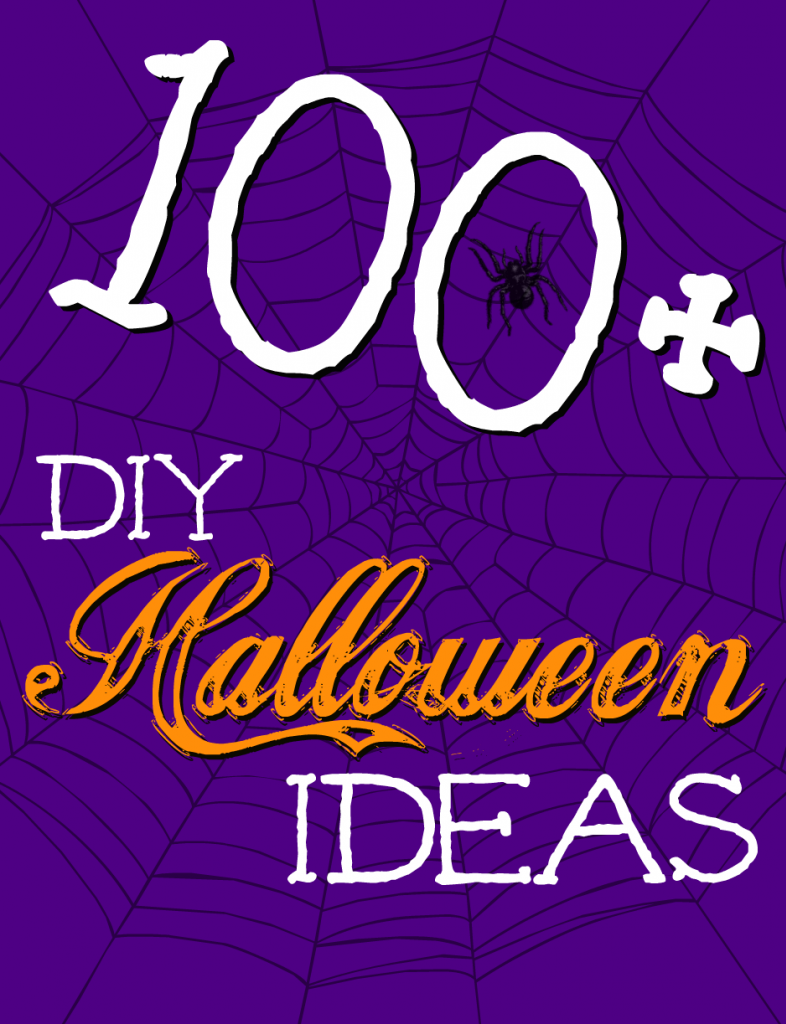 And I'm sharing at the Link Party Palooza, too!
Thanks for reading Madigan Made!
Content Copyright:2010-14. Madigan Made.