Madigan made… fall-inspired DIY pallet art.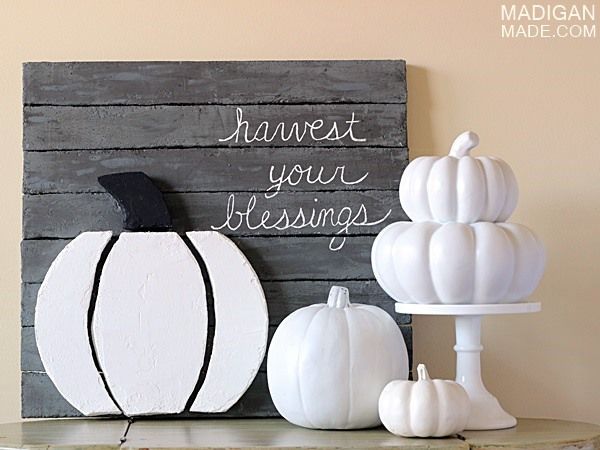 Y'all already know I'm a big fan of DIY wall art. I love the pallet art trend, but I've not really had the opportunity to get my hands on an old pallet or old lumber to make anything like that yet.
Did you know that you can mimic the look of pallet art using foam? Yes, you can… and it is a neat process that I just recently learned. (AND it is a whole lot easier to hang on your wall than real pallets!)
I decided to make a seasonal art piece that I can hang up now and transition into Thanksgiving season. The harvest quote I used was inspired by a little towel that I spotted at my mom's last month and showed some of y'all on Instagram this week.
The folks at FloraCraft® Make It: Fun® Foam sent me some more StyrofoamTM goodies and tools to cut and smooth the foam out… making pallet art easy! Want to see how to create it?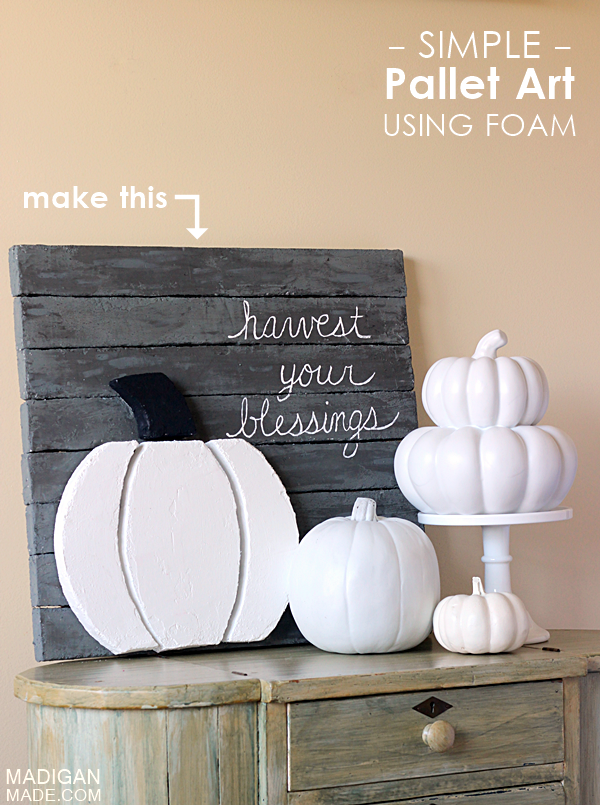 DIY Pallet Art Tutorial
Supplies used:
FloraCraft® Make It: Fun® Foam Sheet, 12" x 36" x 1"
FloraCraft® Make It: Fun® Foam Disc (10 in diameter)
Ruler
Marker
StyroCutter® Plus (or you can use a serrated knife)
2+ containers of FloraCraft® Smooth FinishTM
Spatula
Sandpaper or file, if needed
FloraCraft® Make It: Fun® Foam Connectors & Eyelets
StyroGlue® (or white craft glue)
Black, white and gray craft paint
Antiquing glaze
Brushes
Balsa wood
Steps to make DIY pallet art with foam:
First, I marked off a total of eight 2 inch by 18 inch strips on the foam board using a marker and ruler.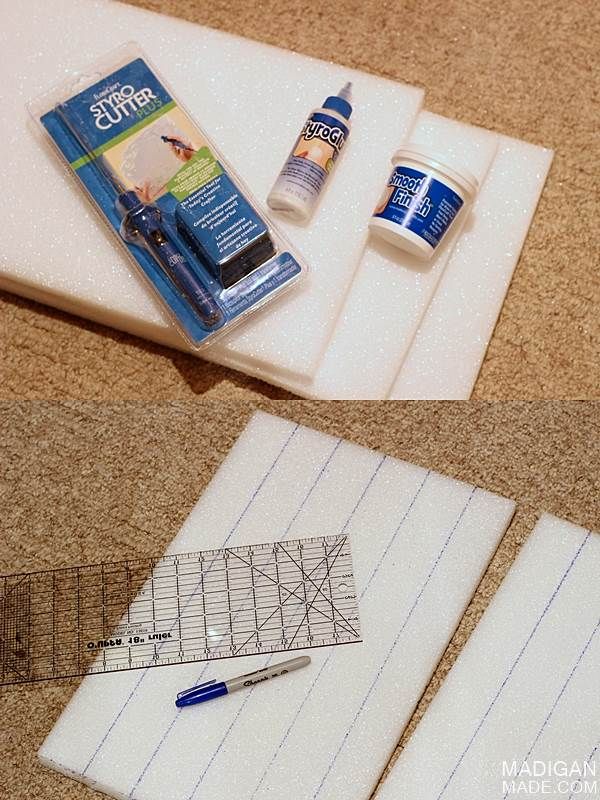 Then I warmed up the StyroCutter and I gently and slowly pressed the hot wand through the foam, following my marks. The tool cut right through the foam without creating any foam dust and the heat sealed/cauterized the foam, too. This is going to be a handy tool to have around! (If you don't have a StyroCutter, a thin serrated knife would work, too.)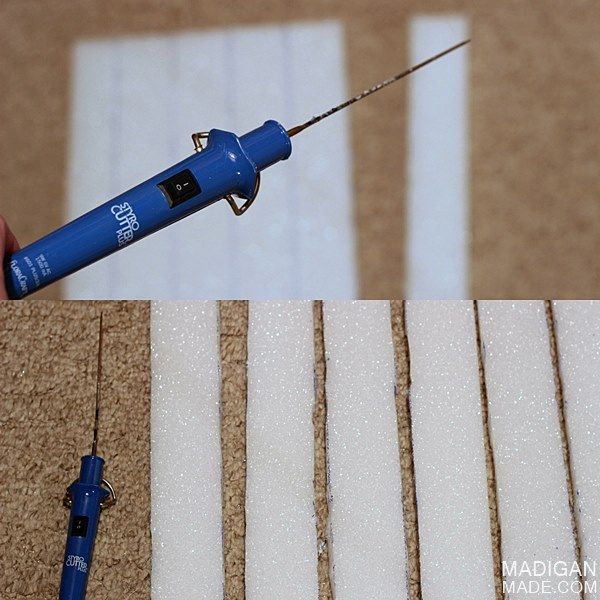 Once I cut my foam 'planks', I sketched out the shape of pumpkin ribs on the foam disc and cut those out, too. I also cut out a 'stem' for my pumpkin from the remaining section of my foam sheet.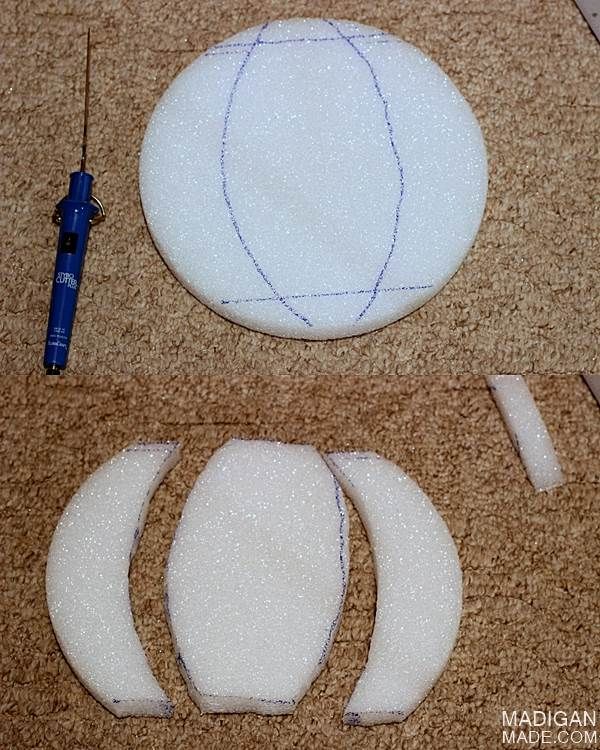 Then I spread two coats of the Make It: Fun® Foam Smooth Finish product over top and on the sides of each foam piece. All you do is use a spatula to spread the paste over the foam in thin layers and allow each layer to dry in between. This product allows the foam to be easily painted and helps you achieve that wood-like look.


I lightly sanded the edges and surfaces of the foam once everything was dry and then I painted my foam pieces. I decided to avoid the look of wood/brown planks and go with a painted/weathered gray appearance to the plank pieces instead. Then I roughed up the gray planks a little and also applied a little antiquing glaze over top to add a little more texture.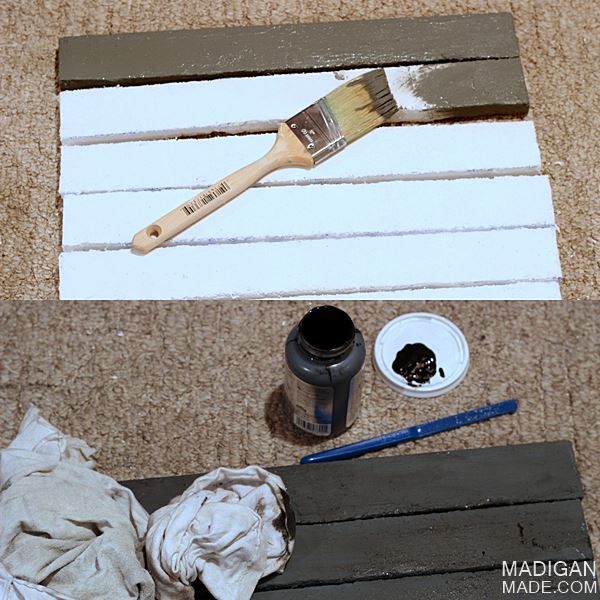 The pumpkin and stem pieces just got a coat of white and black paint, respectively.
To connect all of the pieces together as you see in these photos, I used a foam connector and glue between each piece and pressed the pieces together with weights/books until the glue dried. To add more stability, I also glued thin strips of balsa wood to the back of strips of foam in a perpendicular direction.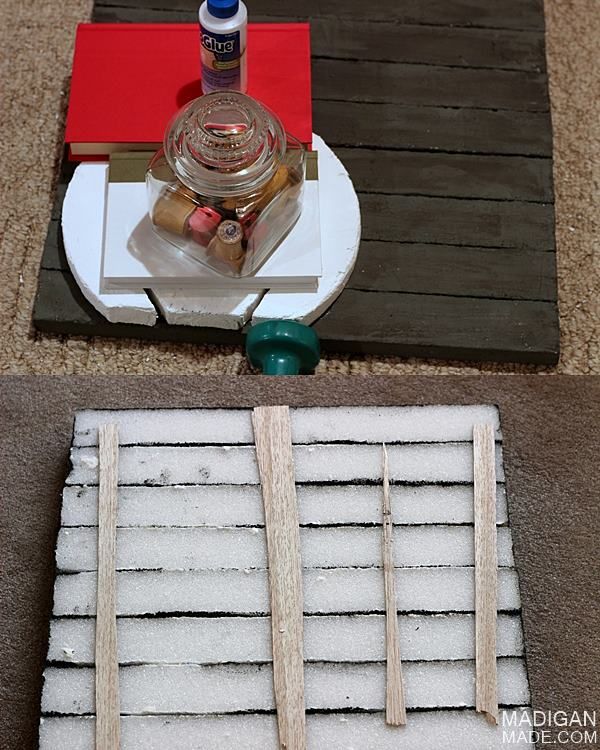 Finally, I wrote my fall-inspired saying on the 'wood' with white craft paint and a thin brush. I considered using a stencil or chipboard letters for the words, but I'm glad I went with the freehanded look. It adds even more character to the piece!
This foam pallet art is so light, I can easily hang it on the wall with a ribbon or using picture hanging strips… but I decided to lean it for now.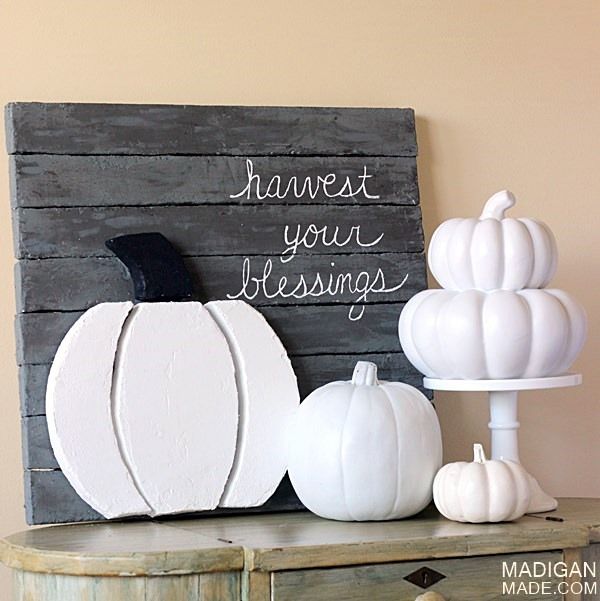 I love how the gray, black and white are non-traditional colors for harvest season. I think this look will work better with our home's décor. (and the colors look fab with my white pumpkins!)
For more information about crafting with FloraCraft® Make It: Fun® Foam and making pallet art, please also check out Crafts n' Coffee or follow the hashtag #MakeitFunCrafts.
I'll be sharing this project at the Link Party Palooza and The Party Bunch.
Thanks for reading Madigan Made!
Content Copyright:2010-14. Madigan Made.