Madigan made… a simple DIY retirement quote mug.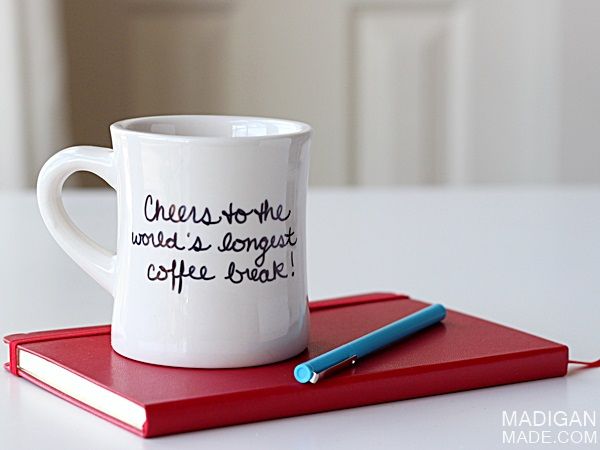 Handwriting can be both sweet and decorative, don't you think? I've told you before that I don't have the best penmanship (as evidenced in my monthly chalkboard quotes) but I've always wanted to try to make a Sharpie or permanent marker written mug. I was inspired by AnnMarie's Every Day I'm Hustlin' mug on WHBS and I thought a DIY mug would make a nice gift.  
Someone at work I know was retiring… and I wanted to include a little something handmade in my gift for them. She drinks a lot of coffee, so a personalized mug with a coffee-related retirement quote seemed appropriate. 
Want to see how to make one?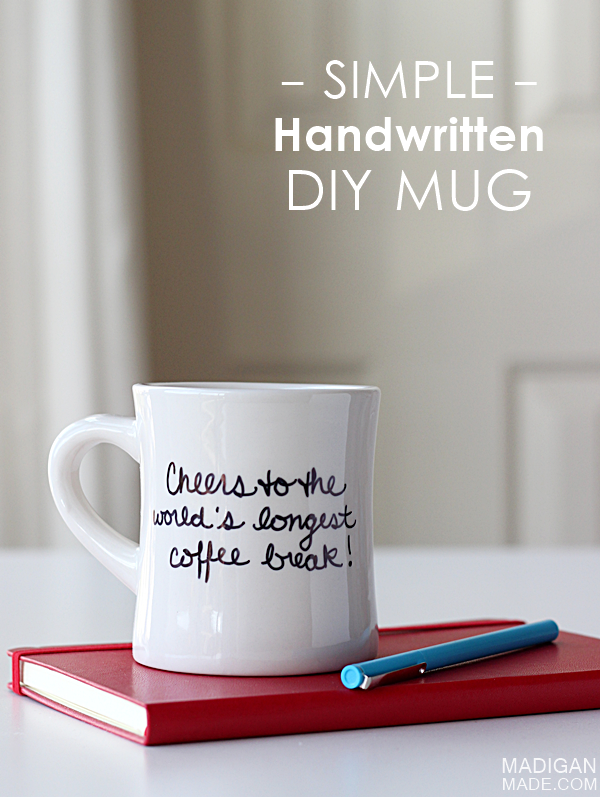 DIY Sharpie Mug
Supplies used:
Inexpensive white mug
Rubbing alcohol
Paper towels
Permanent markers
Steps taken:
I cleaned the mug with alcohol and then used the Sharpie to write my quote. I ended up wiping the marker off with towels and alcohol a couple of times till the message looked right to me.
Then, to set the ink, I just baked the mug in the oven at 350 degrees for 30 minutes. 
I placed the mug in the oven cold before I turned it on and left it in there to cool once the oven was turned off. (to prevent the ceramic from cracking)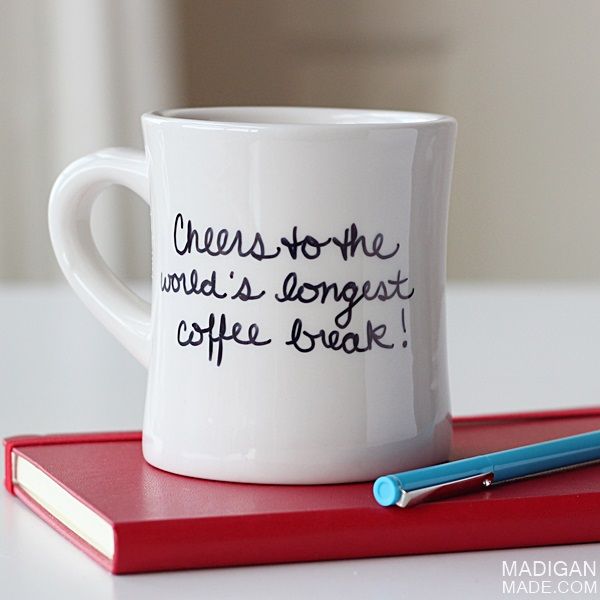 I love how the message turned out on the mug! It was a fun DIY retirement gift idea.
I've been warned by a couple of creative bloggers that even after baking the marker does not last forever… so hand washing (vs the dishwasher) is probably advised. But I love that this is a cheap, quick and personal way to dress up a ceramic mug!
So, go grab a mug and marker and get doodling!
Thanks for reading Madigan Made!
Content Copyright:2010-14. Madigan Made.