Madigan made… an easy DIY necklace from copper hardware.
Maybe your brain is like this, too. Every time I walk into a store, I am eyeing up all the merchandise for potential new craft supplies. The hardware store is no exception! (I hope I'm not alone here!)
I was in the hardware store recently (probably looking for spray paint, light bulbs or a new doorbell) and I could not help but wander the aisles a little for some creative inspiration. This roll of shiny copper tubing caught my eye. The metal was soft and bendable and begging to be worked with!
So, I brought a small coil of the tubing home. I knew that this pretty metal would make a great piece of statement jewelry for the fall.
So, I cut up part of the copper and made a quick necklace with it last week. I decided to pair the copper metal with simple white glass beads that I picked up at a craft store awhile back and never used.
Want to see how to make it? It is really easy. If you follow my little trick to make it long enough to fit over your head, you don't even need to worry about attaching findings.
Easy Copper Tubing DIY Necklace
Supplies used:
(NOTE: Links in this list are affiliate links)
1/4" copper refrigeration-grade tubing
Small brass pipe cutter (like this one )
Sandpaper
Jewelry stringing wire (i.e. tiger tail)
Large white glass beads
Scissors
Clear nail polish
Clear sealant, if desired
Instructions:
Using the pipe cutter, I cut out a bunch of small lengths of copper pipe to create copper "beads". I lightly sanded down any sharp edges on the tubing, if needed. (My pipe cutter cut the tubing pretty cleanly and I really did not need to sand much.)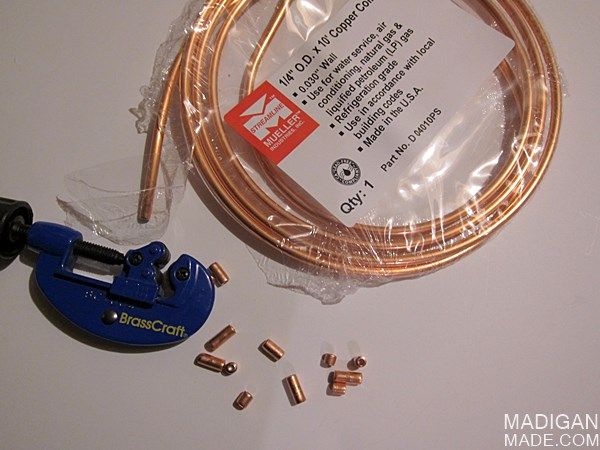 I strung the copper pieces and white glass beads together on jewelry wire as shown. I added enough copper beads to make the necklace long enough to slip over my head. (mine was about 25 inches in length)
I tied the wire tightly with a strong knot and snipped off the loose ends with scissors.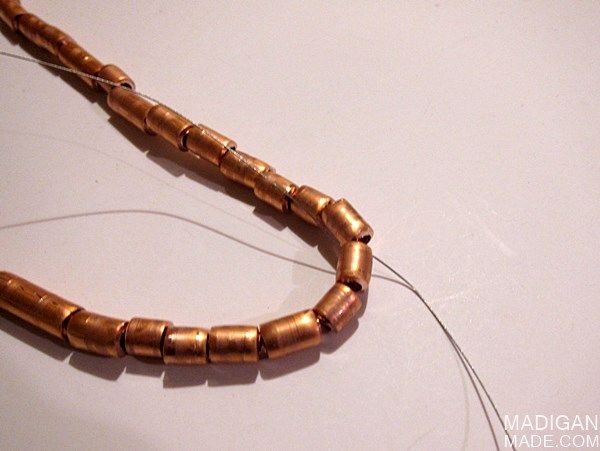 I also added a dab of nail polish to the knot to help it stay together. (This is a heavy necklace, I didn't want it to slip apart!)
UPDATE: I love how the copper looks today… all warm and shiny. As the metal ages, it likely will get a little patina on it and I can't wait to see how that looks over time. BUT some of you have been asking me if the copper should be sealed? Yes, you can seal it to preserve the finish (and possibly from turning your neck green… that did not happen to me, but I understand that some people are more sensitive to this effect and sealing it can help).  I am still researching how best to seal it… and so far I'm thinking about using either clear nail polish or a clear acrylic spray (Bearing in mind that the sealer will eventually wear off with regular wear against the skin and may need to be reapplied). Right now, I can wear the copper with no problem, but I do want to seal it. I will come back and update this post when I figure it out!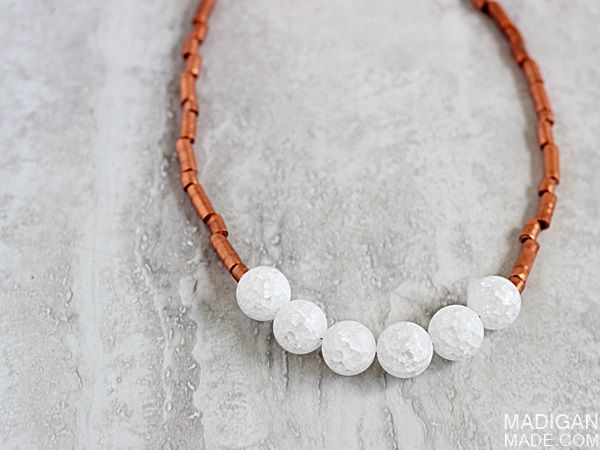 You can pair the copper "beads" with any other color beads but I think that the copper color looks fresh and modern next to the white. (Doesn't the white glass look a little like cracked or baked marbles?)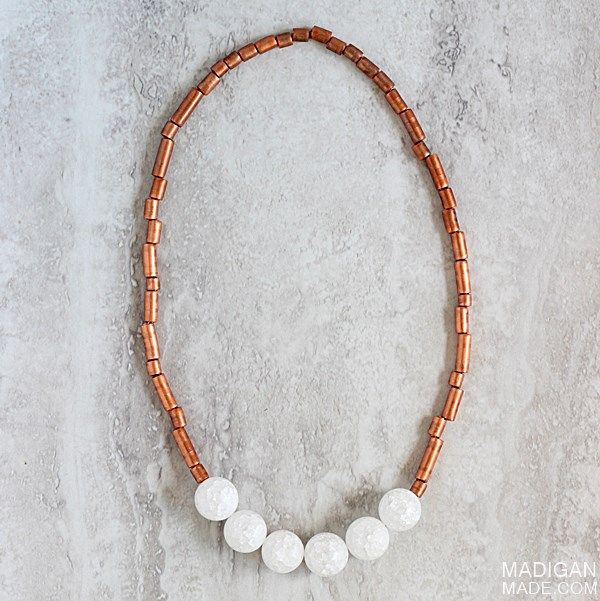 I love my new fall necklace… and it came about all thanks to a little wandering in the hardware store! (Am I the only one who is guilty of this habit?)
Thanks for reading Madigan Made!
Content Copyright:2010-14. Madigan Made.