Madigan made… an easy and elegant way to claim your drink.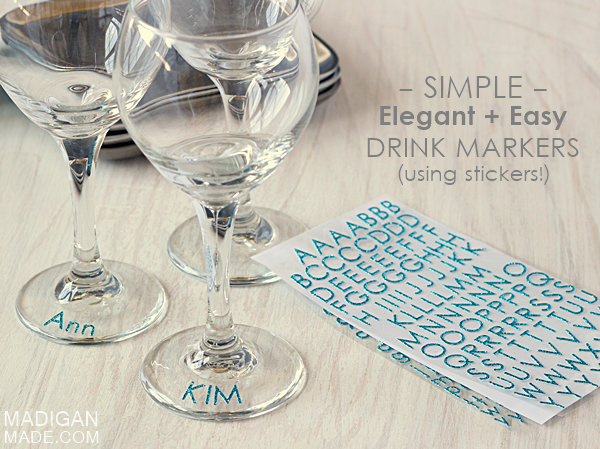 Do you lose your beverage at parties? Me too.
Well, if you don't have wine charms or if you don't want to paint your glasses with chalkboard paint, you can follow this simple and sparkly tip: use glitter stickers!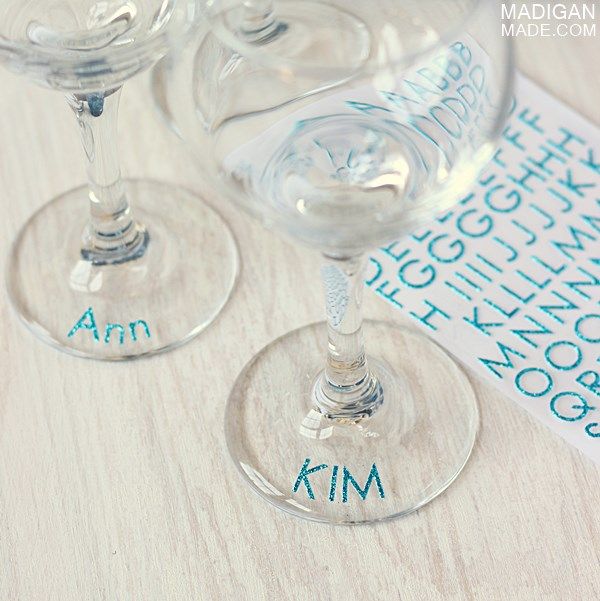 I cannot take credit for this clever idea. I first saw this nifty trick at a bridal shower hosted by my Aunt M in Ohio. When she hosts a nice party like a baby shower, bridal shower or graduation party, she'll set out fancy, 3-D alphabet stickers next to the beverage area for her guests to use.
Guests can attach the stickers to disposable cups or to real glassware. A name, set of initials or a fun word… whatever they need to do to remember  which drink was theirs.
When the party's over, the stickers can be removed from the glasses. (Tip: You'll want to use a raised, slightly thick sticker. A dimensional sticker will peel off easier than a printed-on/thin sticker.)
I left these stickers on for 12+ hours and they peeled right off the glass without leaving any sticky residue. (and if they did, I bet they'd wash up fine with a little soap and hot water.)
You can likely use any small, thick alphabet stickers for your next party… but really… isn't glitter always the answer?
Thanks for reading Madigan Made!
Content Copyright:2010-14. Madigan Made.