Madigan made… a sparkly gold statement necklace.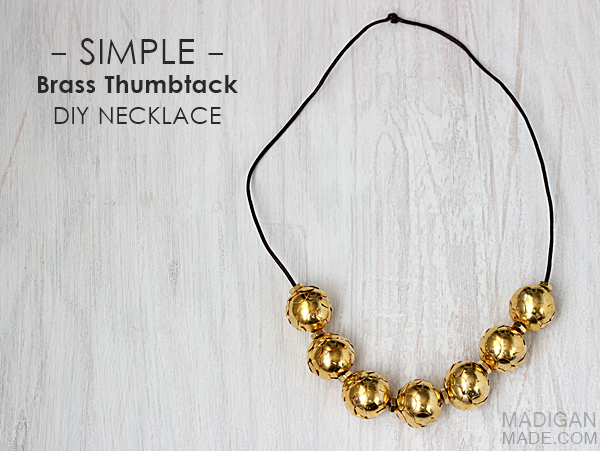 I am a member of the Make It: Fun® Team. This bold and brassy necklace craft is sponsored by FloraCraft® Make It: Fun® Foam. All opinions, as always, are my own. 
It's been awhile since I crafted with thumbtacks, right?
Well, I still have boxes and boxes of tacks left over from my thumbtack pumpkins and wreath. When the folks at Make It: Fun® sent me some more foam craft goodies this month, I was excited to see they included foam balls.
I thought about making some thumbtack covered spheres or ornaments… but the itty-bitty one inch foam spheres were calling out to me. I thought they might make some cute, oversized beads with a few of my leftover thumbtacks. And boy did these beads create a necklace with impact!
Now, I realize that this necklace is NOT for the shrinking violet. While it is bold, I like that the piece still is simple in color and form. Plus, big, statement jewelry seems to still be popular these days, so I'm going to wear this necklace around Christmas. I love sparkle… so I think it will be perfect to wear for holiday and NYE parties!
Want to see how to make one?
Simple Brass Thumbtack DIY Necklace
Supplies Needed:
Make It Fun®  Foam 1 inch spheres, 7 total
1 box of brass thumbtacks (about 300 tacks total)
8 small brass nuts
Leather cording
Length of thick wire (i.e. 18 gauge)
White craft glue
Scissors
Instructions:
Pierce one sphere with the wire through to the other side to create a hole that you can use to thread the necklace later. Keep the foam ball on the wire as you add the tacks. Dip the ends of each tack in white glue and press them into the foam. (Since you will be wearing this piece, you want to prevent the tacks from falling out… use a healthy dollop of glue for each tack.) Start out near one of the wires and apply the tacks to the balls in an overlapping, circular fashion.
Work your way around and down the foam ball with more tacks and glue until the entire sphere is covered in tacks. Remove the wire and allow the glue to dry.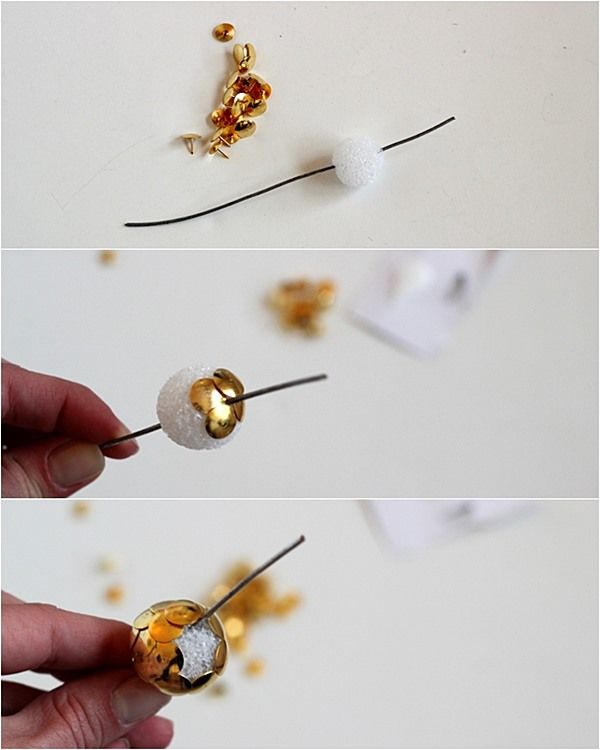 Repeat the above steps to make 6 more thumbtack covered spheres.
Thread the leather cording through the tack beads and alternate the beads with small brass nuts to add a little more interest. I thought the hardware added a nice finishing touch to the necklace.
The leather necklace kit I bought did come with hardware, but this necklace is HEAVY and I was worried the findings would not be strong enough. So I decided to tie the cording instead. You'll want to tie the cording in a knot so that the necklace is long enough to slip over your head with out and closures. (Mine was about 26-27" in length.) Yes, this is the same trick I used for my super lazy DIY necklace, too.
Snip the cording close to the knot and apply a little glue or clear nail polish to the knot to further prevent it from coming undone.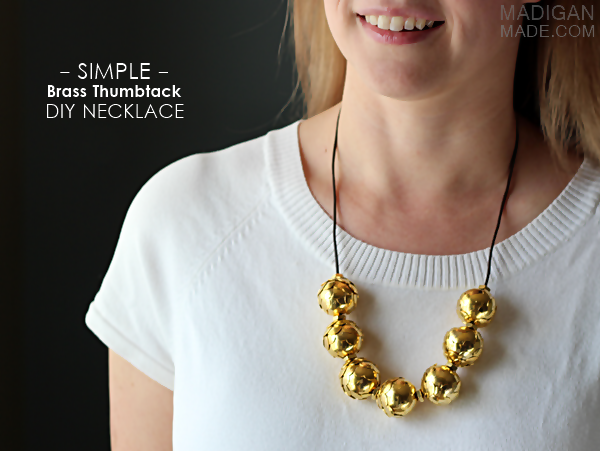 I love the bold, sparkly statement this necklace makes. Yes, this necklace is a little tacky… but I believe that is the point, right? Hahaha!
For more information about crafting with FloraCraft® Make It: Fun® Foam, please also check out Crafts n' Coffee or follow the hashtag #MakeitFunCrafts.
Thanks for reading Madigan Made!
Content Copyright:2010-14. Madigan Made.