Madigan made… painted mason jar drink glasses.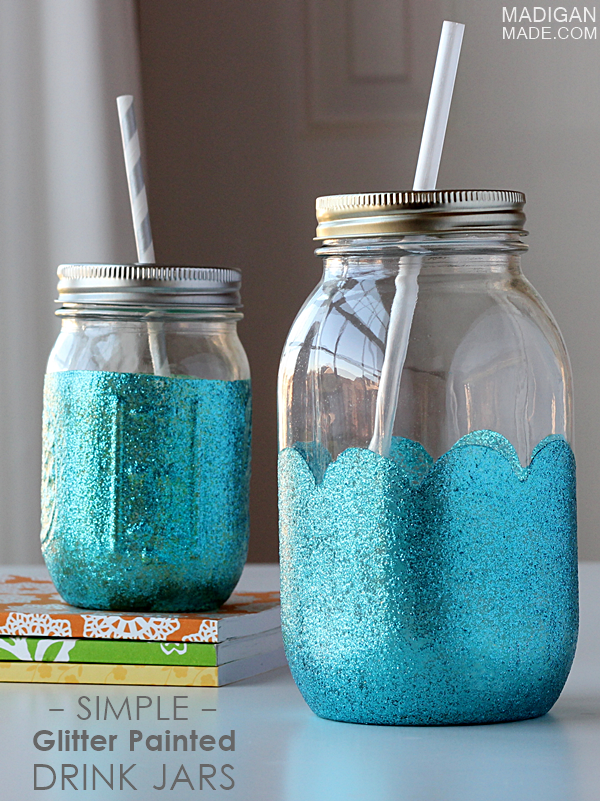 I'm on a quest to drink more water these days. We all probably need to drink more, right?
So, I'm hoping that a pretty drink cup will inspire me to drink more… therefore I decided to make my own drink tumblers out of mason jars. And, of course, I thought that glitter paint was the perfect way to dress them up. (Shocker, I know!)
How did I make these glittered cups? This was a really simple and easy craft. (And it would make great handmade gift idea, if you needed one!)
DIY Painted Mason Jar Drink Tumblers
Supplies used:
(Note: some of the supplies used in the post were given to me for prior sponsored projects.)
Mason jars
Painters tape (straight or shaped)
Glitter paint for glass (either a multi-surface paint or glass paint)
Brushes
Isopropyl or rubbing alcohol
Steps to create glitter drink jars:
I cleaned my jars with alcohol and dried them. Then, I applied tape around the outside of the jars.
I brushed on several coats of glitter paint below the tape and allowed the glassware to dry in between coats.
TIP: Glitter paint does not cover as well as other glass paints. To achieve a thick appearance to the glitter, you will need to apply several coats.
Once dry, I removed the tape. The plain tape peeled off cleanly, but I did gently score the curved tape with a knife before I removed it. (It probably would've been OK if I peeled the tape off while the paint was wet, but since the paint was dried and pretty thick, I did not want to take any chances.)
The glitter paint I used takes about 21 days to air dry and fully cure. Once cured, the glass can be cleaned in the dishwasher.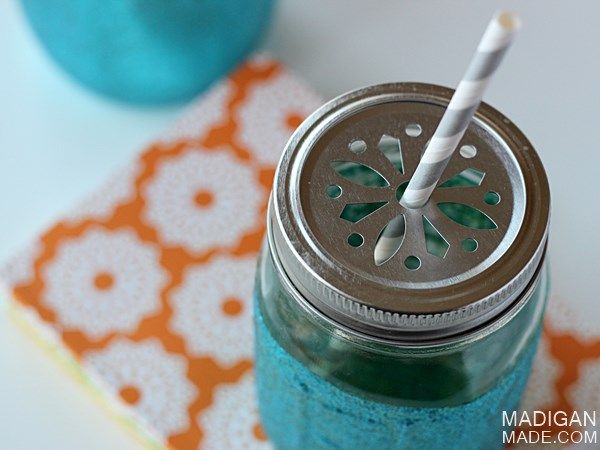 The glitter paint added a little texture to the outside of the jars, making them less slippery, which was nice. I also found these adorable cut-out lids for the jars at the craft store… the perfect place to thread a straw!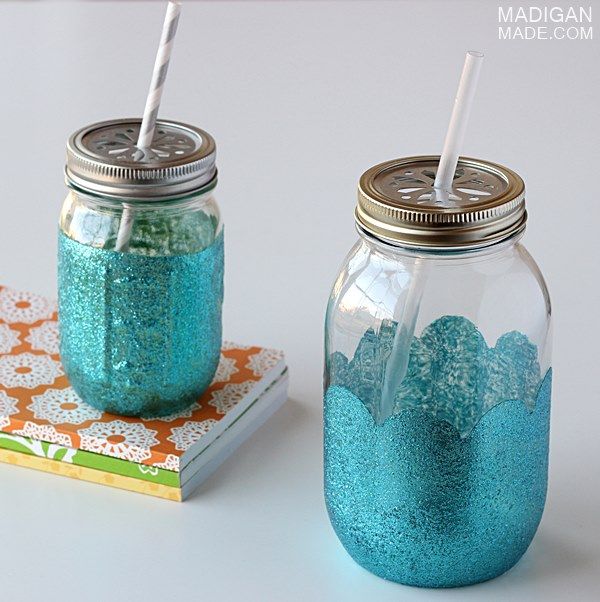 Now, with the help of a little (OK, a lot!) of glitter, I hope to be guzzling down more H2O!
Thanks for reading Madigan Made!
Content Copyright:2010-14. Madigan Made.