This is a Sponsored post written by me on behalf of Vera Bradley. All opinions are 100% mine.
Madigan made… four easy ways to add color to your travel gear.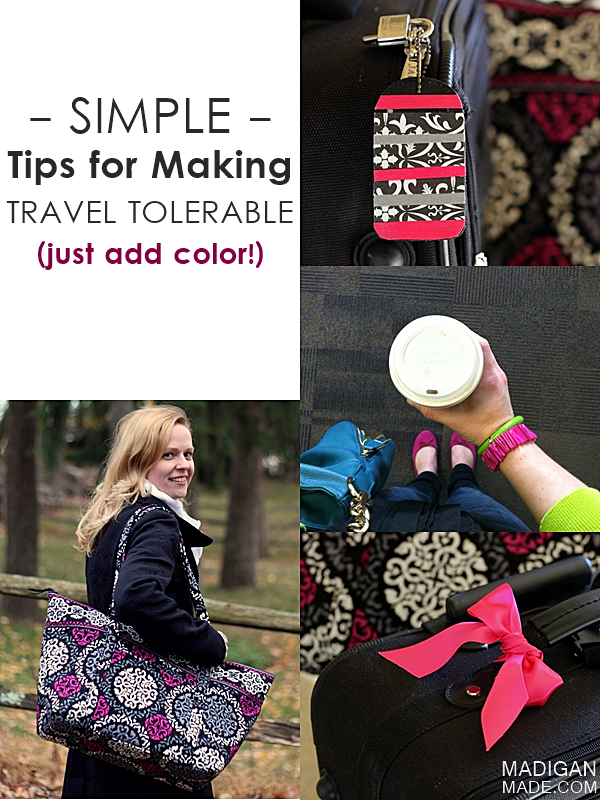 I enjoy getting away for vacations and seeing family around the holidays… but getting there is the part I loathe.  Cramped car rides. Busy and stuffy airports and airplanes. You can keep them.
But do you want to know a simple traveling truth I've learned over the years?
Coffee, treats and colorful accessories make airports more tolerable. Says me.
I've encountered my share of annoying delays, boredom and anxiety when I travel. What helps me escape that worry a little (besides chocolate)? Wearing and carrying pretty and colorful accessories! Yes, they won't fix those problems I encounter… but a little color and pattern may put a smile on my face. That alone might make travel a little more tolerable. Plus, there are some practical reasons to make your travel gear stand out, too… namely, your luggage won't get lost amongst a sea of other black bags!
How can you add a little color and spice to your next trip? Well, with the help of some new bags I received from Vera Bradley, I wanted to show you a few ideas.
4 Ways to Add Color to Your Travel Gear:
Carry a Colorful Bag
(Thank you to my friend Diane for taking these photos of me recently.)
Carrying a big, colorful bag is habit I've followed for many years when I travel. And Vera Bradley recently sent me their large Miller Bag and Grand Cosmetic bag in one of their new Winter patterns: the Canterberry Magenta. Isn't the pattern pretty? (Their other winter colors are Canterberry Cobalt and Venetian Paisley – both cute, too.)
The tote bag is huge and will be a perfect carry-on or overnight bag when we travel. I wear a ton of black (especially travelling… and just bring colorful accessories), so this black and white damask pattern will work perfectly for me. But I also love the little pop of deep pink in the tote… it just makes me smile!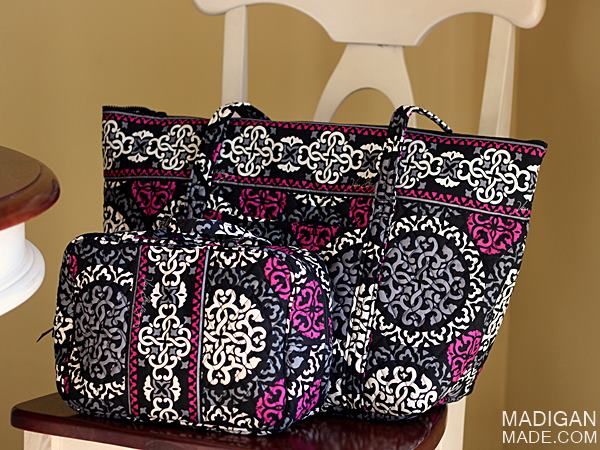 The other bonus about carrying a fun and bright bag in an airport? It makes it easier for your travel companions to spot you in a crowd!
Make Your Luggage Tag Stand Out
Baggage claim carousels are often filled with row after row after row of black suitcases. So, I try to mark my bag with something colorful to help me spot it on the beltway. You could buy a new tag (Vera Bradley makes a ton of adorable ones!), but  in preparation for my next trip, I recently decided to make my own new and colorful luggage tag.
I took a plain black luggage tag I already owned and dressed it up with decoupage to make my bag easier to find.
I just cut strips of pretty paper and adhered them to an old luggage tag with outdoor formula decoupage. (the outdoor formula will hold up to the elements better than regular decoupage) The paper I used was inspired by my new Vera Bradley bags… can you tell? I used a little black and white damask with some gray and pink.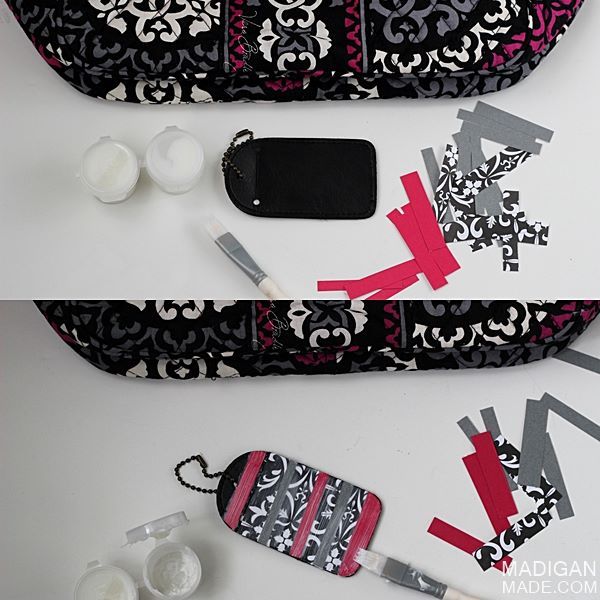 Mark Your Suitcase with Something Colorful
Just in case a cute tag falls off, I also like to label my luggage with something else colorful. Sometimes I'll tie on a pretty ribbon…. or attach fun and bright duct tape to the luggage handle. (the tape is durable and won't fall off, too.) Simple and easy.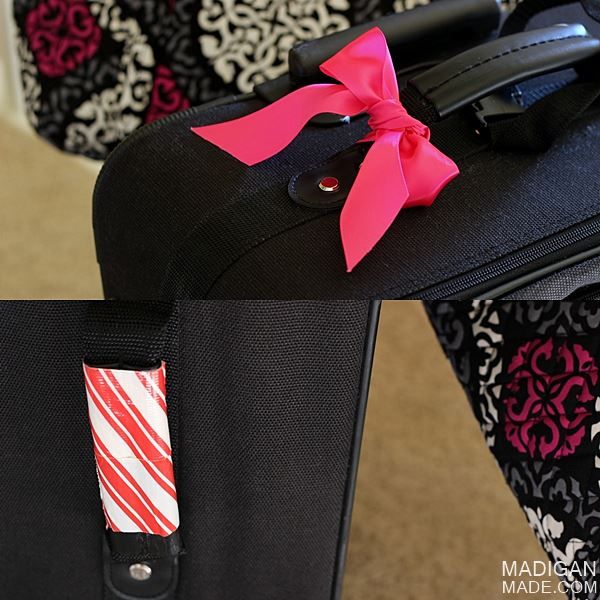 Wear Lots of (or just a little) Color!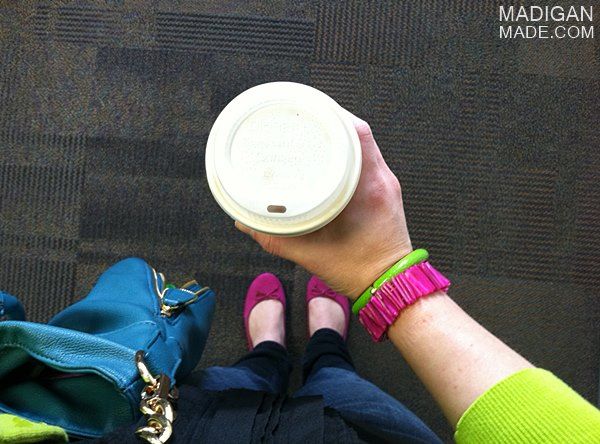 Put on a pair of pink shoes. Wear a pretty sweater and fun bracelet or necklace. When you are sitting in that airport and are annoyed about things outside your control (Like a delay… or the annoying guy on the phone behind you.) – just look down at your pretty and fun accessories. Doing that makes me smile and helps me mentally 'escape'.  (Coffee or chocolate certainly helps, too!)
Did you know that Vera Bradley makes a ton of fashion accessories that matches their bag patterns? Grab one of their cute patterned scarves or bracelets for a little color when you travel. They would also make fun holiday gifts for any traveller you know. (or anyone that enjoys a little color in their life!)
If you wanted more colorful inspiration… to make you OR your home more colorful, be sure to check out my Colorful Holiday pin board on Pinterest. I pinned some of my fav Vera pieces there… plus other fun and pretty ideas I love!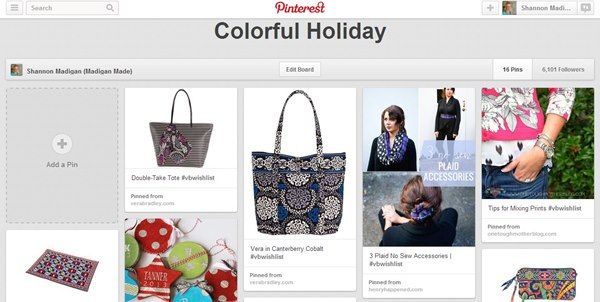 You can follow Vera Bradley on Pinterest, Facebook, Instagram or Twitter for more colorful inspiration this season.
What are your favorite Vera Bradley pieces or patterns? Check out my pin board or pin your own favorites (and use the #vbwishlist hashtag) and let me know!
Thanks for reading Madigan Made!
Content Copyright:2010-14. Madigan Made.