Madigan made… sparkly winter topiary trees.
I am a member of the Make It: Fun® Team. This glitter craft is sponsored by FloraCraft® Make It: Fun® Foam. All opinions, as always, are my own. 
If you are anything like me… you know it was a good weekend if you had to wash paint, sawdust, decoupage or glitter out of your hair. It feels like I've been dealing with the latter material a LOT lately. I know. I'm blaming the holiday season. I may need to try another glitter detox soon.
I already showed you my holiday home tour already last week… but I couldn't stop making things this past weekend for our house! It was snowing most of the weekend… I was stuck indoors… so that, in turn, meant a lot of crafting!
The folks at FloraCraft® sent me a bunch of foam topiary tree shapes to craft with this month and I played around with the shapes while the snow fell outside.
I wasn't sure what to make with the cones until I remembered my usual mantra:  Glitter. When in doubt, the answer is always glitter.
What? You aren't surprised? I know. I'm so predictable! Hahaha! But this time blue glitter was calling my name, if you must know. (to coordinate with my cobalt and snowflake wall and cobalt blue trio of Christmas trees.)
Want to see how to make these sparkly trees? To create the bases for the trees, I just used a few brass napkin rings that I picked up at a thrift store this summer.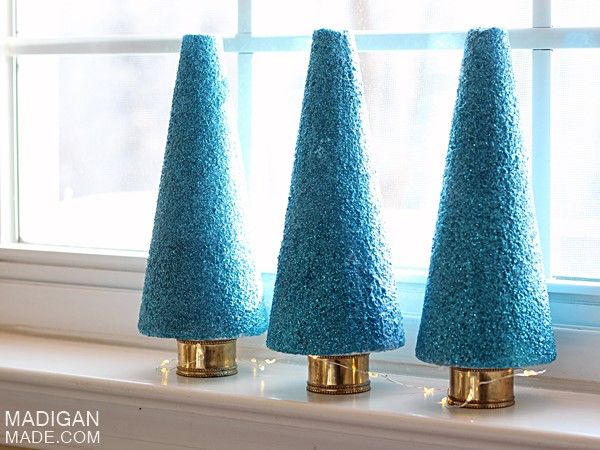 Easy Glitter Covered Topiary Trees
Supplies used:
Make it: Fun® Foam Cones, three total
Blue glitter
Diamond DustTM Glitter
Plastic cup
Craft stick
Decoupage or white glue
Brushes
Hot glue gun, low-temp
Brass napkin rings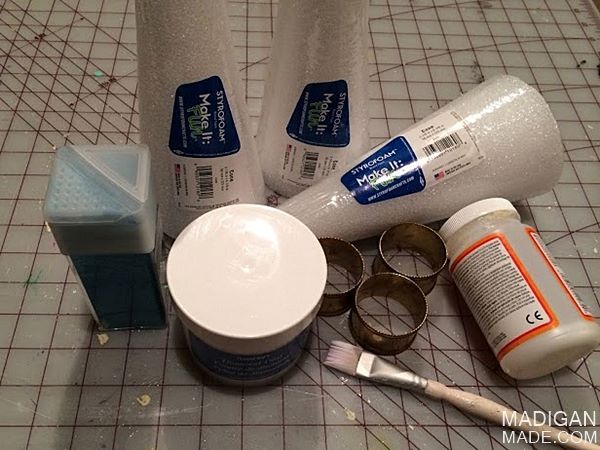 Instructions:
In a cup, mix some of the blue glitter into the Diamond Dust (I used about a 1:1 ratio). Stir with a spoon or stick.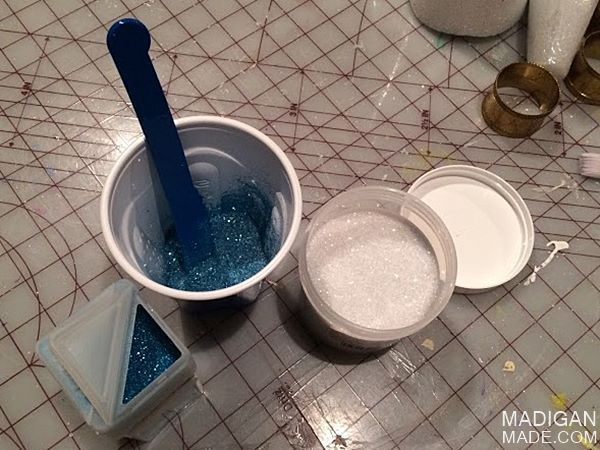 Working in sections, brush a thick coat of decoupage over the foam cones. Sprinkle liberally with the glitter mixture. Allow to dry and shake off any excess.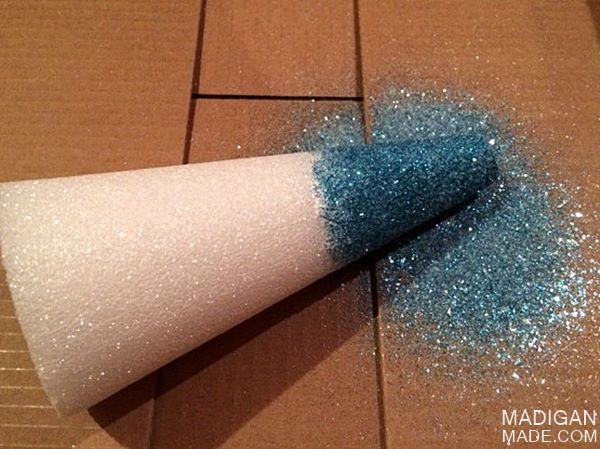 To seal the glitter down, apply another 1-2 coats of decoupage over the glitter. Then, adhere the napkin rings to the tree bases using a couple dollops of hot glue.
FloraCraft also sent me these Design It:® LED Light Strands. I wrapped one around the bases of the trees for a little more sparkle at night.
I placed the three trees on the windowsill above the sink in our kitchen. It was a nice way to make our kitchen feel  festive for the holidays. Plus, with the blue color, I think I can leave these trees up past Christmas through the rest of the winter.
I love how the topiaries look in front of our window. The mixture of the fine glitter with the chunky clear and white Diamond Dust added a lot of dimension and sparkle to the trees. This weekend it was pretty to see the trees sitting in from of the window with all the snow outside in the distance. (Which made me quickly forget about the blue glitter that was stuck in my hair!)
For more information about crafting with FloraCraft® Make It: Fun® Foam, please also check out Crafts n' Coffee or follow the hashtag #MakeitFunCrafts.
Thanks for reading Madigan Made!
Content Copyright:2010-14. Madigan Made.