This post brought to you by Duck Brand provided by ShurTech Brands, LLC. All opinions are 100% mine.
Madigan Made… Duck Brand®  decorated holiday bags.
I have to say that crafting with cute tape NEVER gets old. It is easy… cheap… fast. And these are ALL qualities that I need around the holidays when things get busy.
I don't know if you remember, but last year I made a bunch of cute and simple handmade cards with Duck Brand® tape. Well, this year they sent me even more holiday themed tape in cute patterns (seasonal sweets, holiday bows, snowmen, penguins).
I wanted to Duck the Halls and use the snowmen tape for some of my holiday wrapping. Aside from using white wrapping paper with ribbon or tape, I'm always looking for other easy ways to wrap presents. Like I shared yesterday, you can make your own holiday gift bags very easily (and for a fraction of the cost of ones from the store). Just grab some plain white gift bags from the craft store and cute tape!
These gift bags couldn't be easier to make.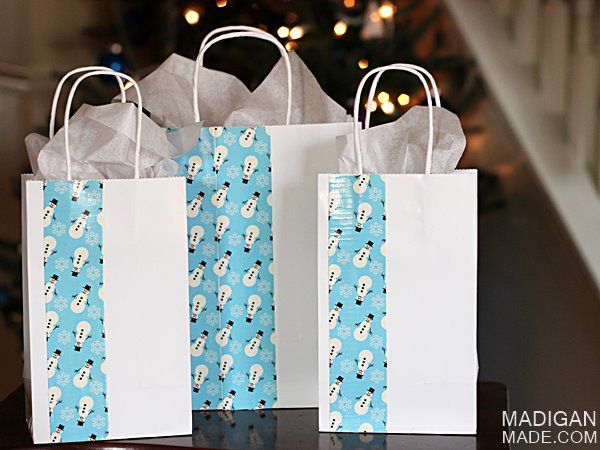 Easy DIY Gift Bags
Supplies used:
White gift bags
Duck Brand® Holiday design tape
Scissors
Instructions:
Apply a strip (or two) of the printed tape down the front of each bag.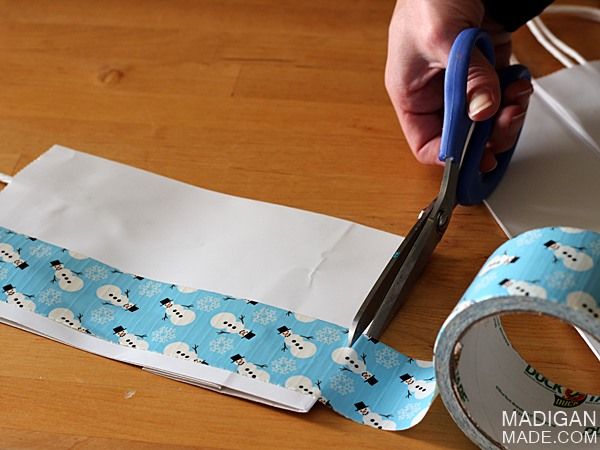 Trim the tape to fit on the front of the bag with your scissors.
That's it!
I told you… Cheap. Easy. Fast. Gotta love craft solutions like this one this time of year!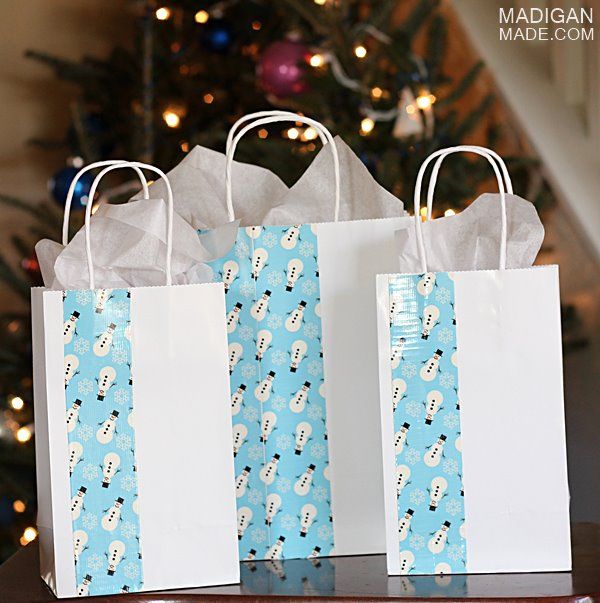 Need more easy holiday crafting ideas? Be sure to follow The Duck Brand® on Twitter (via @TheDuckBrand or pin creative tape ideas using the  #DucktheHalls hashtag).
Thanks for reading Madigan Made!
Content Copyright:2010-14. Madigan Made.