Madigan made… a group of 3 small trees (instead of one big one)!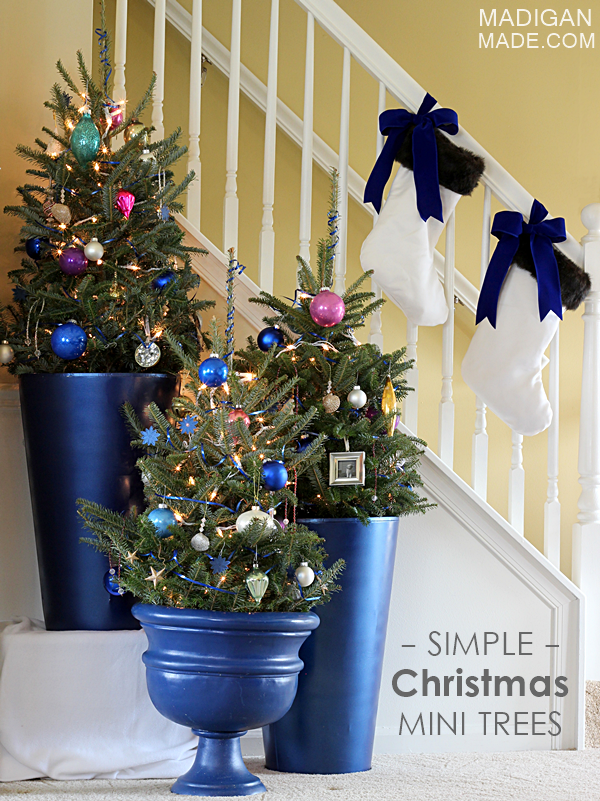 What would you do if your artificial holiday tree died last year? …But you don't quite want to commit to buying another artificial one this year (because you are indecisive and can't decide what you want)? …But you aren't happy with live cut tree options you find (too fat, too tall, etc)?  … But the little tabletop live trees you spot at the store are cute… but not quite big enough?
Well, if you are anything like me, you get THREE little trees. Because that's what anyone would do, right? Naturally.
Just call me Goldilocks… because this three tree arrangement feels juuussst right for us this year! It might not be for everyone, but I love it.
Let me tell you about a few of the details!
The trees
Each tabletop tree is only about 3 to 4 feet in height. I think we paid about $15 each, which in total is cheaper than some cut trees I was looking at. I thought that price was worth it given the impact these three trees create.
The plant bases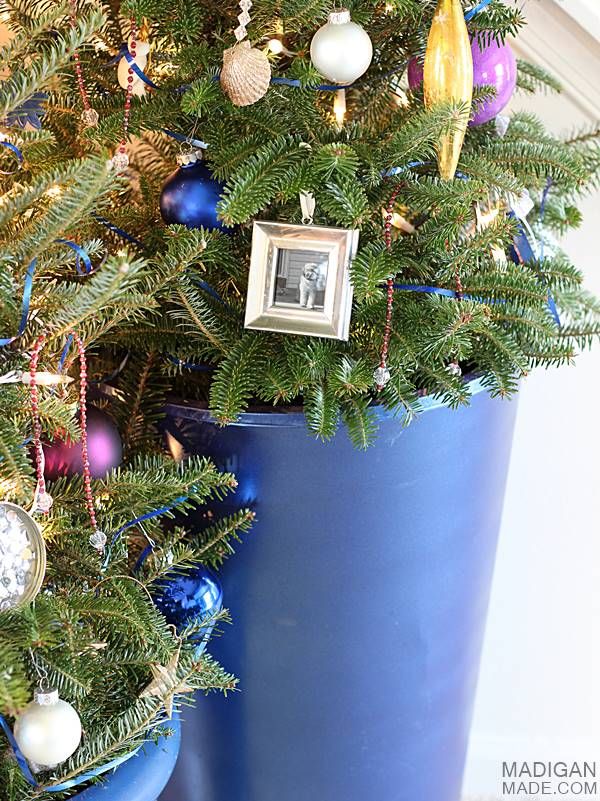 I wanted to stagger the trees at three different heights at the base of our steps but I was not sure how to do that at first. Do you remember my crush on cobalt this summer? Well it's been my mission to use this deep blue in my holiday décor this year. So, I used the blue planter containers that I painted this summer to prop up the trees. They were the perfect solution to hold the trees AND THEY WERE BLUE! I made one of the taller planters even higher by sitting it on a container (that I just wrapped in some white fabric).
The garland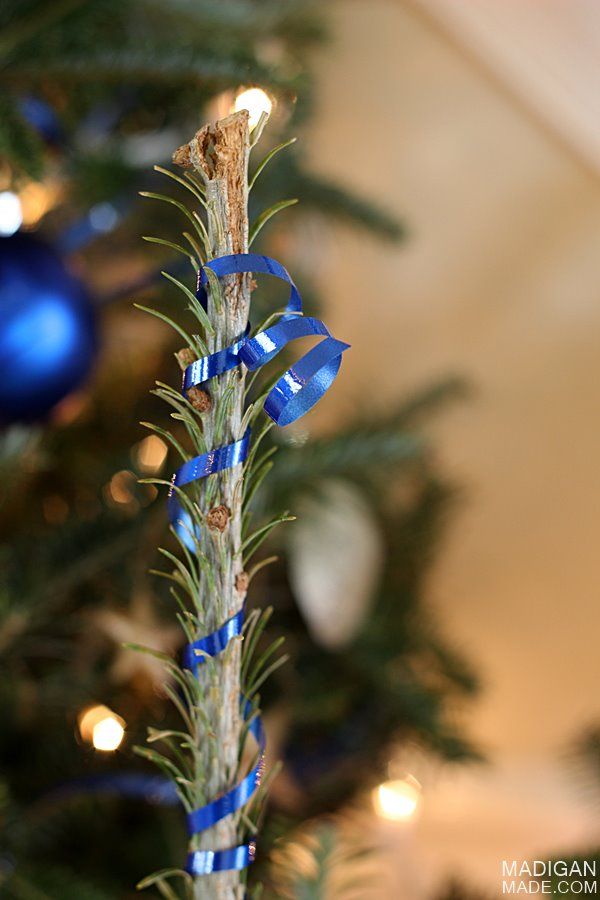 These little trees do not have the strongest branches… so I spotted some cobalt colored curling ribbon at the store and used that as my garland. It was cheap, light and easy to work with. Instead of trying to balance a tree topper on each tree, I just used a scissors to curl the ribbon and wrap it around the top branch for a little drama.
The ornaments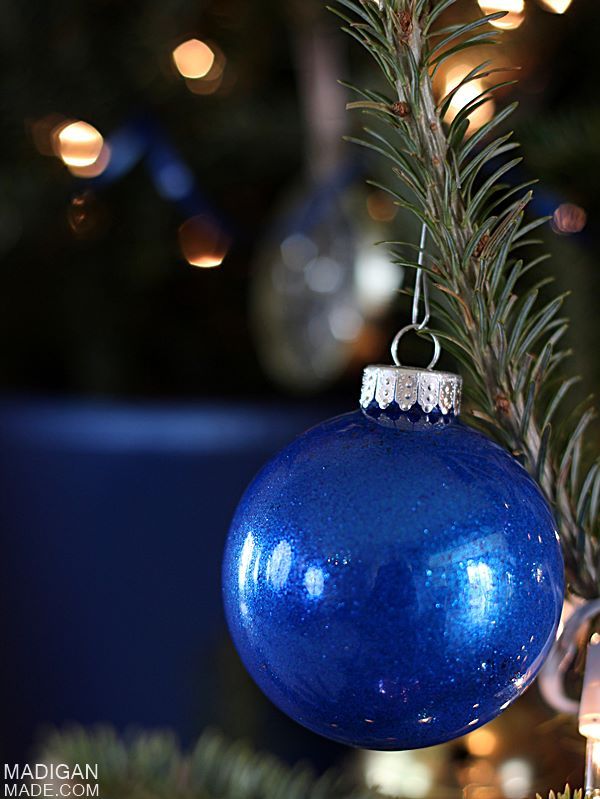 In years past, my holiday tree was filled with lots of jewel tone and metallic vintage-style glass ornaments. They are gorgeous ornaments… but heavy. The branches on these little trees were not strong enough to hold those ornaments, so I had to use some of my lighter-weight ornaments instead. (Don't worry, the glass ornaments still found their way into my décor… more on that later this week.)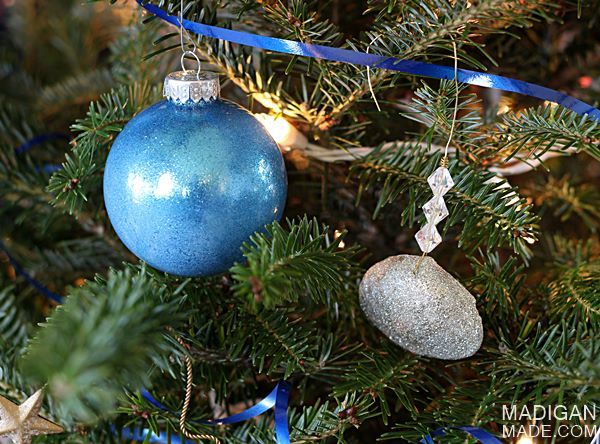 The fact that I needed lighter ornaments is partly why I made several new ornaments this year like my glitter glass ornaments, sparkly seashells and embroidery hoop ornament.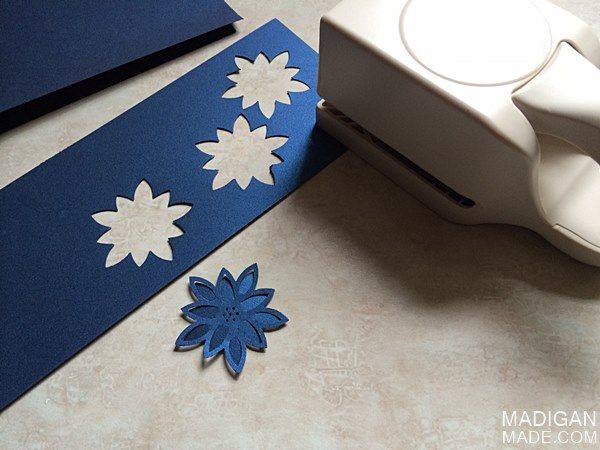 I even quickly made a few paper ornaments with some blue paper (leftover from my snowflake clipboard wall) and a flower shaped punch that reminded me a little of snowflakes.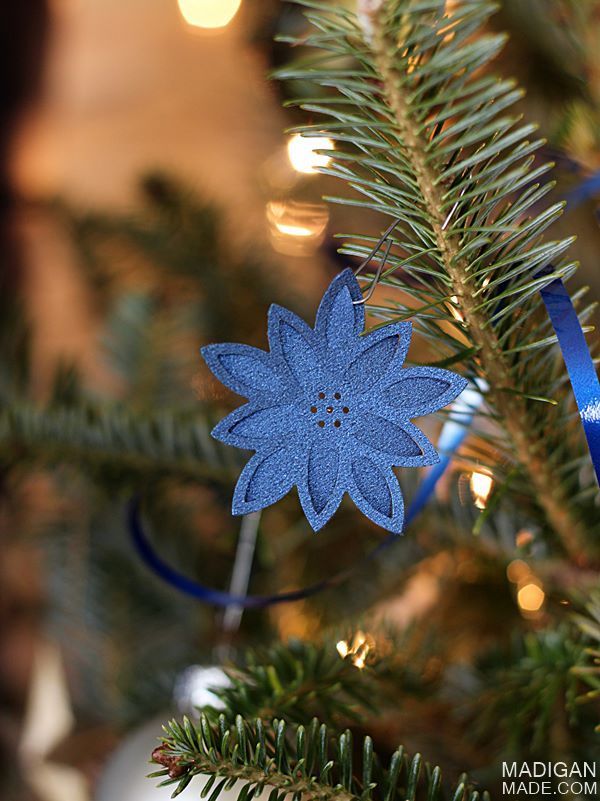 The stockings
Our little house does not have a mantle, so I never quite know where to hang our stockings. If you remember, I sewed these stockings from my wedding dress. This year it just felt right to hang them next to the trees using some gorgeous blue velvet ribbon.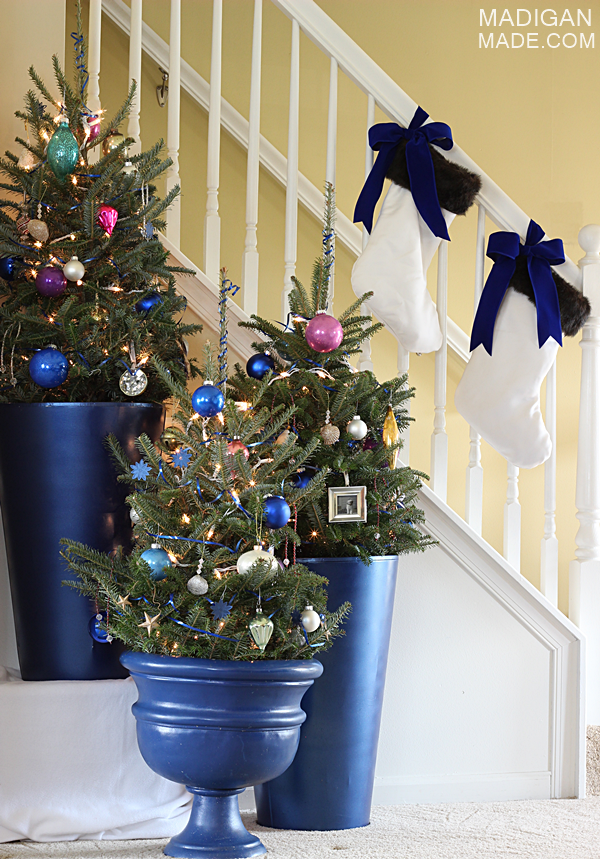 Next year I think we are going to go back to an artificial tree (once I decide on one!)… but this year I'm planning to really enjoy my live trees… all THREE of them!
Thanks for reading Madigan Made!
Content Copyright:2010-14. Madigan Made.