Madigan made… glitter filled glass ornaments.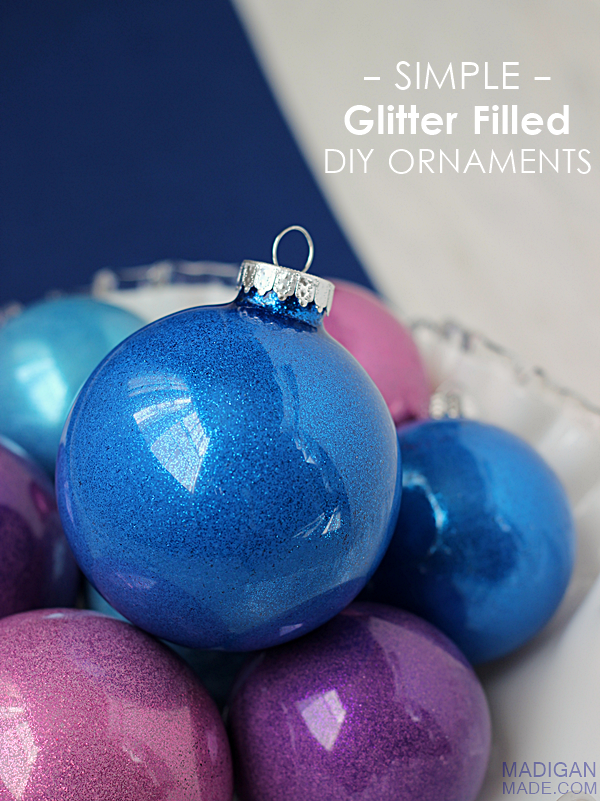 This simple craft is sponsored by Michaels Recollections glitter. All opinions are 100% my own.
So… I think by now y'all know that glitter is my jam. I already have a lot of glitter in my craft stash. Well, I recently received a box filled with glitter from Michaels stores that took my glitter supplies from the amateur collector to a borderline glitter hoarder. (Who are we kidding!? I was already there!) Soooo… Get. ready. for. even. more. glitter. crafts. here. You've been warned!
What did I make first with all of this glitter goodness? Well, since I can't seem to stop with the glitter crafts for the holiday season, I decided to make a few more sparkly ornaments for our Christmas tree (more on that later this month). I love the look of glitter filled glass ornaments and I knew they could be easy to make with the clear blank ornaments that are available at craft stores. I've heard that you can adhere the glitter on the inside of the glass with furniture polish (Like Jessica's simple glitter tutorial.) but I had decoupage on hand, so that is what I used.
My biggest challenge was trying to figure out which color and style of glitter to use! Michaels Recollections glitter comes in a ton of shades and styles (fine, chunky, tinsel). Since I am trying to use more blue hues and jewel tones this Christmas, I grabbed some glitter in deep blue, dark pink and royal purple from the set I received.
Want to see how to make these sparkly globes?
DIY Glitter Filled Ornaments
Supplies used:
Michaels Recollections glitter

Blank, clear ornaments

Decoupage, satin or glossy formula

Water

Craft stick and paper cup
Instructions:
Remove the metal caps of your ornaments.
Pour some of the decoupage into a paper cup and add just a little water to the adhesive to thin it out a little. Stir with your craft stick. You are looking to make the decoupage a little more pourable to swirl around inside the ornament. I shot for a heavy cream/half and half consistency.
Pour some of the decoupage mixture into your ornament. Turn the glass around to coat the entire inside surface. Let any excess glue drain out of the ornament back into your paper cup.
Working over a tray or trash can (to minimize the mess!) pour some glitter into your ornament. You can use a funnel to be neat, or craft a little dangerously like me and pour the glitter straight from the bottle!
Shake the globe around to get glitter all over the entire inside surface. Add more glitter, if needed. Shake out any excess over your tray.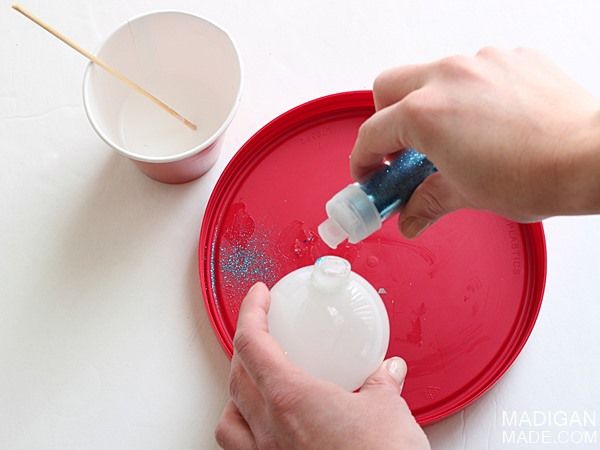 Allow the glue to dry overnight. I occasionally went over and turned the ornaments to be sure that the decoupage was not pooling in one spot.
Replace the caps and hang your ornaments on your tree or fill a big bowl with them for a sparkly and festive centerpiece!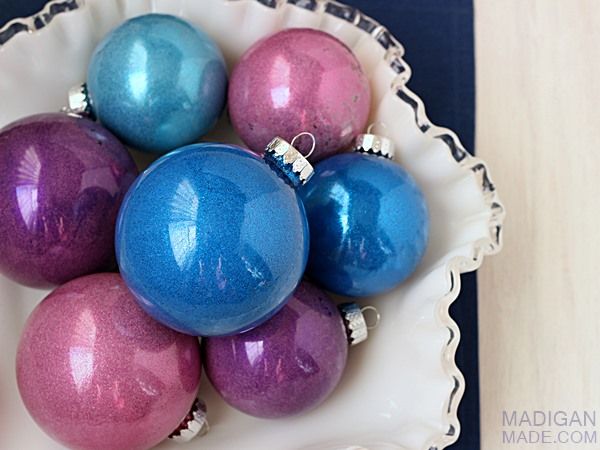 The best part about this craft is that the glitter doesn't shed since it is contained on the inside of the glass! I love the deep, blue cobalt ornaments the best… but all of them have a great sparkly texture!
Are you obsessed with sparkle like me? I found the Recollections glitter very easy to work with and would recommend it for your glitter crafting. It is available exclusively at Michaels stores and the supplies start at $3.99 (individually or in sets). I can't wait to use the other glitter supplies soon to make more sparkly crafts. Stay tuned!
Thanks for reading Madigan Made!
Content Copyright:2010-14. Madigan Made.