Madigan made… a Christmas home tour.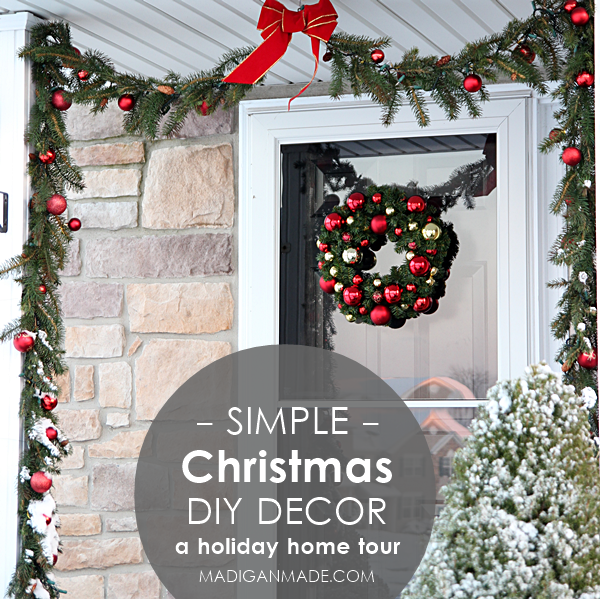 Every year I tell myself I need to simplify my Christmas decorations… and I try. I really do.
But every year I end up making more decorations (because I just can't help it!) and I wonder where I'm going to fit all this stuff. Surprisingly, I was able to reuse most of my old holiday décor this year with the new items I made. I just moved and remixed the decorations around to make it feel new and fresh.
I've told you this before, but my approach to holiday decorating is to group like things together to create seasonal vignettes with impact. I'd rather have a few scenes with drama than lots of cheap garland and holiday tchotchkes sprinkled around the home.
Let's take a look around our simple holiday home, shall we?
As I showed you earlier this week, I set up a non-traditional trio of mini tabletop trees in planter pots and hung our stockings (made from my wedding dress) on the stairs. I love the impact these trees give our staircase!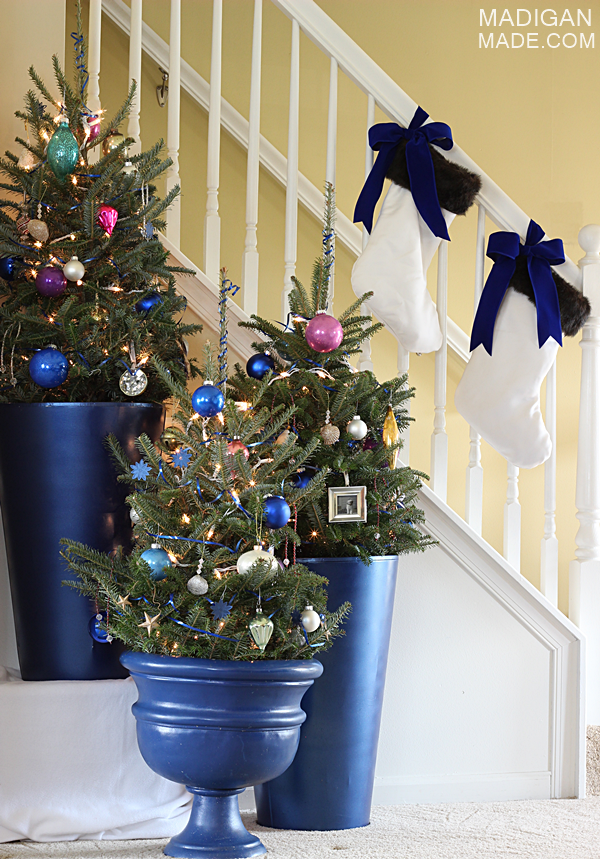 I continued the cobalt blue color in our kitchen on my large clipboard wall using a doily snowflake display and my milkglass Christmas trees as a centerpiece.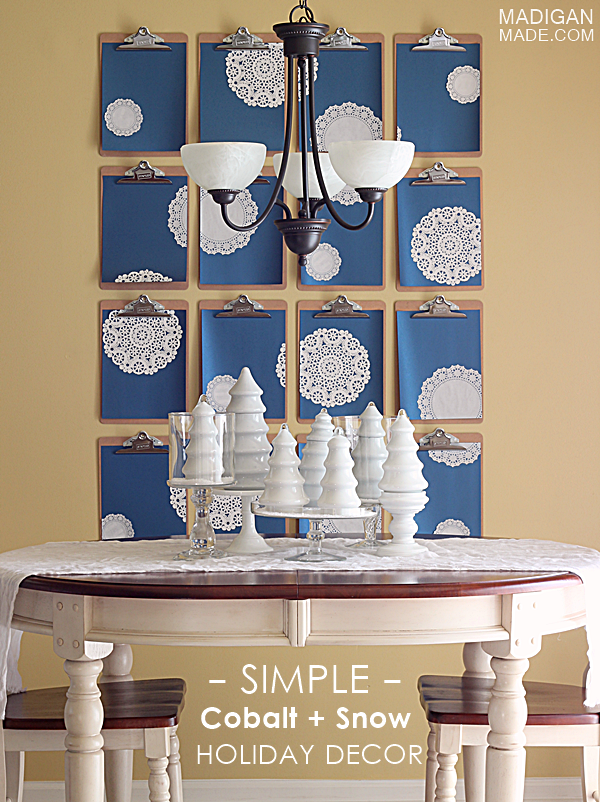 To add another touch of blue in the home this season, I just grouped my knock-off cobalt painted vases with another blue vase and some ornaments on a tray (my DIY glitter tray!). The arrangement looks pretty on our side table in the family room.
Besides this blue hue, I used metallic colors or reds throughout the home.
In our kitchen above the wooden cart I hung a bunch of gold and silver wreaths that I made in the past. I just used removable hooks to hang them on the wall in a large grouping. (Last year I hung the wreaths down the steps, if you remember.)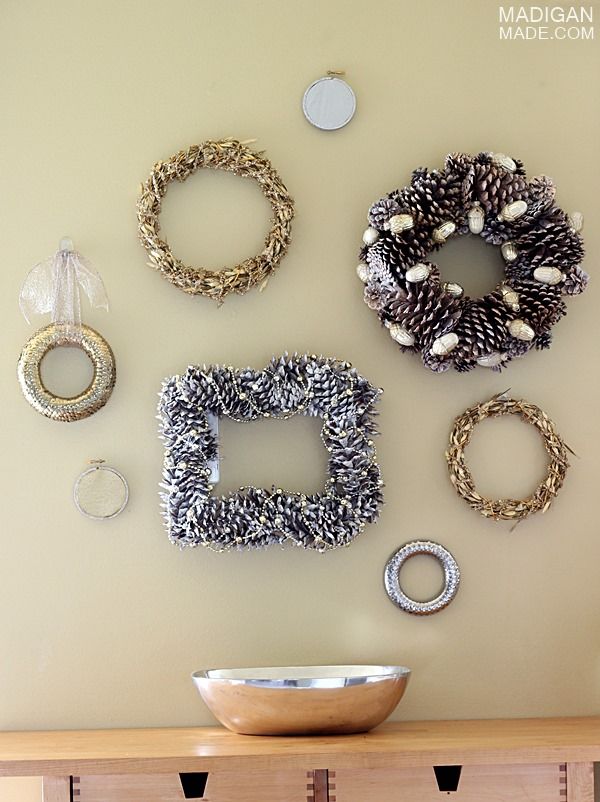 A big aluminum bowl sits below the wreaths. We will use this bowl to hold all of the Christmas cards we receive this month.
To fill in and around out the display, I made two small, glittery embroidery hoops. I just glued glitter around the edges and secured metallic paper in the hoops. Easy!
In our office/den, I decorated the china/library cabinet simply.
For the top of the cabinet, I mixed my mini topiary trees from last year with my DIY milkglass containers to create a wintery scene.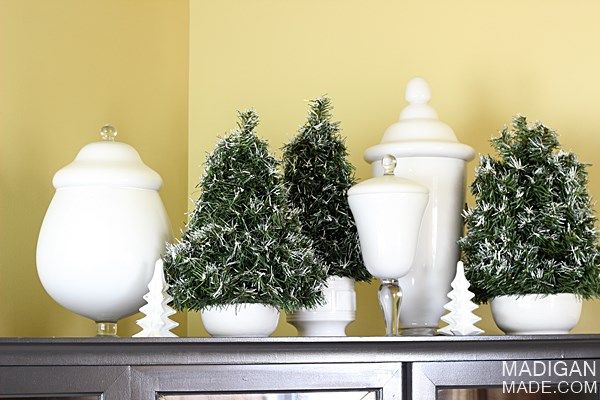 Then, I hung my lighted ornament canvas on the front of the glass case. I love how the gold ornaments pick up some of the gold details in the china cabinet. (And I love that the canvas covers most of the cabinet up so I don't have to decorate the inside!)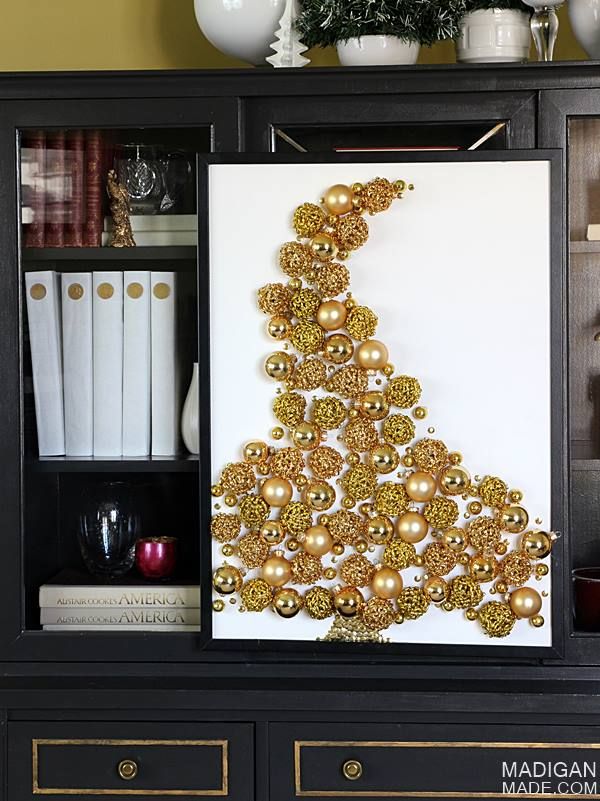 After setting up all these vignettes that had some 'impact' in certain areas of our home… I kept the remaining holiday décor simple.
My go-to simple solution for Christmas decorating? Big containers of ornaments!
Gold and silver vintage style ornaments glow in a long tray below our television.
My DIY candy cane ribbon bowl holds more ornaments below my botanical prints. It looks like it is filled with shiny berries, doesn't it?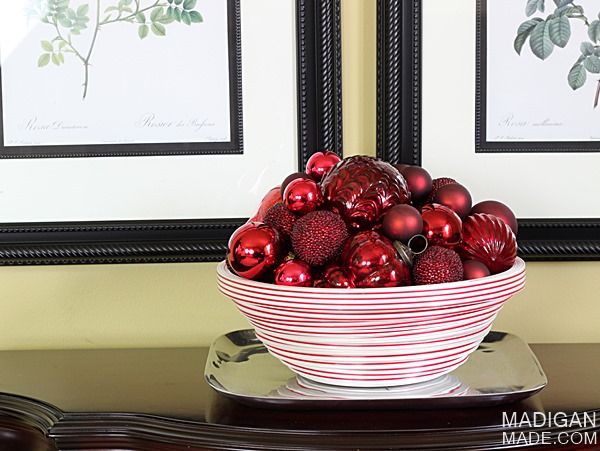 Our desk even got a little sparkle with some red ornaments in a set of mortar and pestles I own.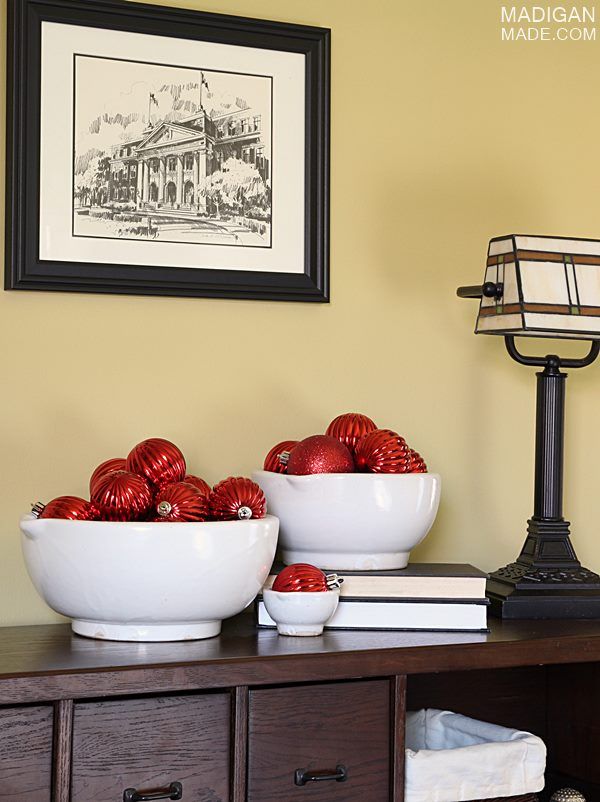 Finally, I couldn't forget to address the outside. I decorated our front porch with a DIY lighted ornament garland and wreath that I made. I've used this garland and wreath for the past several years and it always looks simple and classic. An old sled I found thrift shopping greets visitors next to the front door.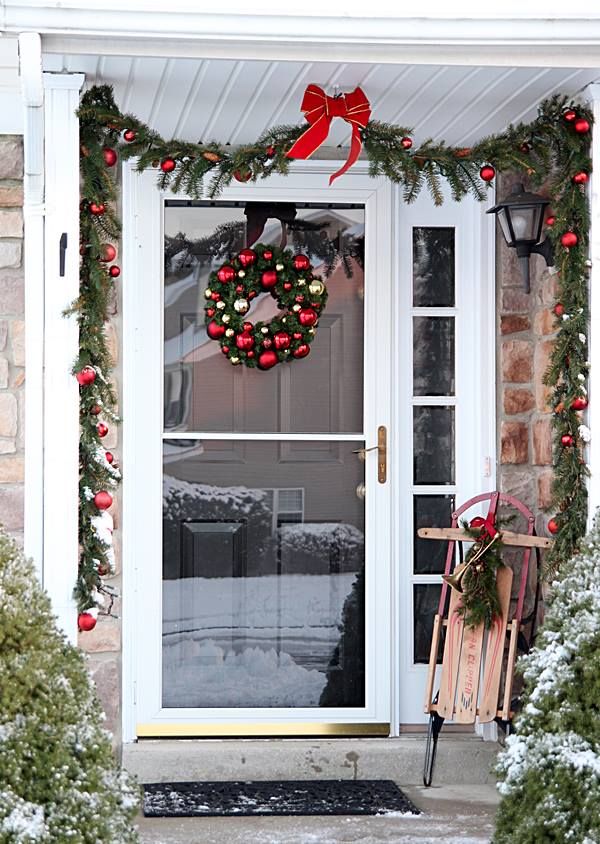 So after a few simple holiday vignettes, a lot of blue decor and a couple bowls of ornaments… I'm going to say our house is ready for Christmas!  And I love that I was able to do it with both old and new decorations. (Now I just need to finish shopping, wrapping, baking, cleaning… yikes!)
Thanks for reading Madigan Made!
Content Copyright:2010-14. Madigan Made.