Madigan made… an elegant appetizer recipe with phyllo cups.
It's no secret around here that I like easy and simple solutions for my home and my crafting. Entertaining? No different!
My husband and I don't entertain a great deal (in part, because our house is small). But when we entertain, we do our best to keep things simple. A simple menu for the main course. A few easy appetizers. A couple of desserts. Often times, we will get a large part of the menu catered (sandwich trays, pasta, salads, pizza, etc.). It keeps things easy for us so we are not in the kitchen the whole time, but can focus on our guests. That being said, I do like to make a few 'homemade' items to share, too. But, as you can guess, I like to keep those things simple, too!
I got this easy appetizer idea from one of my coworkers (thanks, D!). She originally tried these at someone's wedding… and they'd be the perfect little elegant bite for a wedding or other formal party. You can make them with either goat cheese or mascarpone cheese. 
I decided to make these little cups for Christmas Eve this past week when we had family over. To make the bites, I used mascarpone cheese. I thought it would be easy to pipe the cheese into the cups with a pastry tip  to make the bites even prettier. Whether you do that or not, I can guarantee you that they won't last long at your next party! These little bite-sized appetizers are sooo good! (And I love that they are so easy!)
Fig, Cheese and Phyllo Cup Appetizer
makes about 2 dozen
Ingredients:
2 packages of frozen, mini, pre-baked, phyllo dough cups (about 2 dozen)
1 8 oz container of mascarpone cheese
Fig preserves
Honey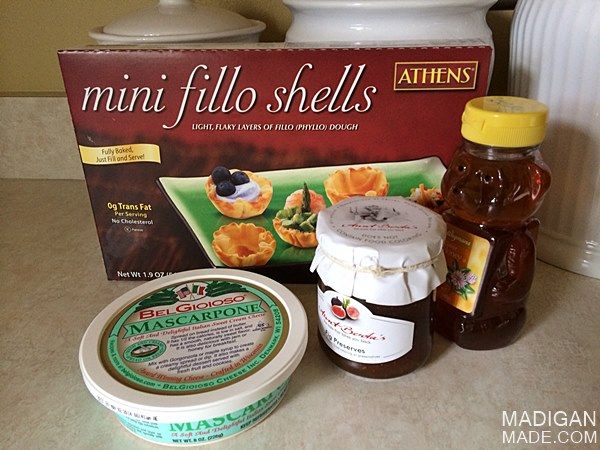 Directions:
If desired, place the cheese in a bag with a pastry tip. Pipe (or just spoon) some cheese into each phyllo dough cup.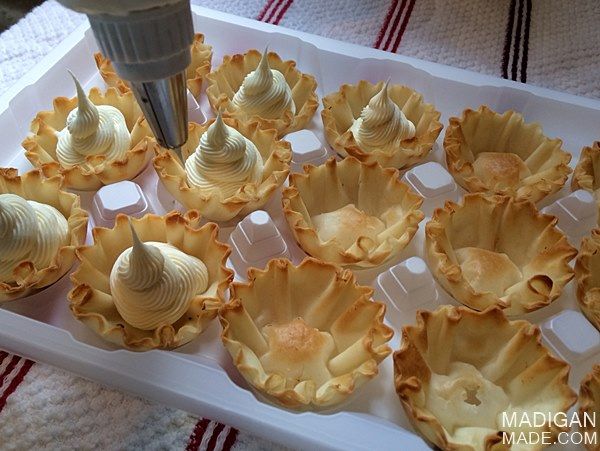 Drizzle each one with honey. Top the cheese with a dollop of fig jam. Serve or refrigerate until serving.
Enjoy!
Thanks for reading Madigan Made!
Content Copyright:2010-14. Madigan Made.