Madigan made… mini Florentine cups with turkey.
This time of year I think many of us look for easy and simple entertaining ideas… but we also want  to make the holidays a little special and elegant, too. Well, I have a great little appetizer for you to try this month that accomplishes both of those objectives!
My mother-in-law found this recipe and asked me to make it for an appetizer at Thanksgiving last week. I love spinach… (and who doesn't like cheese?)… so I knew I'd like this dish. Plus, it was easy to prepare. I was able to assemble the cups ahead of time and then just heat them up before serving.
The little cup shapes are fancy and cute… and the cheese mixture on the inside makes the perfect little bite!  Everyone enjoyed them at our Thanksgiving.
Easy Florentine Cups
Adapted from this recipe
Ingredients:
1 10 oz package of frozen, chopped spinach, thawed and well drained
1/2 cup shredded mozzarella cheese
1/2 of an 8 oz brick of cream cheese, softened
1 tbsp grated parmesan cheese
1 tbsp of grated onion (or finely chopped)
1/4 tsp garlic powder
24 slices of thinly turkey breast lunchmeat
Directions:
In a large bowl, combine all of the above ingredients except for the turkey.
Gently place one piece of turkey in a mini muffin pan to form a cup in each opening. Fill each cup with a little over a teaspoonful of the spinach and cheese mixture.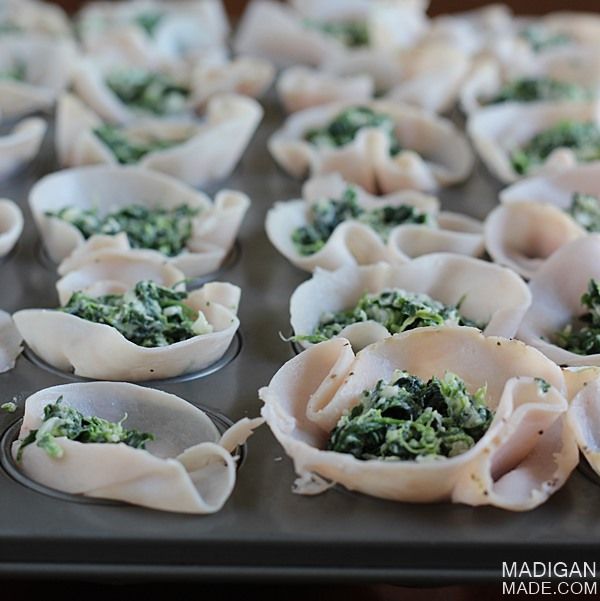 Refrigerate the pan until you are ready to serve OR if you want to cook right away, just preheat the oven to 350 degrees F. Bake the cups for about 15 minutes or until the edges of the turkey start to brown. Serve immediately.
Let your guests enjoy these little warm appetizer bites… and you can tell them how easy they were to make. (or not!) Either way, you'll have a pretty (and easy!) dish to share for the holiday season.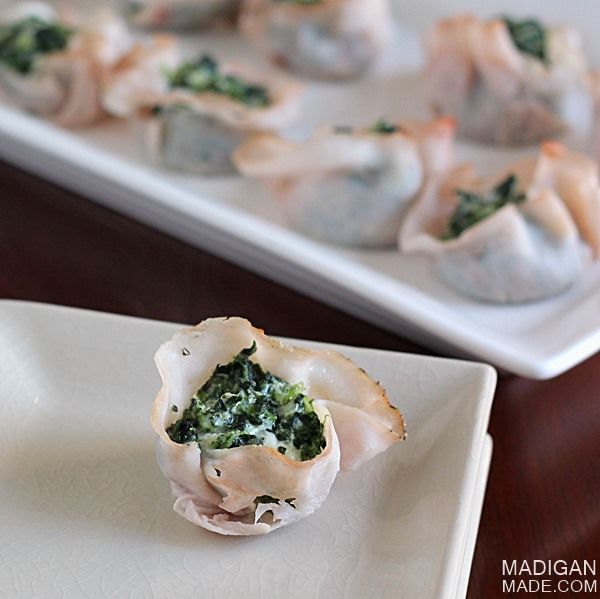 TGIF! Have a wonderful (and hopefully crafty!) weekend!
Thanks for reading Madigan Made!
Content Copyright:2010-14. Madigan Made.