Madigan made…  DIY connected vases from glass ornaments.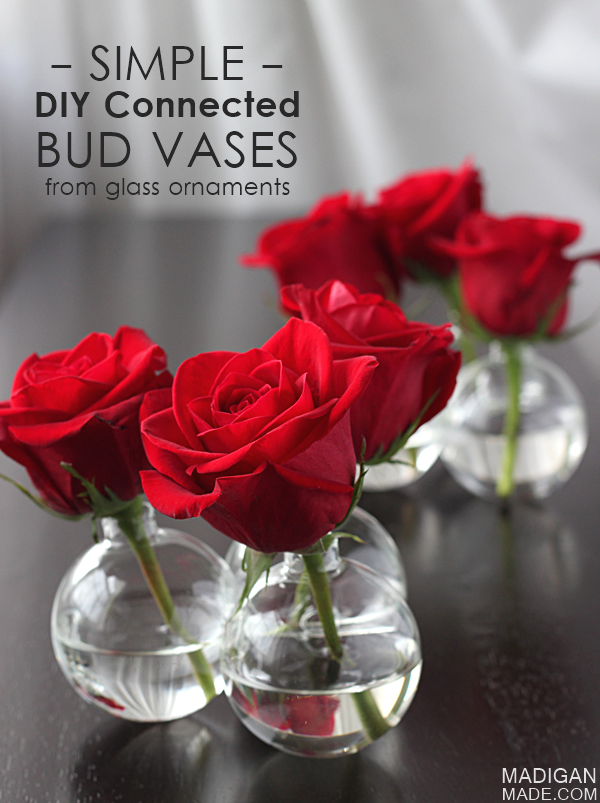 Do you have any leftover clear glass ornaments from the holidays? Don't pack them away yet! And if you don't have any, I bet you can still find a few boxes of these ornaments on clearance in the stores. I highly recommend going out to get a few… because you can make one of these cute connected bud vases with them!
Aren't they sweet?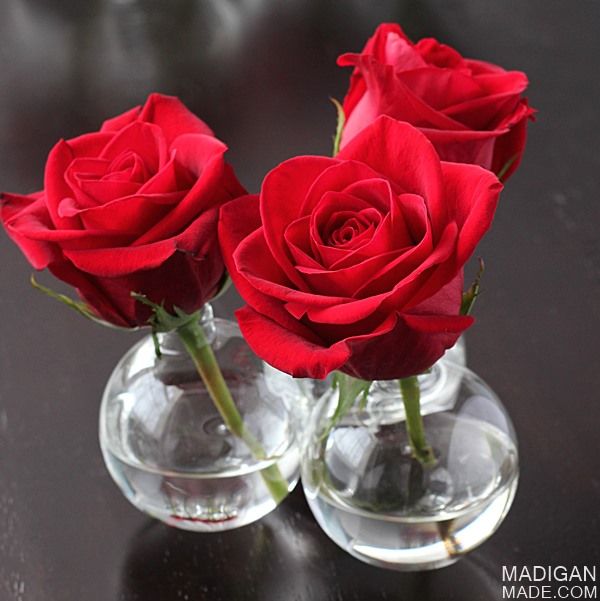 What prompted me to make these simple DIY vases? Well, my mother-in-law has owned this elegant, blown-glass, connected, bud vase for years: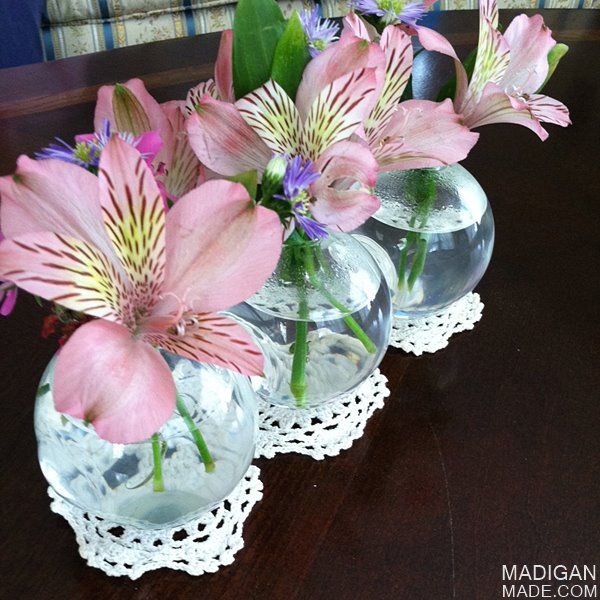 I loved this vase and always admired it. Recently when I was gazing at her vase, I realized that the globes reminded me of little upside-down glass ornaments! I knew I could knock this off somehow!
So, when Christmas craft supplies hit the stores this fall, I scooped up some glass ornaments and thought it was worth a shot to try and make my own trio of connected vases. Not only did I make one set… I made THREE sets total!
It was really easy. Let me show you.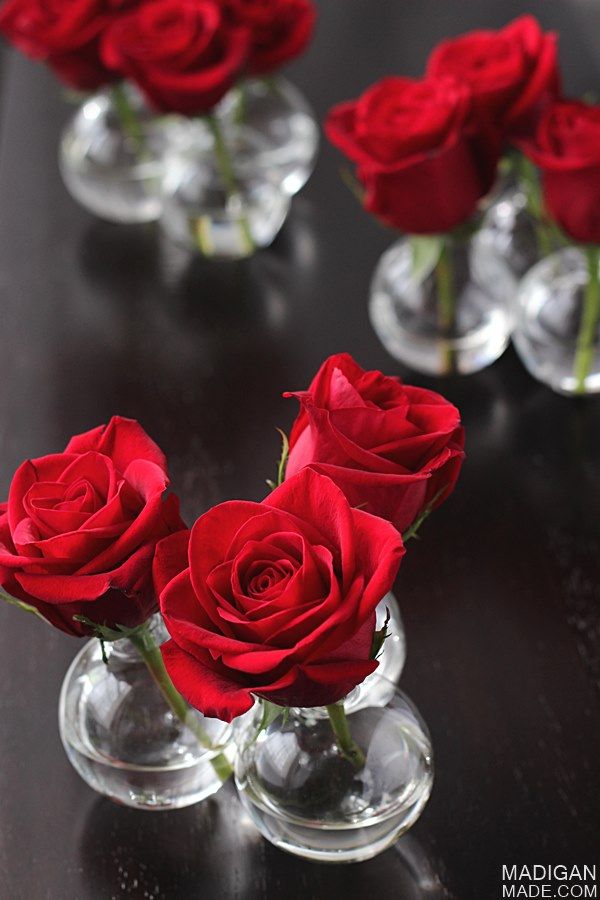 Easy DIY Connected Vase From Ornaments
Supplies used:
(Note: links in this list contain affiliate links. I may earn a commission off of purchases via those links.)
Instructions:
Remove the metallic cap hardware from each ornament. Be careful and consider wearing gloves while doing this, because sometimes there can be sharp edges or 'strings' of glass at the opening. Lightly sand the glass along the opening if there are any rough edges. (Most of my ornament edges were smooth.)
Group three ornaments together using painters tape on a level surface. With the tape attached, carefully pull apart the ornaments and squeeze a dollop of glue between the glass where each ornament connects with the other two. (Be careful. If you use too much glue, the connection may look sloppy.) Then, apply more painters tape around the circumference of ornaments to pull them together tightly. Allow the glue to set and dry overnight.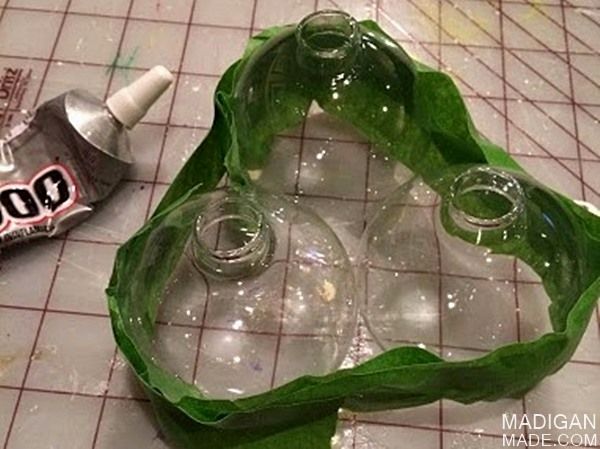 Remove the painters tape and, if needed, use a craft blade to carefully scrape off any glue that may have run down the glass while drying.
Fill with water, flowers and enjoy!
A few notes and words of caution:
I am unsure if this process would work with plastic ornaments (finding strong adhesive for plastics can be tricky). I used glass ornaments and I think that the glass was very pretty and elegant.

These vases are fragile. While the glue holds everything pretty securely, I still move each vase with two hands underneath the 3 globes to support them (especially when they have water in them).

My glass ornaments held water fine and did not leak. BUT I did place the ornaments on a tray when I first used them, just to be sure.
I love that I can group these sets of vases together for one large centerpiece.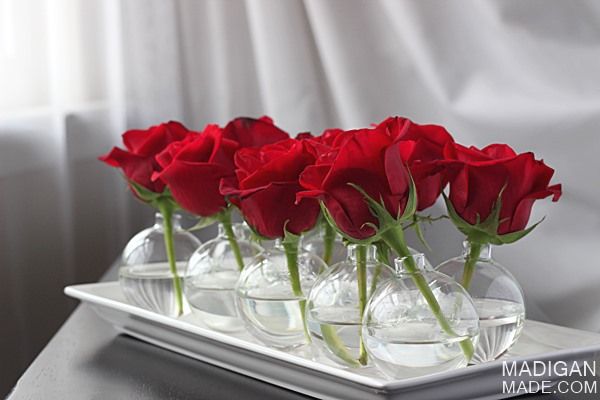 OR pull them apart to showcase the flowers individually.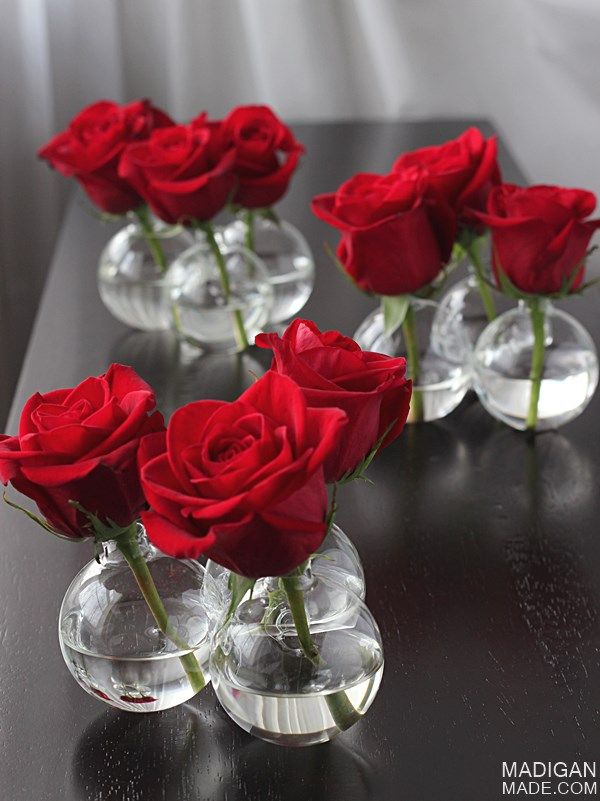 Either way I use them, I am so excited to have these sweet little vases around!  I love grabbing the occasional bouquet of fresh flowers from the grocery store and I can't wait to see what other flowers look like in these vases! I think tulips (my fav flower!) will look gorgeous in them!
Thanks for reading Madigan Made!
Content Copyright:2010-14. Madigan Made.