Madigan made… a trip down DIY memory lane.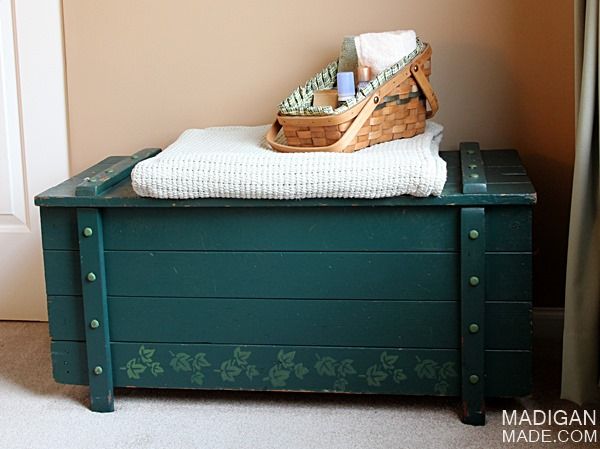 I have to confess something… 2014 has not been very crafty for me yet this year… I've been busy minding and organizing a few things around the house instead. SO, since I don't have a new project to share with you, I thought it might be fun to show you one of my very first ever DIY project that I did. I still own it! (Well, my first DIY that I did as an adult! I made plenty of crafts as a kid, but this was my first 'real' project.)
In my junior year of college, I moved out of the dorms with some girlfriends into a house off campus. I needed storage solutions for my new college bedroom and my parents gave me an old, hand-me-down, wooden trunk. It actually was one of my brother's old toy boxes.
I wish you could've seen the "before"… because it was a mid-tone, rustic, wooden truck with a black sketched scene of cowboys and horses running across the front. 
In hindsight, the trunk had character, but I was young and eager to make it my own. So, I decided to paint the trunk to match my plans for the bedroom. This was the late 1990s and I was not into cowboys, horses and wood tones… I was (and I cringe as a tell you this) into green and purple hues for my bedroom décor. So, I decided to paint over the wood with some hunter green paint.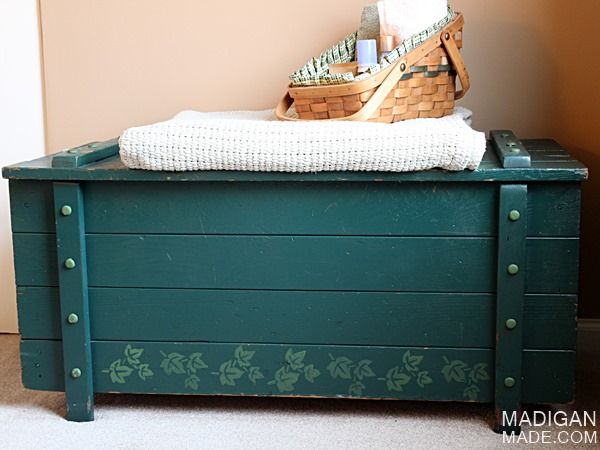 And then, just to be fancy (Let's be honest, what was I thinking?), I decided to stencil some lighter green ivy shapes on top of green. This was the first time I painted furniture… and aesthetics aside… I think I did a good job. The paint is chipping off in places today, but I don't mind.
Right now, this trunk sits in our guest bedroom. I'm not in love with the dark green color today, but there are other green tones in our guest room, so the piece looks OK and works for now. The trunk is a great size and perfect for storage.  We use it to store extra towels and pillows for our guests. A thick blanket and basket filled with travel sized toiletries sits on top of the trunk, in case our guests may need anything.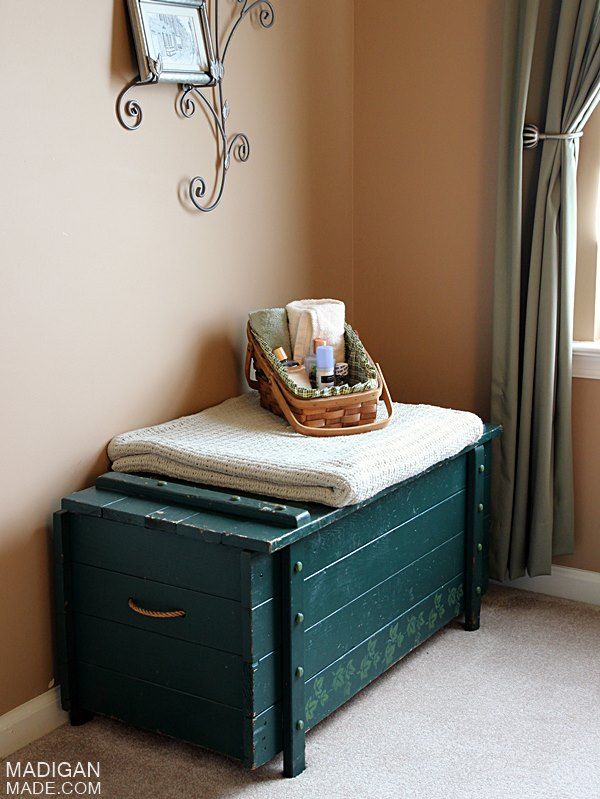 Part of me is considering stripping the paint off of this trunk someday… because I'd love to rediscover that wood grain and those horses.  But I'm worried that stripping the paint could remove that horse and cowboy scene, too!
What would you do? Would you strip it or just paint over the green to freshen it up?
I'd also love to hear if you have any of your first DIY projects still around and if you still love them or not!
Thanks for reading Madigan Made!
Content Copyright:2010-14. Madigan Made.