Madigan made… a few healthy tips.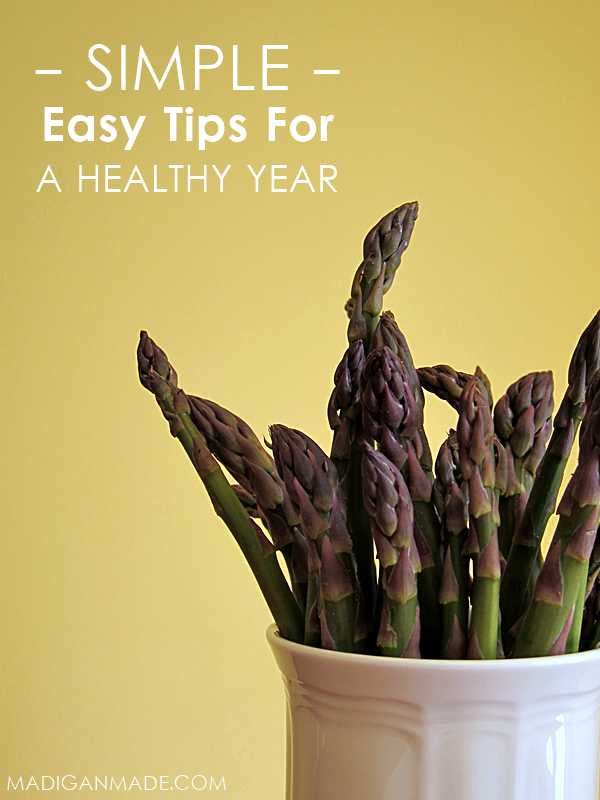 Thanks for all your kind comments earlier this month on my new necklace and the story of my little black dress (and weight loss success). After that post, several of you asked how I lost weight this past year. Since it is January and many of us are setting goals for the coming year, I thought I'd share with you some simple tips I've adopted in the prior year to feel more healthy (and eventually lose some weight).
Before we begin, I want you to know a few disclaimers:
By day, I am a pharmacist and a health care professional… but  I am NOT a trained nutritionist. I am also NOT a personal trainer. Most of what I'm sharing with you today are general health tips and common sense. Starting any diet or exercise program should be discussed with your doctor if you have any reservations.
You should know that maintaining a healthy weight is always a work-in-progress for me. My weight has yo-yo'd in the past 10 years. I've lost and gained weight before in various ways (counting calories, fad diets, etc). Staying committed is not easy. What I've learned through the years is that lifestyle changes, not dieting, needs to happen… and slowly. I did not make the changes below overnight. It's been a slow process for me over the past 1.5 years.
I used to focus on just dieting… but as you'll see below, watching what I ate AND exercise were both important pieces for my recent success. A successful change in lifestyle habits needs to involve both, in my opinion.
What healthy habits did I adopt?
I gave up soda.
Confession: I used to be be a diet soda junkie. (Read: 2-3 cans a day PLUS several cups of coffee) I am not here to discuss the merits of diet vs. regular soda. In my personal opinion, both have their pitfalls. One (regular soda) is packed full of empty calories and sugar which is why I've always avoided it. The other (diet) provided me with a sweet taste, but no calories. This may sound good, but there are some developing theories and research to suggest that process does not provide one with a 'mental' food reward. (You eat something 'sweet', but the body does not 'feel' it that way.) In turn, that may encourage more sugar cravings. From my personal observation, when I stopped drinking soda, I found that I lost a little weight and did not crave as many sweets. I don't plan to go back except for the rare 'treat'.
I drink lots more water.
I know. This is a no-brainer… but for some reason I used to forget to drink water during the day. I've been trying to drink more water this year and even made pretty new cups to help inspire me! Water can get boring at times, so I'm always on the look out for more ways to make it fun to drink water. Check out all of these ways to make infused water at Henry Happened… I can't wait to try a few!
I eat tons of fruits, veggies and lean meats.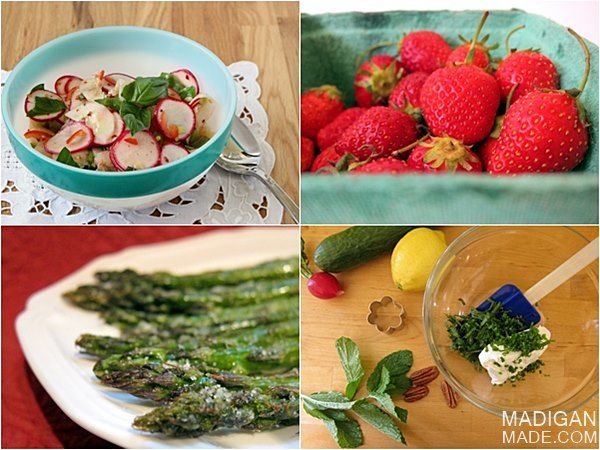 My focus these days is to watch my portions and eat more nutrient dense foods. At the same time, I've cut back and minimized processed foods, refined carbohydrates and sweets in my diet. I have not completely cut out bread, rice, and other grains, but I limit them and try to make whole grain choices when I do. Fresh fruit and veggies are a favorite snack. I swapped out my daily cereal every morning for plain Greek yogurt with fruit. It sticks with me longer throughout the morning. Many of our dinners involve a lean, grilled/baked meat and veggie or a big simple chicken and avocado salad.
I've learned over the years that highly restrictive diets don't work for me. When I cut something out, I tend to overeat it later on when I eventually can't stick to that diet. If you are a regular reader here, y'all know I love my chocolate and desserts. I don't deprive myself of the occasional treat, I just limit and savor them.
I exercise 30 to 60 minutes almost daily.
This step is really when I noted the biggest change in my weight, size and energy level this past year. I used to be very active and fit in high school and college.  But for many reasons and excuses, I haven't been able to keep up with a regular exercise program until this past year. This summer I started walking… really long walks with the dog…. or just by myself. My goal was to walk briskly at least 30 minutes a day (usually more). I also made sure to stretch when I got home and use light free weights or do squats/lunges. If you are looking for ways to incorporate basic exercises into your busy day, check out my friend Jamie's home exercise tips. I now do my squats and lunges when I brush my teeth, too!
My goals for the future:
Maintain and stay active.
I don't want to lose more weight… but someday I'd love to try other exercises and activities. My goals would be to stay strong and become more toned.
Work on my meal planning.
For as many good meals as my husband and I try to eat, we also find ourselves scrounging for dinner ideas other nights and that can lead to poor food choices. (ordering out, making ramen noodles, etc.) I'd love to be more organized and focused when I plan my grocery shopping and meal plans for the week. It is still a work in progress for me.
So, now that I shared with you what I've done… What simple tips or habits have you adopted or want to work on this year to be more healthy?
Thanks for reading Madigan Made!
Content Copyright:2010-14. Madigan Made.