Madigan made… DIY Japanese faux glass fishing floats.
With spring's arrival this week… I am SO ready to incorporate more bright color into my home right now.
I'm currently working on some DIY décor projects for our family room. Remember that sad room that I finally painted last year? Yeah, it needed help! One of the colors (from my CMYK color scheme) I am using in the room is a pretty blue turquoise.
So, you can imagine my delight when I was at the thrift store one day this fall and stumbled across REAL blown glass Japanese fishing floats in a gorgeous teal color!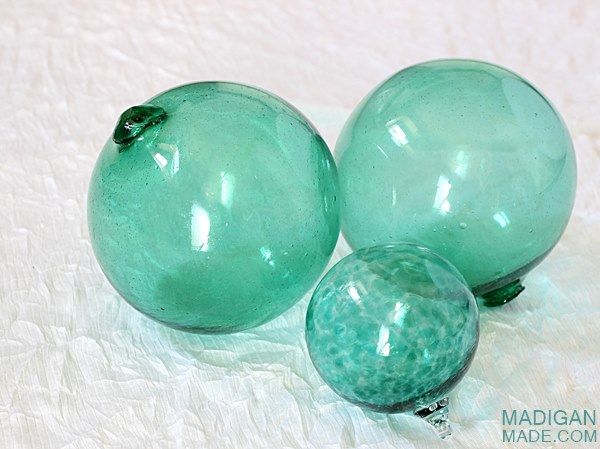 When I spotted the shiny glass spheres, I grinned, snatched them up and  walked to the register like a giddy little kid. They were so pretty and I knew they'd look nice in the family room.
But I realized that just two of the floats did not look that impressive in a bowl… even with a blown glass Christmas ornament that I had, too. (That's the smaller orb in front.) So, I thought it might be fun to use large, glass holiday ornaments to mimic the look of the floats for a big vase filler display. I found my ornaments on clearance after Christmas, but you can purchase them online year-round.
The colors of my blue DIY versions are not as teal or as green as the real-life floats, but I still like the colors. I think they all look pretty in a big bowl.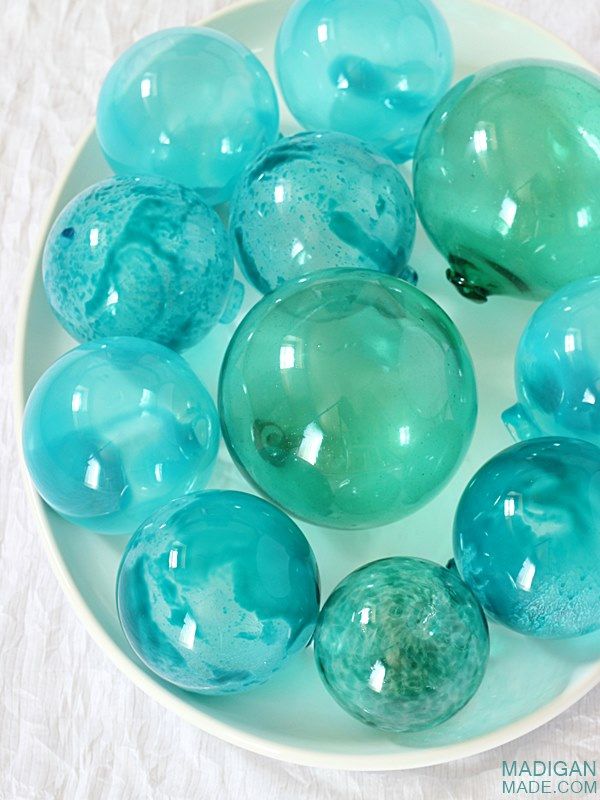 DIY Faux Glass Fishing Floats Vase Filler
Supplies used:
(Note: Links in this list are affiliate links. I may earn a small commission from purchases made via these links. I also was given some of the supplies below complimentary for prior projects. All opinions are my own.)
Steps to make DIY glass floats:
Remove the metal hardware from each of the ornaments. Place the ornaments upright in the packaging container they came in.
Pour a generous amount of colored Mod Podge into four of the ornaments. Swirl the ornaments around to coat the inside of each one. Turn the ornaments upside down and allow the decoupage to drain out of the ornaments. I love how this product can easily tint glass!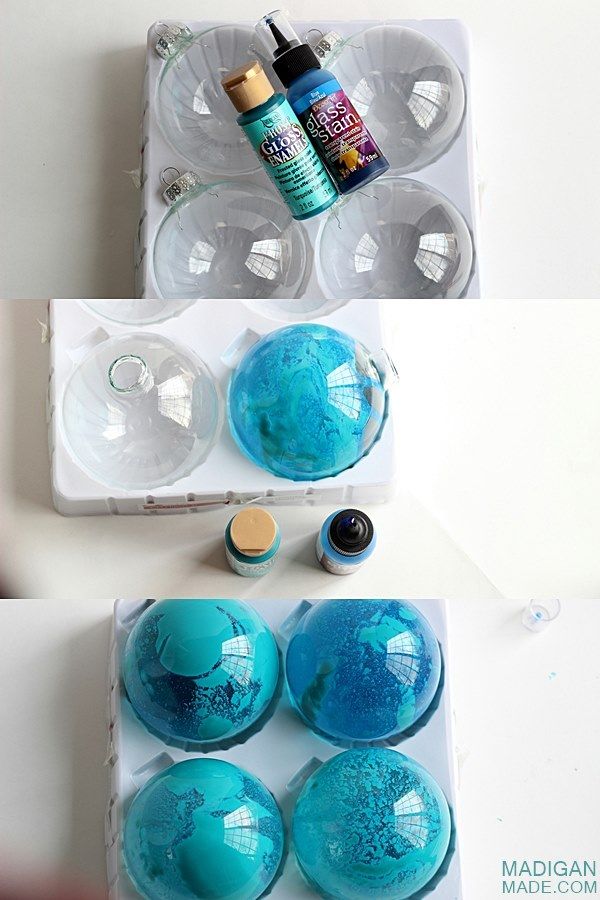 Pour a bit of both the glass stain and the translucent glass paint into the four remaining ornaments. Swirl those around to coat the inside of the ornaments and allow them to dry upside down and excess paint to drain out. 
Allow your ornaments to dry out. For me, the paint dried within one day. Because of the narrow opening, it took my ornaments with the Mod Podge WEEKS for the decoupage to fully dry and cure. In hindsight, maybe I could have hastened the drying time by baking them at a low temperature in the oven OR mixed a little water into the decoupage before swirling. They eventually dried with some patience.
Once all of the ornaments are dry, clean up any dried paint/decoupage along the opening edges by using your craft knife.
Fill a bowl or tray with your new creations and enjoy!
I love how each technique created two different looks on my 'floats'. The decoupage gave the glass a solid color while the two different glass paints in the other ones had kind of a marbled look. Even though the color is not an exact match, I think they look pretty next to the 'real' floats in a dish.
It looks like a big bowl of bubbles, doesn't it?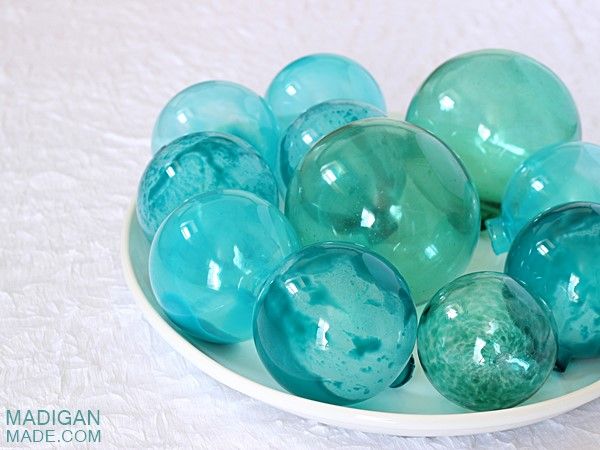 If you didn't want to mimic the look of glass fishing floats, you could make pretty, translucent vase filler with this approach using ANY color paint or decoupage to match your décor. I think a bowl filled with pale pink or soft green bubbles could be pretty for a spring centerpiece, or any time of the year.
I might make a few more of these floats down the road in another size to add more variety to my collection. I'll probably try to mix a little green into the blue to match the teal of the real floats.
Right now, this pile of pretty blue bubbles just makes me smile!
Thanks for reading Madigan Made!
Content Copyright:2010-14. Madigan Made.