Madigan made… DIY wall art from a silk sari.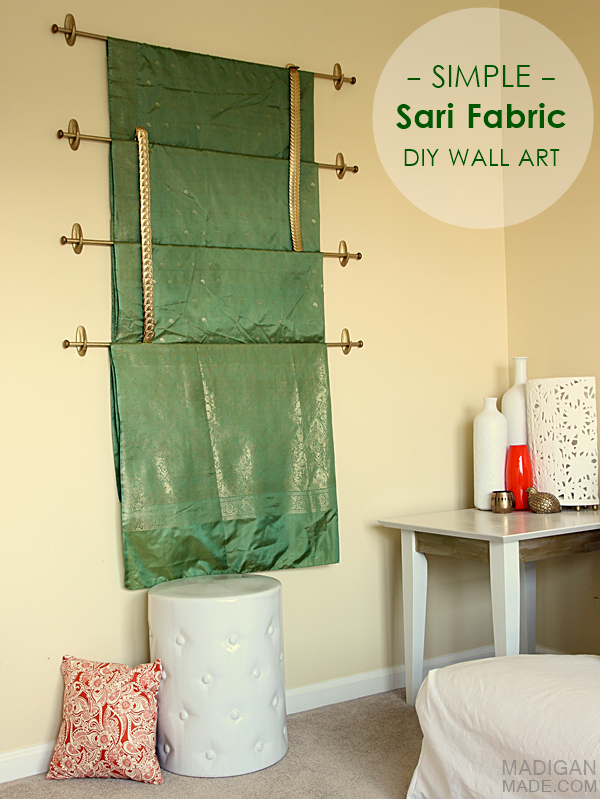 I told you last week that my little brother got married this past fall. Well, several years ago, my other brother got married, too. His wife is originally from Bangladesh and their wedding consisted of several days of special activities and ceremonies. It was a whirlwind weekend of combined families and cultural traditions.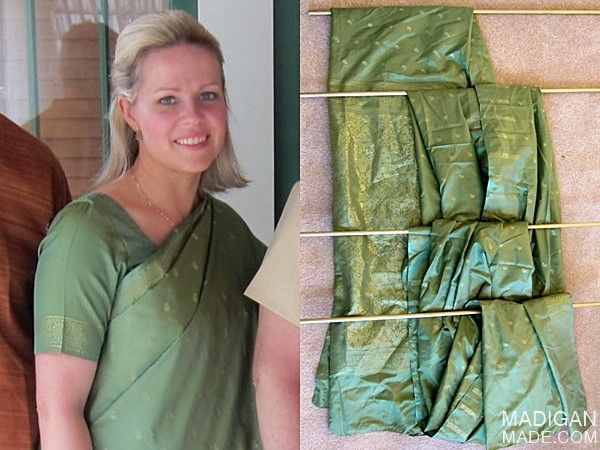 One memory that stands out from their wedding was the ceremony that I got to wear a traditional sari! While it was quite complicated to put on, (thankfully, I had an in-law family member help me into it!) I found the silk outfit very comfortable to wear. And isn't that grass green color to. die. for? I loved wearing it!
After the wedding was over, my sister-in-law encouraged me to do something crafty with the silk fabric. The fabric sat in a box for awhile because I wasn't sure what to make with it. But, when I started making over my home office space with a blue, green and orange color scheme, I knew that fabric could work in the space.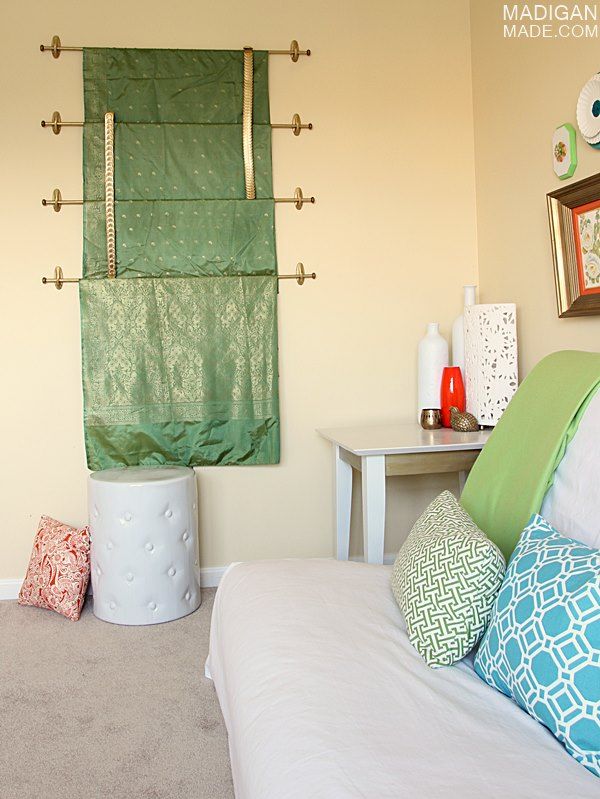 But I'll be honest… the fabric was so beautiful, I couldn't bring myself to take a pair of scissors to the silk. (I'm not sure why, since I had no problem taking a pair of scissors to my own wedding dress!) I decided to display the fabric as one whole piece. A wall hanging seemed like the easiest way to accomplish that goal. I picked up some sturdy dowels and wall hooks and got busy. (I actually hung this piece on the wall last year, but just got around to photographing it this month!)
Now, I could've used thin curtain rods instead of the dowels and plastic hooks. I decided to use plastic stick-on wall hooks for several reasons. One, I did not want to mark up my walls with a lot of holes. Two, I wanted the fabric to sit as flush as possible to the wall and not stick out into the room that much. Three, this silk fabric was very light weight and I knew the hooks could handle it. IF I was using a heavier fabric (i.e. tapestry or quilt), I definitely would want my hardware screwed into the wall and I would've used curtain rods.
My only challenge with this set-up was that I had to paint the dowels and hooks myself to get the look I wanted. Let me show you how I did that:
How to Hang a Sari on the Wall as Art
Supplies used:
(Note: the links below contain affiliate links. I may earn a small commission off of purchases made via them.)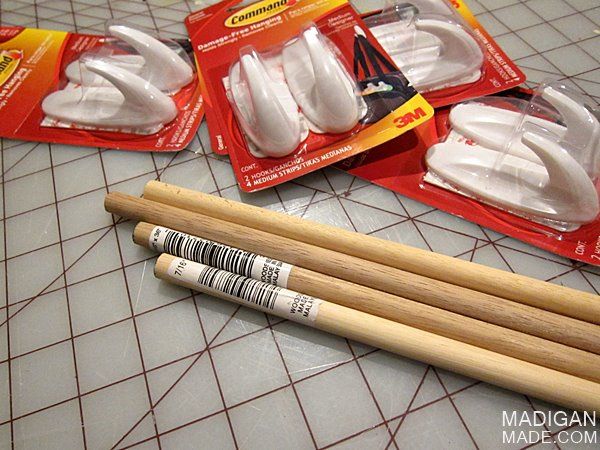 Steps taken:
First, I used the liquid leaf paint and painted the wall hooks in a gold color. I found this type of paint adhered well to the plastic. (Tip: Latex/acrylic and many spray paints will not stick to plastic unless it is designed for plastic.) You may find hooks already in a color you like and you can skip this step.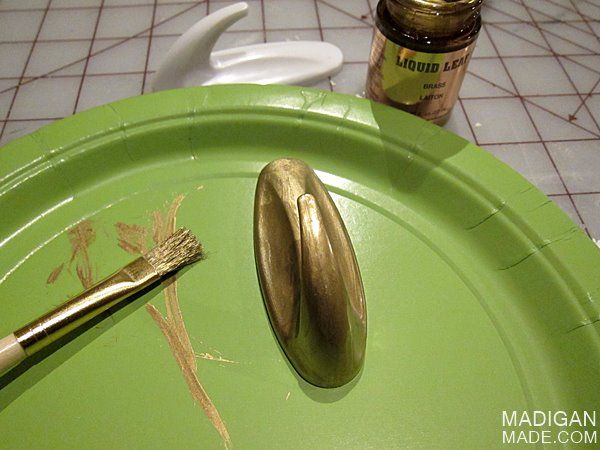 Then, I lightly sanded each dowel to smooth out the wood. I used the gold wax and rags to cover the wooden dowels with color. A little goes a LONG way with this wax, so I used it sparingly at first. Once the sticks were coated, I went back with a clean rag and gently buffed the color to remove any excess wax.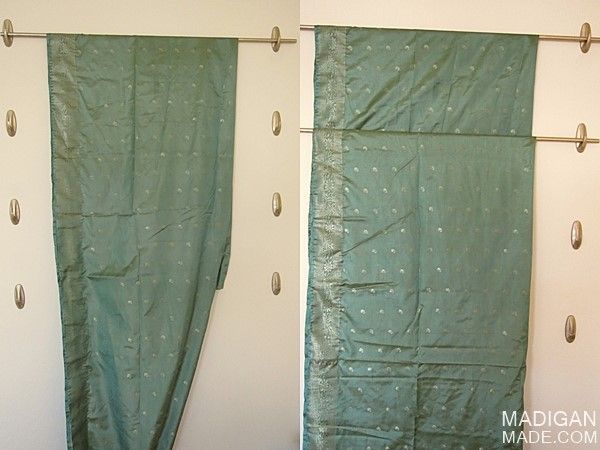 I planned, measured and stuck the hooks on the wall as seen. I made sure to use my level to keep the wooden rungs evenly spaced apart and plumb. Then, I folded and draped the sari fabric starting with the top rung and working my way down… so that the decorative 'end' of the sari hung at the bottom.
I liked the fabric hanging on the wall, but I felt the wooden rods looked a little unfinished. So, I hunted around for something decorative to glue on the ends to act as finials. I found these metallic filigree beads at the craft store that complemented the detail in the sari fabric.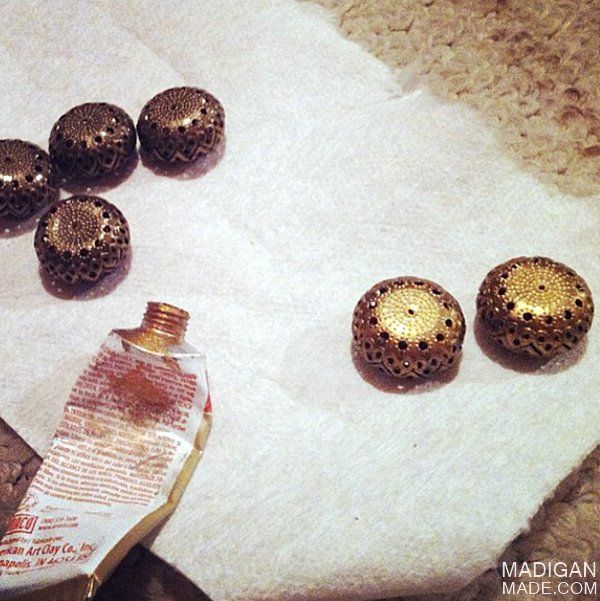 To make the metallic hues match, I also applied a little metallic wax to these beads. I just attached the beads to the end of the dowels using hot glue.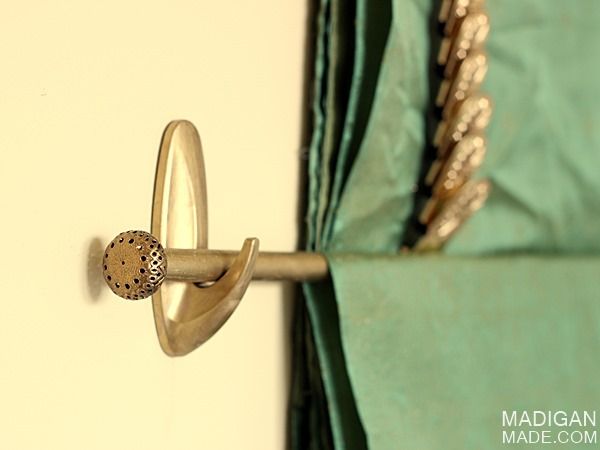 I still felt the arrangement needed an added decorative touch. I spotted these stretchy brass coin belts in my closet one day and thought they'd be pretty next to the fabric. (I picked the belts up at flea markets in the past – they come in handy when I want to dress up and outfit… and they stretch!) I just draped the ends of each belt on either side of the fabric over the dowels. This fix works and when I need to wear a belt, I can just take one down for the day!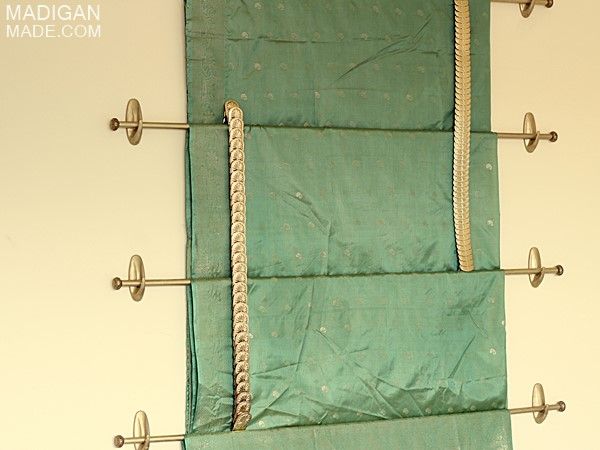 The fabric looks like a beautiful waterfall of green silk in the room. I love that this wall art piece is large, dramatic, colorful and yet still very personal at the same time. And considering how much this room means to me, it is nice to be surrounded by memories and to be reminded of those I love.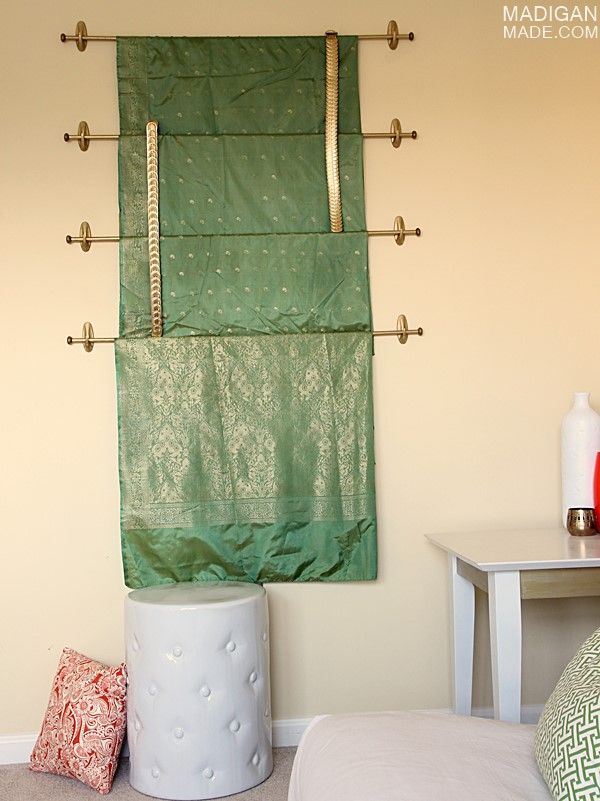 So, if you have a special piece of fabric in storage… I encourage you to get it out of the box and show it off somewhere in your home!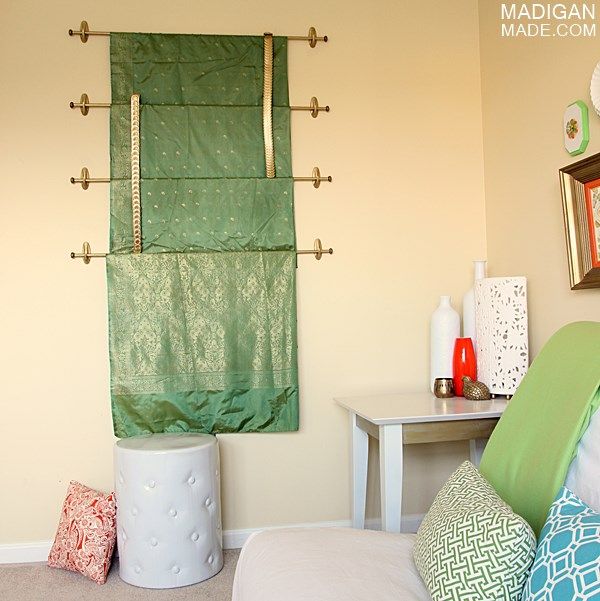 Thanks for reading Madigan Made!
Content Copyright:2010-14. Madigan Made.