Madigan made… a DIY lamp from a vase.
I've said it before and I'll say it again… when I can't find what I'm looking for, sometimes the best solution is for me to make it myself. Today's DIY lamp project is no exception.
I had a specific idea in mind for what I needed in our family room next to our new sofa. I found a classic, marble topped table at the thrift store last year to serve as a small side table next to the couch (I liked how the grays in the marble complemented the color of the sofa). But I was not sure what kind of lighting to use on top of that table.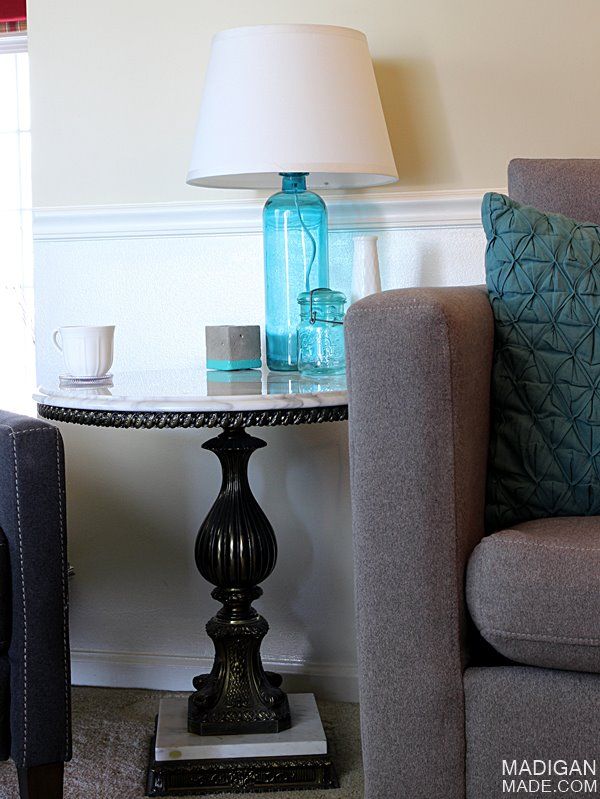 Lamps can vary in price and size depending on where you're looking.  I wanted a lamp that had a blue turquoise color to it that would pick up some of the blues from my vintage gallery wall. And, ideally, I wanted it to be made of glass to pick up some of the other glass elements in the room (like my DIY fishing floats). This is a small room and I did not need a huge, heavy lamp to dominate the space.
I did not want a big lamp… but I did not desire a tiny lamp, either. I also hoped to find the lamp for a cheap price, too. Gosh, I'm asking a lot, aren't I? Haha!
Unfortunately, the lighting selection I found in the stores was either the wrong size, wrong color or too expensive. So, when I spotted this pretty blue bottle-like vase on clearance for a few dollars at the craft store, I snapped it up and brought it home. I thought its color and size would make a great table lamp base.
With a few modifications, a carbide drill bit and some basic wiring tools/skills you can turn any glass bottle into a lamp. It's pretty cool and I was surprised at how easy it was to do.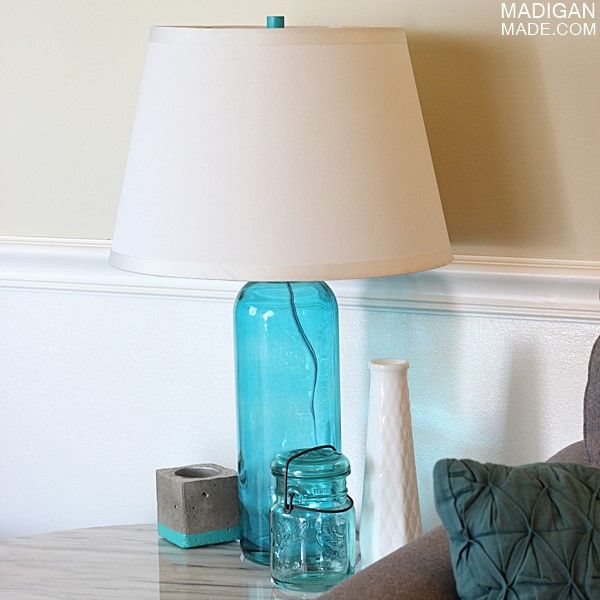 Let me show you how I made it:
DIY Lamp from a Bottle
Supplies used:
(Note: The links in this list are affiliate links. I may earn a small commission, at no cost to you, off of purchases via those links.)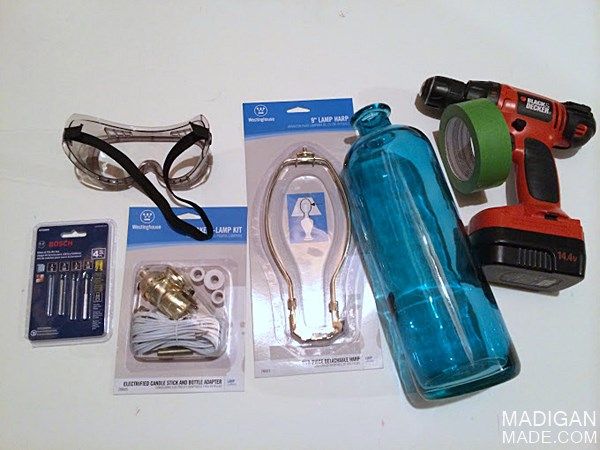 Steps taken:
First, I cleaned out my vase. Then I picked a location for the wire to thread through at the bottom of the vase and marked it with a piece of painters tape.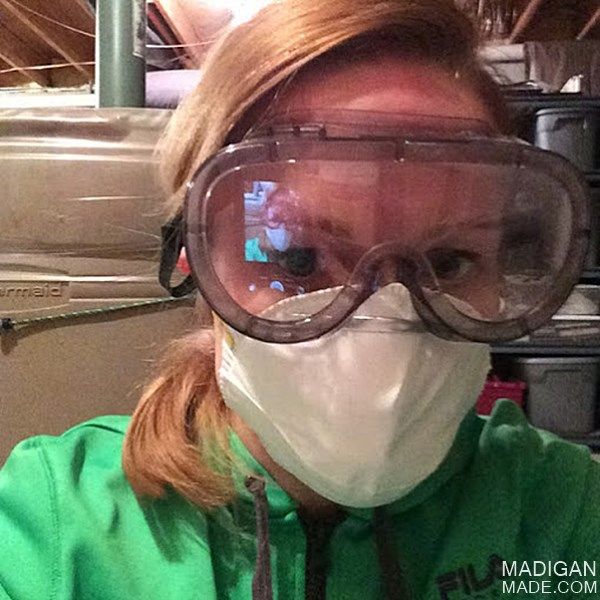 Next, I made sure to protect myself with eyewear and a dust mask. I did not want to have any pieces of glass or glass dust fly into my eyes or mouth. I also wore gloves, just in case the bottle broke as I was drilling. I did not need a trip to the emergency room from a cut that day!
I secured the vase between two 10 pound hand weights and using the carbide drill bit, I very, very slowly drilled a hole through the painters tape and glass. I stopped frequently as I drilled to allow the bit to cool down and to clean out any dust that was gathering in the hole I drilled. My vase was rather thick, so it took me quite a long time (maybe 30 minutes or more) to drill through the whole vase. Thankfully, the bottle did not crack and the hole was pretty clean.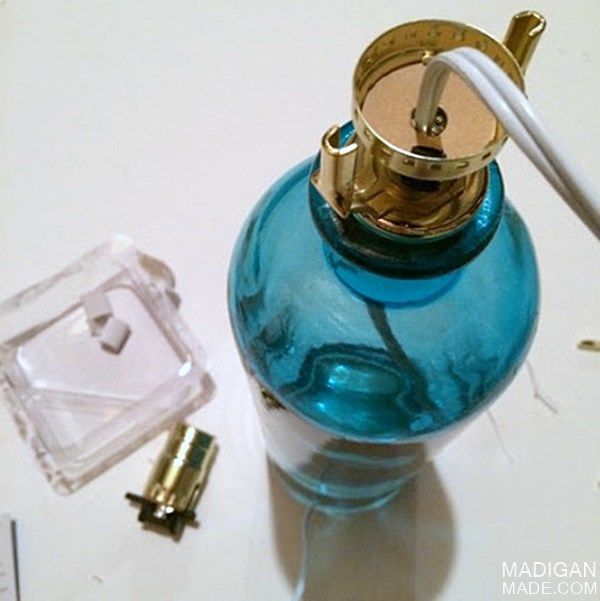 Once the hole was created, I ran the wire through that hole and up through the top of the vase. I used a rubber stopper from my lighting kit that fit into my bottle's opening. I then attached and wired the lamp assembly by following the instructions on the kit package.  I am not an electrician, so I won't go into great detail here about how to wire the assembly… but I will say that the package instructions were pretty clear and easy to follow.
Once the lamp was wired, I attached the harp and a white lampshade that I picked up at IKEA. I also reused a decorative finial from an old lamp. I just gave it a coat of turquoise blue craft paint to match the rest of my new light.
I love the way the lamp looks sitting on the marble side table next to our new gray sofa. The light shines through the blue glass and I don't even mind you can see the cord in the lamp.  A few accessories like milk glass, my concrete vase and a blue Mason jar look great sitting next to it.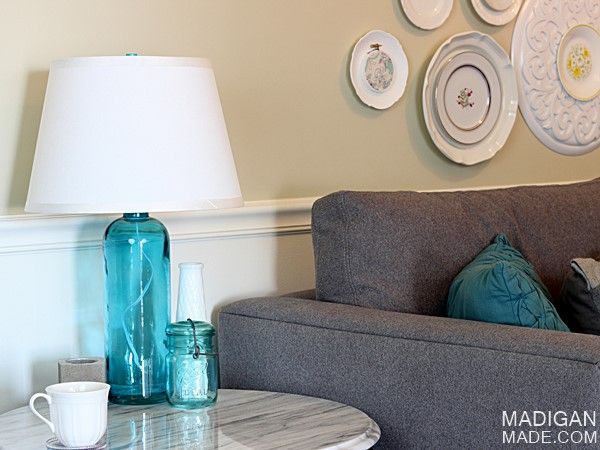 After all my searching, I'm so glad I decided to make my own lighting. My new lamp was relatively inexpensive to create (compared to what I saw in the stores) and it works in our room the way I hoped it would! The lamp is a great size for the space.  I also love how the blue in the base picks up the turquoise colors in the couch pillow and some of the decorative plates in my vintage gallery wall art.
I have to say that I am looking at old bottles and vases with fresh eyes now. Suddenly, I want to turn all the interesting ones I see into lamps!
Want more DIY glass bottle lamp ideas? I found these three lamp projects at Inspired Room, House & Home and Pondered, Primed & Perfected as I investigated how to make my own.
And if you like this DIY lamp project, be sure to check out a few of the others I've created in the past: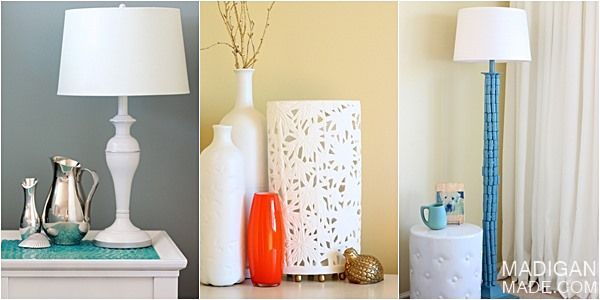 Thanks for reading Madigan Made!
Content Copyright:2010-14. Madigan Made.