Madigan made… a DIY trinket box with bow detail.
I'm a sucker for cute little boxes and gift packages, aren't you?
I made this jewelry box last year for my husband's niece and I just realized I never showed it to you. A sweet and simple storage box like this would be a nice little gift for any gal you know… like maybe for Mom this coming Mother's Day?
To make this container, I picked up a plain wooden box from the dollar store and decorated with paint and a metal bow detail. I found the bows in the jewelry section of the craft store on clearance.
Want to see how to make one? It is pretty simple.
DIY Jewelry Box
Supplies used:
Wooden box

Drill

Metal bow (or other metal decorative piece)

Craft paint

Brush

Metallic wax rub

Strong adhesive glue (i.e.. E6000)
Steps to make the jewelry box:
Given that my metallic bow had a metal "loop' in the back, I needed to make room for that obstruction. I drilled a small hole in the center of the lid's front edge. This allowed for the 'loop' to fit inside and let the metal bow sit flush with the front of the lid.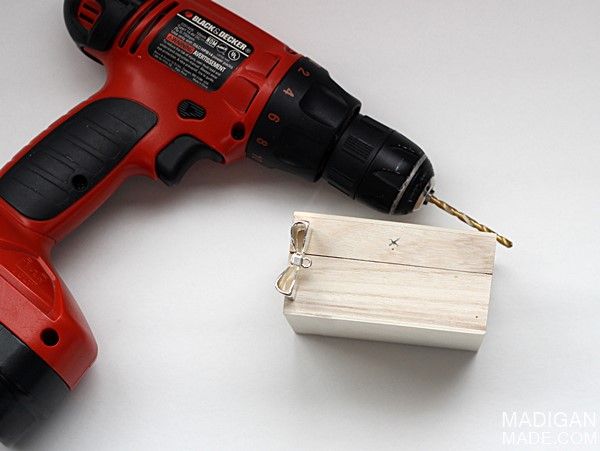 Then, I gave the entire box two coats of purple craft paint.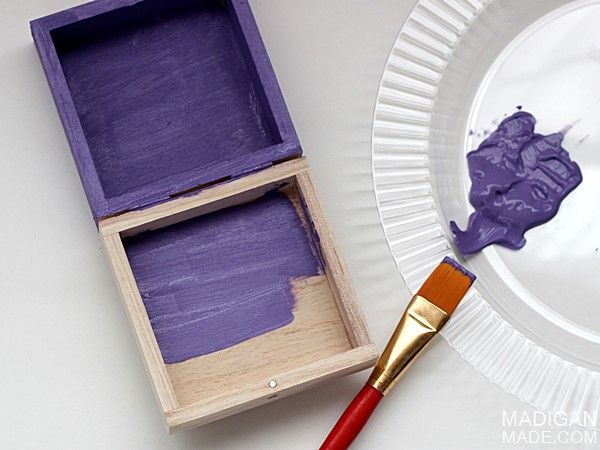 For an added metallic detail, I carefully applied some silver metallic wax rub along the edges of the lid. A little goes a long way with this stuff!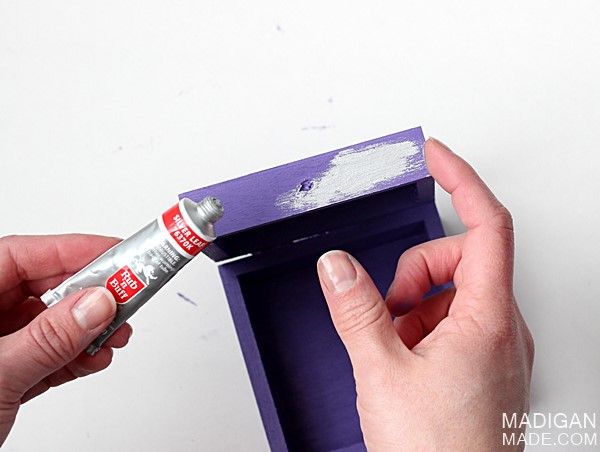 Finally, I glued my metal bow to the front of the box's lid, over the hole I drilled and filled the box with a little gift for our niece.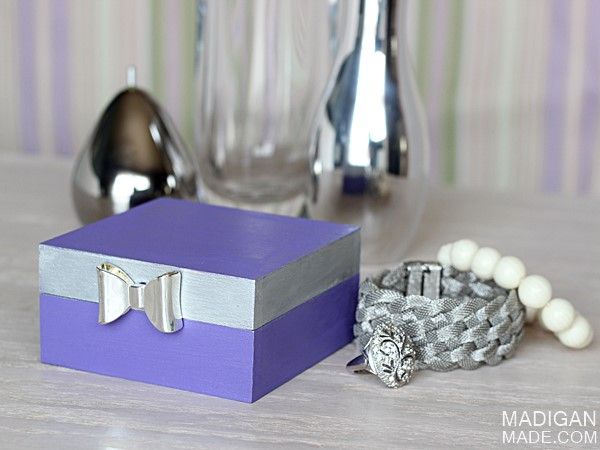 You can make these little boxes in any color you want. I love how the metal bow gave the box just enough detail to make it feel special. The bow also is a nice 'handle' one can grab to help open the lid. If you can't find a metal bow, any pretty decorative metallic piece could look cute on the front of the box.
Either way you make it, a gift always looks more special wrapped in a cute little box, right?(especially one that can be reused!)
Thanks for reading Madigan Made!
Content Copyright:2010-14. Madigan Made.