Madigan made… a fav little project that is under construction.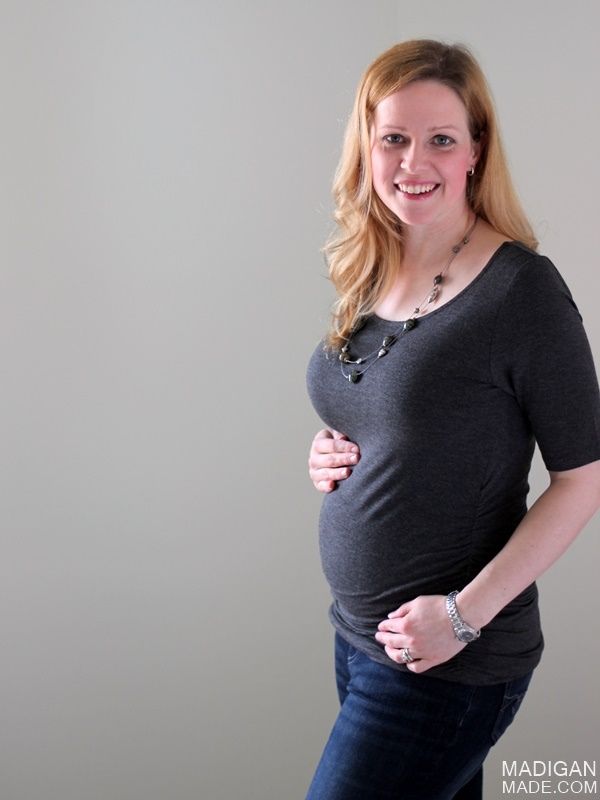 Gosh. I am a bursting with so many emotions as I write this post. Some of you may have noticed that I haven't been posting as much or been online a lot the past couple of months. There's a good reason for that… I'm working on another little (soon to be big) project. Let me explain…
Where do I start?
Well, let's begin at the beginning… do you know the very personal story of our one guest room? For many years, my husband and I had always pegged that room to be a nursery once we had children. Unfortunately, we had issues trying to conceive and we spent many years dealing with the sadness and frustration of that situation… and this boring, unfinished room was a reminder (to me) of that fact.
I told you about this bedroom and our infertility struggles back in the spring of 2012. After several years of living our lives in 'limbo' and waiting, I knew at that time that I had to move on and 'live'. So, I slowly transformed that bedroom and space into something we could actively use… my home office. I wanted it to be a light, happy space, filled with lots of color and personal touches.
Living for 'today' was a goal I had moving forward as I started to work on that room in 2012.
I have to say that in 2013, my husband and I took that mission to heart. We went on more vacations. Tim joined a club and golfed more. I did more with my blog, went to conferences and made more blogging friends that year. I curled and let my hair down more. I started to regularly exercise, watched what I ate and tried to live more healthy. Life was good… and very tentatively… my husband and I started to talk about a future that might not involve children in our lives. (not an easy discussion, mind you… we always had hope… but being in our late 30's, we knew life without our own children was a possibility.)
I've heard that prayers are often answered when you least expect it… and that is what happened late this past December. Tim commented to me offhandedly one day that I was taking a lot of naps and I blamed the holidays for my exhaustion. BUT… on a hunch, I took a pregnancy test and it was POSITIVE! We were floored, excited and slightly terrified all at the same time!
I really don't know how to express this in words… but we are so thrilled to be given a chance at this little gift of life… one that we weren't sure we'd ever receive.
This event is truly is my all-time favorite DIY project… and that is where my energy and focus has been lately… growing a tiny human being!
This little collaborative 'DIY project' is due to be completed in late August!
Now that I'm in the middle of my second trimester (I'm about 5 months along), I'm starting to feel better lately and hope to be able to share a little more here and elsewhere online. So, get ready for some baby related news, posts and projects here on Madigan Made and on my social media channels. I am so excited to prepare for and meet our little one… and share more about this wonderful gift with y'all!
P.S. It's a girl, too! (if you follow me on Instagram, you may be able to spot some of the nursery details I've been planning in my head and starting to work on. Stay tuned for more!)
Thanks for reading Madigan Made!
Content Copyright:2010-14. Madigan Made.