Madigan made… an easy chocolate trifle dessert.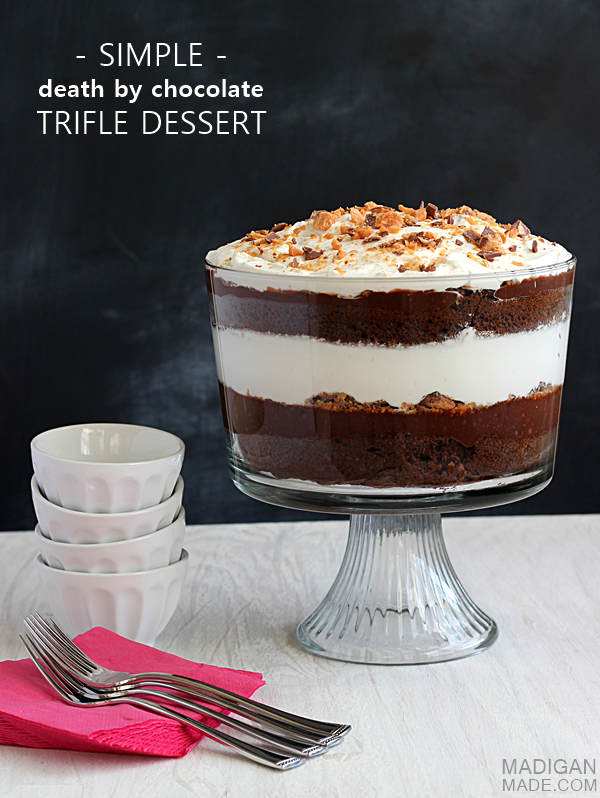 With a bun in the oven… I've been craving a lot of different foods during my pregnancy. Initially, it was a lot of pickles and lemonade in the first trimester. Then BLT sandwiches last month. But what have I been craving the most and the most consistently? Chocolate, hands down. (Are you surprised? You shouldn't be!) I wanted to bring a dessert into work this week and I knew immediately that it had to be chocolate.
Since I've had our future baby on the brain, I've been thinking a lot about my own childhood and what I can do to create special memories for our little one someday. Here's the thing… I have so many memories linked to food, including chocolate!
To celebrate our birthdays growing up, my mom used to bake my brothers and me our own cake on our special day. It was our choice as to what kind of cake or dessert she made. My little brother often wanted an M&M covered cake… my other brother sometimes asked for chocolate chip cookie pizza. But I OFTEN asked for this chocolate trifle that she dubbed, "Death by Chocolate."  It was sooo good….. sooo chocolate-y…. AND it was pretty, too!
My mom traditionally used toffee candy bars in her recipe, but I thought I'd make a variation of the trifle with Butterfinger candy bars this week. You really could use any chocolate candy you like… but one that has a little crunch will add a nice texture to the trifle. (Just try to keep your spouse from stealing some of the candy before you make the dessert… which is always a challenge in our house!)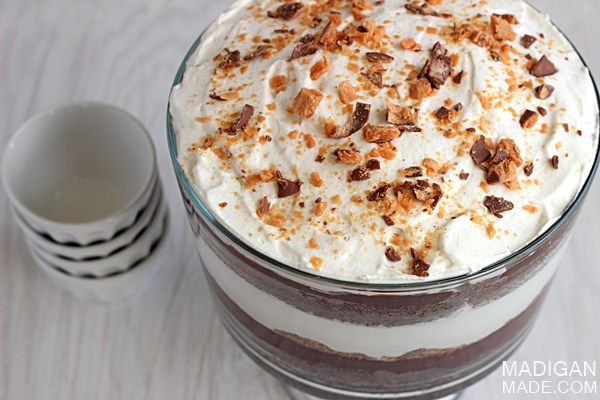 I love trifle desserts. As I've mentioned before, trifles are an easy dessert to make…but can look so elegant. If desired, you can make each component from scratch or you can use boxed mixes, store bought cake or frozen whipped topping if you wanted to make it easier for yourself.
Death by Chocolate Trifle
Ingredients:
Boxed chocolate cake mix (and the recommended ingredients per the package: egg, oil and water)
Instant chocolate pudding mix with milk per package directions
2 cups heavy whipping cream
4 tbsp. sugar
2 tsp. vanilla
Several packages of your favorite candy bars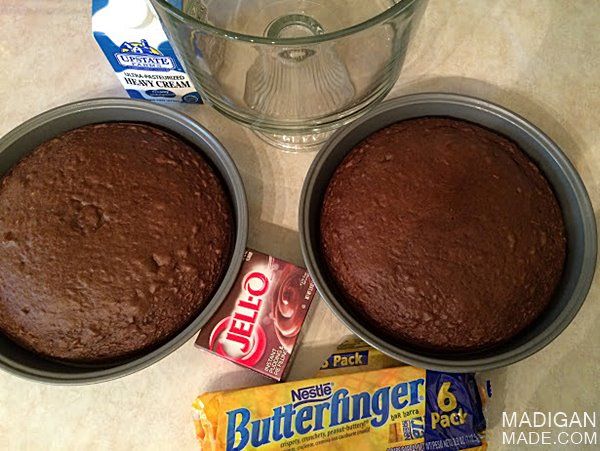 Directions:
Bake. In a large bowl, mix the cake mix with an egg, oil and water according to the package instructions. Pour the batter into greased, round cake pans and bake as directed. Remove them from the pans and allow the cakes to cool completely. Store until ready to assemble.
Chop. Chop or crush up the candy bars into fine pieces and set aside.
Mix. Immediately before you plan to assemble the trifle, mix up the instant chocolate pudding in a medium sized bowl using milk as directed on the package. Divide the mixture in half.
Whip. To make the whipped cream, whisk the cream, sugar and vanilla until stiff peaks form. (Tip: chill your bowl and whisk in the freezer for five minutes prior to making) It is also recommended to do this right before you assemble the dessert.
Assemble. When you are ready to assemble, start to layer your ingredients in a clear glass dish (Preferably one with straight, vertical side… it just looks pretty with all the layers.) You may need to break the cake into pieces to get a layer of cake to fit in your trifle dish like I did.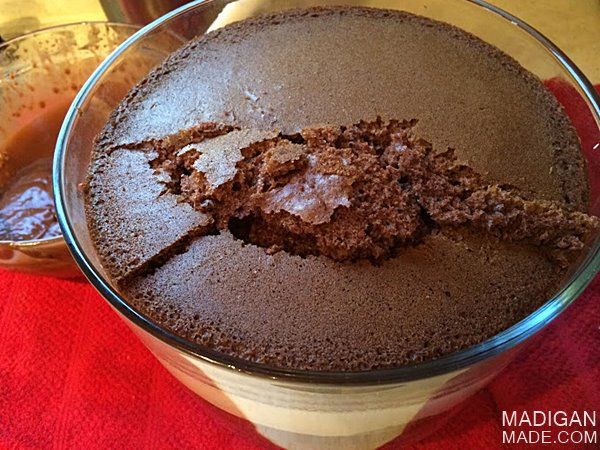 From the bottom –> up you will layer: one round cake, half of the pudding mixture, half of the crushed candy, half of the whipped cream and repeat… ending with whipped cream on top. Reserve some of the candy crumbs to sprinkle as garnish on top.
Trifles are best served after sitting for at least 12 to 24 hours so that the layers have time to soak together. This approach makes trifles a really easy make-ahead dessert for entertaining.
Despite what the name implies, this trifle is not intended to kill anyone. But really, with three different kinds of chocolate layers and two layers of whipped cream… this dessert IS to die for for any chocoholic!  It will satisfy many people's chocolate cravings (pregnant or not!).
If you wanted more trifle ideas, be sure to check out some of my other recipes (I tend to like mini desserts, too!):
Clockwise from the top left:
Thanks for reading Madigan Made!
Content Copyright:2010-14. Madigan Made.