Madigan made… simple guest room ideas.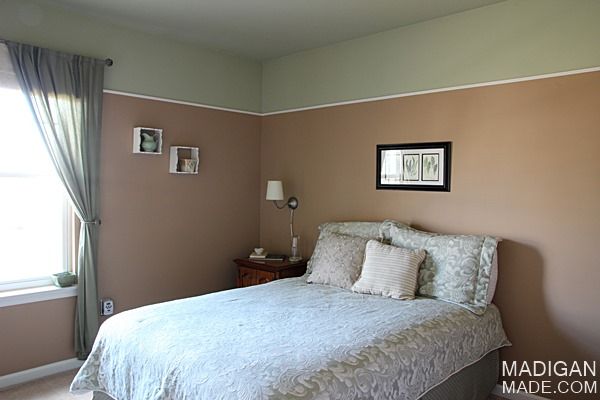 With the upcoming arrival of our little babe… we've been busy here at MM getting the nursery ready for her.
I'm in my second trimester and feeling much better than the first, so I'm taking advantage of this energy to get some projects done in preparation. Of course, I have LOADS of little DIY décor projects for her room.
Before I start sharing these ideas with you, I realized that I have not even shown you the room as a guest room! (and the "before" prior to that!)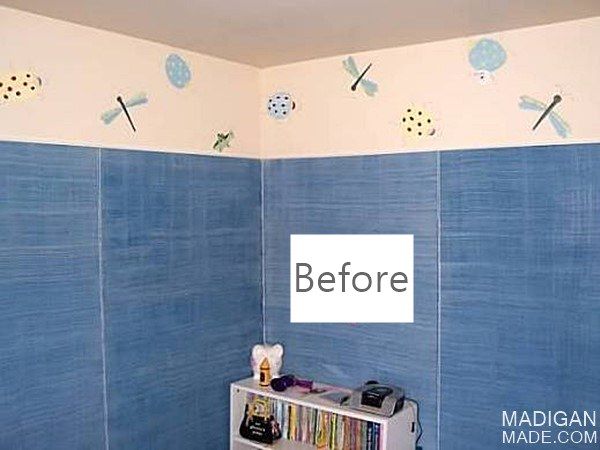 This was the first room we painted when we moved in. You probably can see why. The room had really cute trim about one-quarter of the way down the walls… but the walls were painted with a faux denim finish below and insects above. The treatment was cute for a little girl, but not for a newlywed couple that needed a neutral guest room.
So, (and I cringe slightly to even say this…) I bought a bed-in-a-bag set for our full size mattress as a starting point for the room. I know. Today, I find bed-in-the-bags to be a little like cookie-cutter decorating, but it worked for me as a newbie. It wasn't my most creative way to decorate.
The photo on the bag packaging showed the bedding in a room that was painted a dark walnut tan color. I used that as my inspiration for the walls in this room. I painted the walls below the trim in a dark tan and above the trim in a pale sage green that complimented the bedding.
And THAT was about the extent of my decorating for this room. An old, hand-me-down nightstand worked well in the corner with an IKEA sconce above it.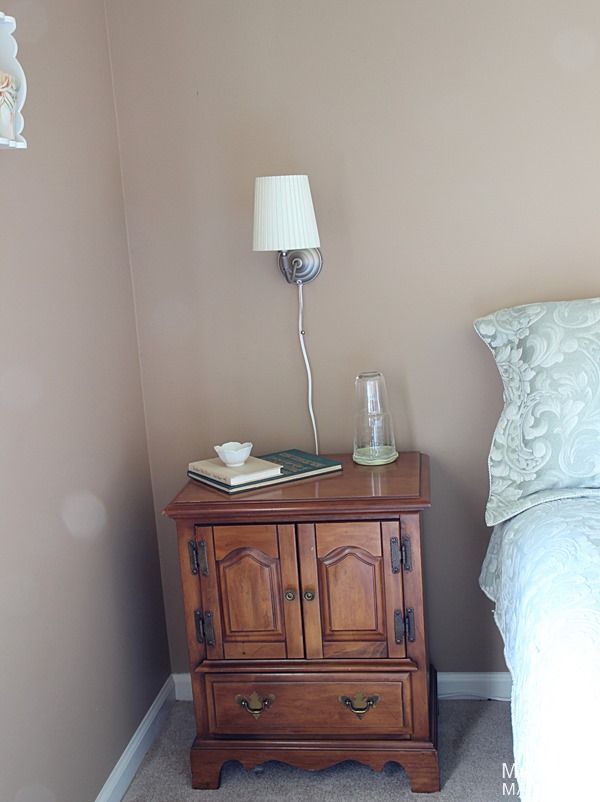 My DIY painted trunk sat in another corner of the room to store extra pillows/bedding.
I decorated the walls with some leftover wall art from my bachelorette apartment. A botanical print hung above the bed, square shelves displayed some flea-market pottery and a fussy-looking wire rack held a few picture frames.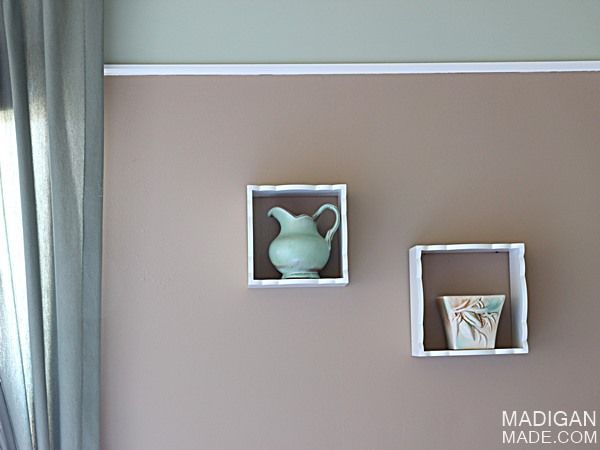 Oh, wait, I did also buy some green curtains that matched the other greens in the room.
And while I did not pour a ton of decorating effort into the space, the room was cozy and it had everything a guest could really need for a night or two. There was a bed, a nightstand, some lights, a clock… I even went so far as to make up a little basket of travel size toiletries to sit on the trunk, just in case someone needed something. The space t worked for us when we had the occasional guest over.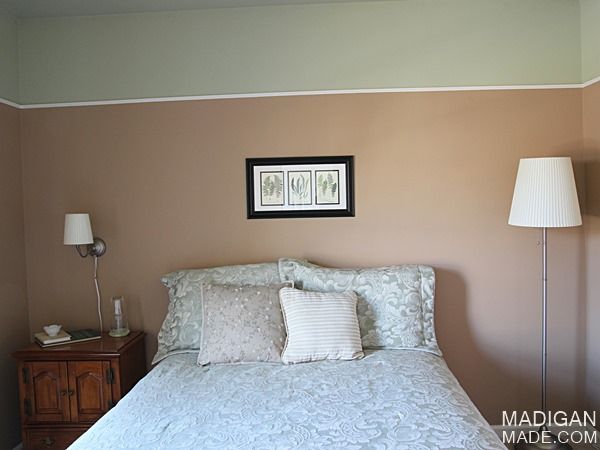 BUT, now this room is going to be our baby's nursery! Yay! We are moving some things around among the bedrooms (the old guest bed is likely going to move into my home office) and getting things ready for our little angel.
If you follow me on Instagram, you may already have seen some of the nursery ideas we are working on.
So far, we've painted the room (gray above the trim, white below) and set up the crib. You may not have realized it, but the photo I took of myself pregnant in this post was taken in her nursery after we finished painting. In general, for a color scheme, we are going with grays, whites and pinks.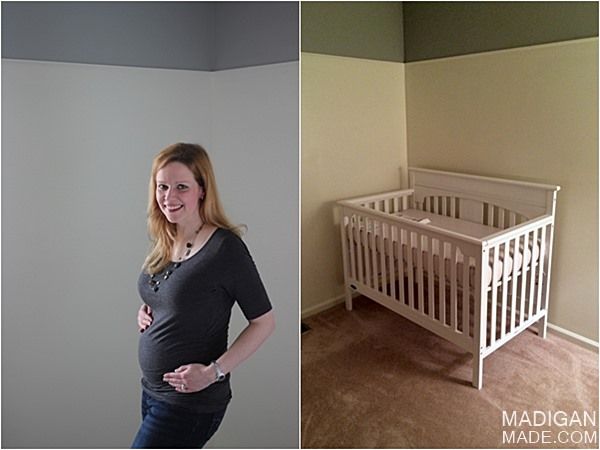 I plan to tell you more about my nursery décor ideas and show you my mood board for the room soon… but if you want a sneak peek of some of the things running through my head, check out the Pinterest board I started when I learned we were pregnant.
Follow Shannon Madigan (Madigan Made)'s board Simple Baby Girl Nursery Ideas (with vintage and modern touches) on Pinterest.
TGIF! Have a great weekend my creative friends!
Thanks for reading Madigan Made!
Content Copyright:2010-14. Madigan Made.