Madigan made… ideas for vintage, modern nursery décor.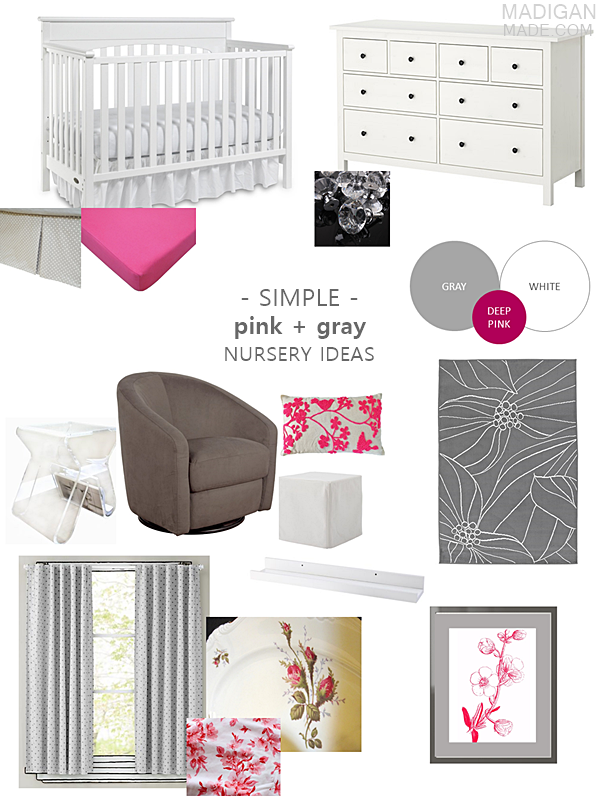 Did you know that a dog leash could inspire a room's décor? Yep. Believe it.
We are in the midst of transitioning our former guest room into a nursery for our little babe on the way. When I learned we were expecting a girl, I went back and forth about a color scheme and theme. Do we keep the colors neutral? Do we go for something atypical and funky? Or do we use the traditional pink?
A couple things this winter spoke to me that ultimately helped me decide on a pink and gray color scheme.
Believe it or not, I was drawn to the deep raspberry pink and gray combo in our dog's leash when I walked her every day this past winter. (You have to admit that it is a pretty cute leash!)
I then remembered how much I loved the deep pink roses in my grandmother's china. I also subconsciously used pink and gray colors in my simple Valentine's card in January. And I kept spotting pretty pink floral plates and vintage containers at thrift stores recently. All of these things were little nudges to me to go for pink!
Aside from the colors… I also decided that I wanted the room to have a vintage yet modern feel. Can you call a room's decor semi-vintage AND semi-modern? It seems like an oxymoron. I'm always one that likes to mix and match, so I'm hoping those elements will work together… because that combination is what I'm going to show you today.
One thing I didn't want was a traditional "baby" theme or look to the space. I wanted some whimsy in the space, but it was also important that the room to be able to grow-up with our little munchkin. I don't want to have to completely overhaul the decor in three years. So, I wanted the walls and foundation pieces for the room to be neutral and light. And instead of a pale baby pink and gray, I decided to go with hues that were a little darker and deeper. I'm hoping it is a look that work for our gal for awhile.
The crib and dresser we wanted to use are white and have either a simple or classic shape to them. The glider has a small footprint (important in a small bedroom) and is more modern in style. We actually did get all of the big furniture pieces in the room already… I hope to tell you more about them soon!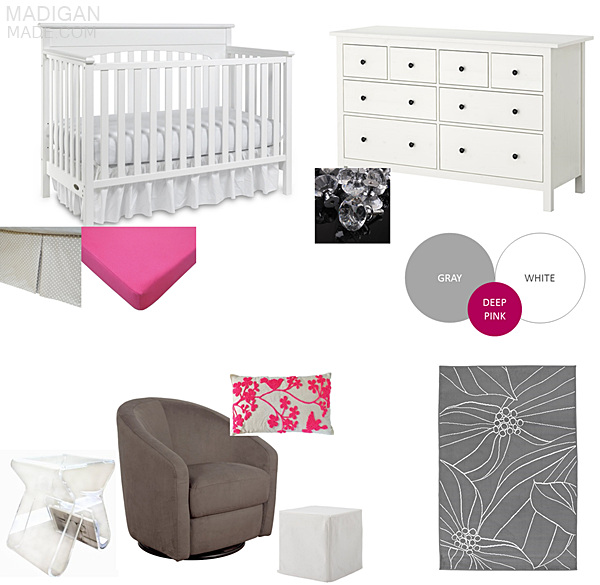 We've also painted the walls in white and gray.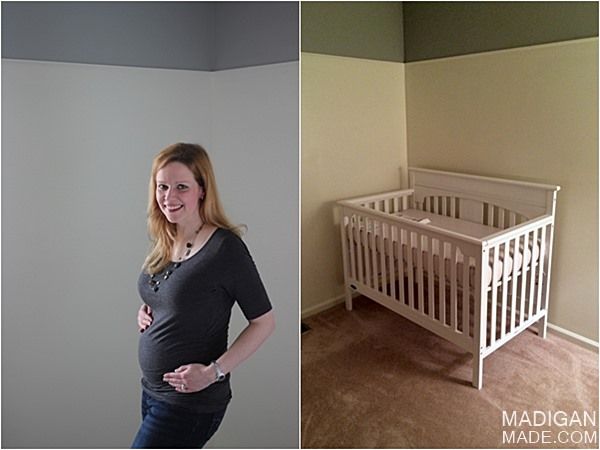 The curtains and bedding will be a mixture of simple gray and white patterns. I will make the room feel more feminine by adding touches of pink with accessories.
I plan to bring in some vintage (and pink!) elements by using older floral plates, vintage floral fabric and other vintage images. (For example, the botanical prints are from The Graphics Fairy… I'm hoping to use them to make a little DIY wall art.)
To keep things from feeling too fussy or shabby chic with all the vintage items, I want to incorporate some clean and modern elements, too. Maybe add a modern rug underneath? The dresser, glider/rocker and side table have modern lines to them. I also plan to use some clear acrylic or crystal accents to the room. Lucite and acrylic feel a little modern, plus every little girl's room needs some sparkle, right?
As you probably can already guess… I plan to make a number of the décor elements myself. (Shocker, I know!)  On my list of DIY projects:
DIY wall art (for above the crib and above the dresser)
DIY baby mobile (My goal is to create a modern riff on a crystal chandelier… we'll see!)
Handmade ottoman (I'm not the best sewist, so we will see how that goes!)
DIY lamp (Again, I'm hoping to add a little more crystal and sparkle here, too!)
Create a little reading nook with ledges for books and a DIY hanging pendant lamp
DIY hamper
So, while we've painted the room and got some furniture in, there is still lots to do… but I'm loving the planning and progress so far. I won't meet our little bug for a few more months… but it will be fun to make stuff and prep for her arrival!
Stay tuned for more nursery updates as I roll up my sleeves and get busy making stuff!
Photo/Source List: (note, some links below may be affiliate links)
Thanks for reading Madigan Made!
Content Copyright:2010-14. Madigan Made.