Madigan made… blue and tan master bedroom décor ideas.
This month marks an anniversary of sorts… I've been blogging for over four years!
And I just realized something. After four years of blogging, I've never fully shown you our master bedroom and I'm not really sure why. The room is decorated and has been for awhile. Actually, it was one of the first rooms we decorated when we moved into our home. I've swapped out a pillow or two and added a bench over the years, but it essentially is the same room it was 8 years ago.
We've known each other for awhile, right? Well, then it's high time for you to take the bedroom tour!
The décor for the room was inspired by this painting I found at a flea market of a ballerina. I actually bought her right before I got married… I loved its imagery, white space and soft colors.  I always knew I'd want a blue master bedroom some day and she'd make great inspiration.
So, when we moved in, we painted the bedroom in a light, neutral tan with a soft gray-blue feature wall behind the bed. I added some silver accents throughout the room with accessories and lots of cream and white to lighten the space.
The bedding a mixture of different solid blue and white linens that I found at department stores and Home Goods. I especially love the mix of the blue matelassé cover with the puffy, white, pin-tucked duvet cover. The combination adds great texture to the bed.
A floral embroidered decorative silk pillow marks my (feminine) side of the bed, while a graphic silk square pillow (more masculine) indicates my husband's side of the bed.
His. Hers. Can I get an, "Aww."?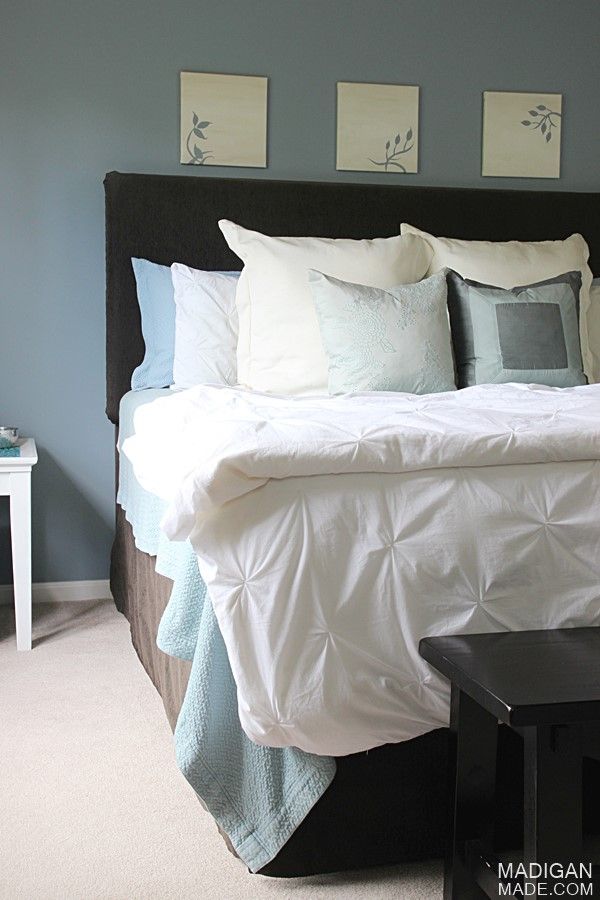 I built the brown, upholstered padded headboard many years ago and I'll have to tell you more about how I did that in the future. To make the bed almost look like a faux platform bed, I continued the same brown fabric onto the bed skirt. A long bench (that used to sit in our family room) is a handy spot to sit when getting ready in the morning. (Especially now that I'm feeling a little off balance these days with my growing baby bump!)
Above the headboard I hung some DIY wall art that I painted on three canvases using the cream paint trim color and the blue wall color. I think I found those leaf images in Word's clipart and just traced and painted the graphics onto the canvas.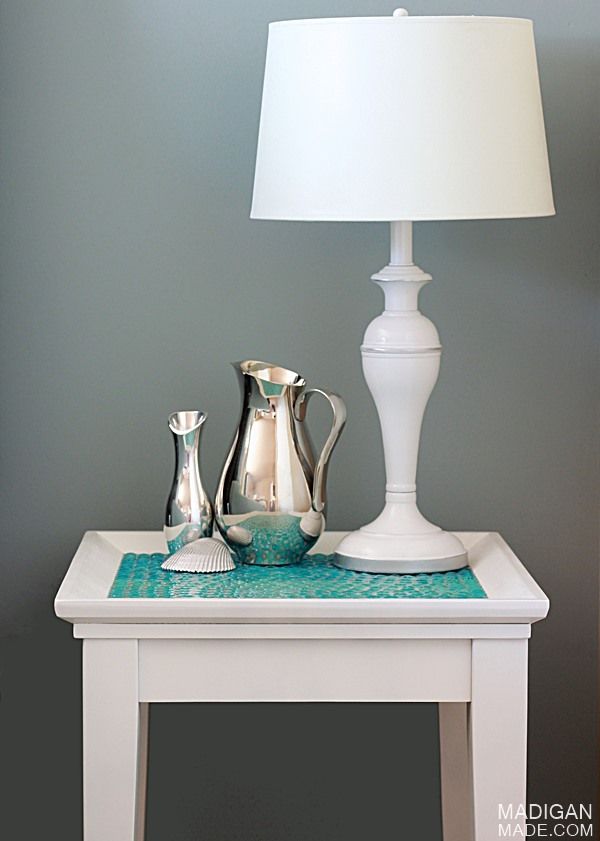 You've already seen this furniture makeover. If you remember, I painted and tiled two side tables with dollar store glass gem marbles. They serve as our nightstands next to our beds. The lamps on top of the tables received a fresh coat of paint on the bases and lampshades to lighten them up, too.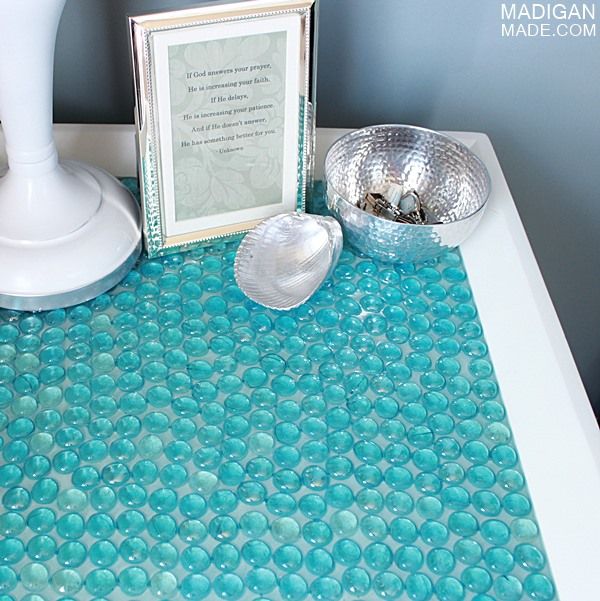 This table, by the way, is still one of my favorite DIY projects to date! Every morning I wake up next to this blue table top that sparkles like water. Love it!
When we first moved into our home, we were on a tight budget and we did not want to invest in bedroom furniture. We inherited a few hand-me-down dressers over time (and bought one). So, I painted them all a dark brown color to look more cohesive. (Now, you may notice some chips in the paint… someday I will tell you how NOT to paint your furniture! I've learned some lessons over the years.)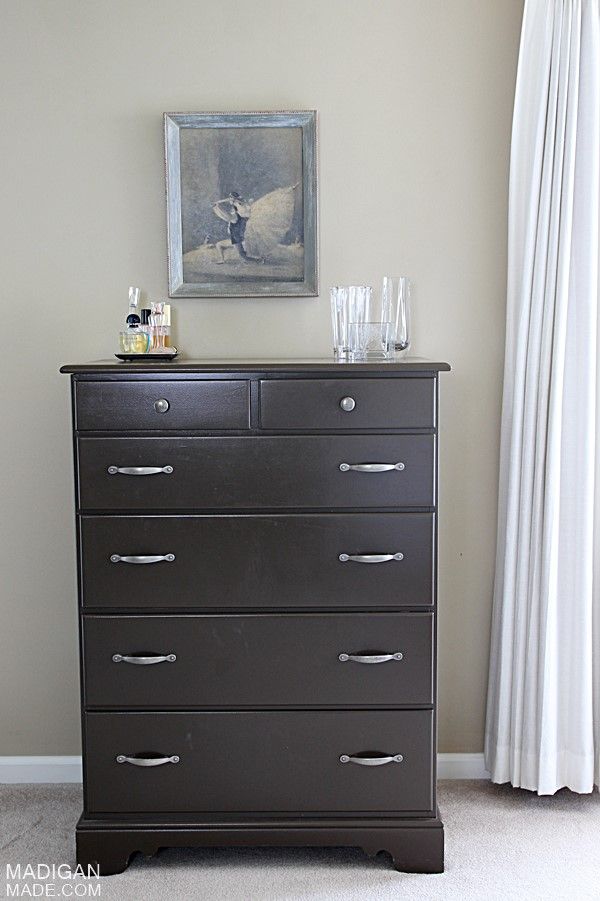 My one dresser is where the ballerina print dances above my perfume and some crystal vases.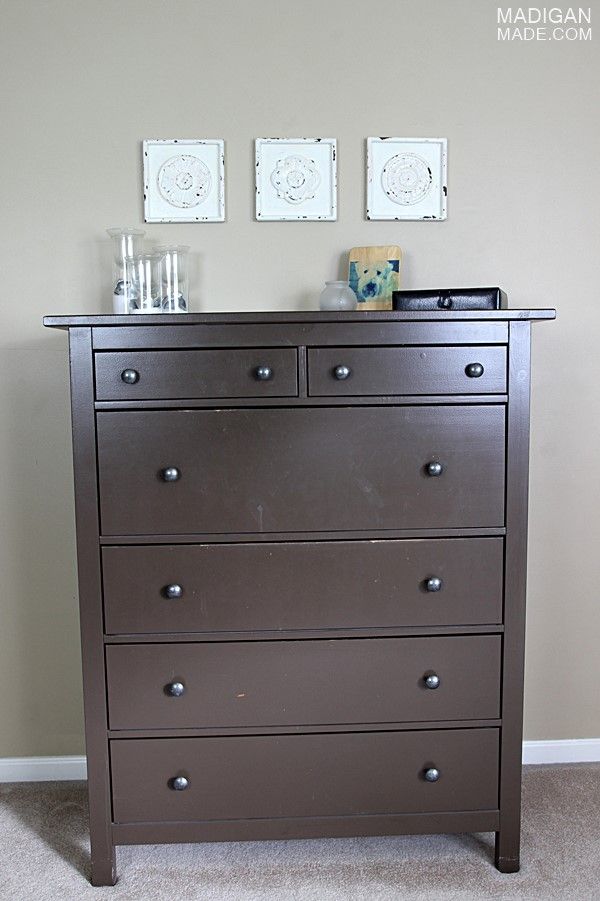 Above my hubby's dresser, I hung three wall plaques (I think they are from IKEA from many years ago) that I painted a cream color and lightly distressed. His dresser is the only one we bought. It is a HEMNES IKEA dresser that, at the time, only came in a pale wood color. Now IKEA makes it in a dark brown after I (poorly) painted this one! Go figure!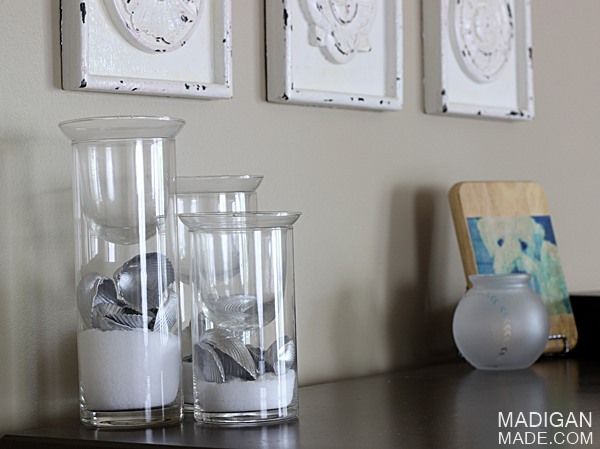 You may also spot the modern wood framed photo of our dog and the frosted baseball vase/catch all on his dresser. A trio of glass candle holders looks pretty at the other end… I just filled them with some silver-spray painted seashells and Epsom salt below to look like white sand.
Above my other dresser hangs our wedding brooch art. If you haven't heard that story, my mom found me several antique brooches for my wedding day. I wore them in my hair, on my dress and in my bouquet on that special day.
Framing them on blue fabric was a great way to preserve that memory. I love that you can see some of the brooches in my hair in the framed photo below, too.
So, that's our simple bedroom! I love it and I find the blue and white shades relaxing. Plus, all of the special décor touches are very personal to us.
And in some ways, I like to imagine that this could be that ballerina's bedroom. Is that weird?
Thanks for reading Madigan Made!
Content Copyright:2010-14. Madigan Made.