Madigan made… 6 small entryway organizing and decorating ideas.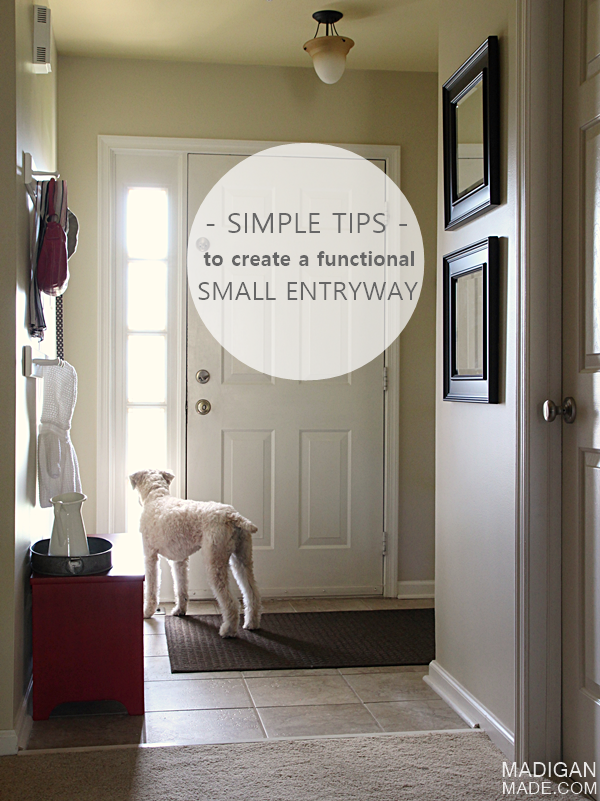 (Note: this post contains affiliate links.)
They say change is inevitable. I think this rule can apply to many things… As our lives change, so can our needs and tastes. And with a baby on the way, I am craving things that are both simple and functional in our home (but still pretty, of course!).
The gallery wall in our small foyer was fun when I first told you about it a couple of years ago.
It was an improvement over the prior decorative table I had there… but over time I grew tired of the look. Very slowly, I became annoyed by all the frames. They were a little too bold for me. They looked like they were waiting for something to fill them. I know… that's the point of an empty frame gallery wall. But with all the different components, I felt the frames were a lot to look at right when our guests walked in the door.
I also need to point out that the wall display was not very functional. Now that we have a little babe on the horizon, I figure that we will need a landing spot when we walk in the door to put some of her stuff… and down the road it would be nice to have a place to hang her backpack or sit and help her get on her shoes, etc.
So, before her arrival, I decided to do a few quick updates to our foyer to simplify the space and make it work better for us. If you are a regular reader here, you know my decorating style is clean and simple… I think THAT principle is something that will never change for me.
I want to show you that you don't have to sacrifice style for a functional space. We first painted the foyer in the same light buff tan color that we used in our family room. Buh-bye tired yellow-gold! Then, we made a few simple changes to the space by swapping out some of the décor elements and keeping others that were working. All-in-all, I'm happy with how the updates turned out. 
Here is my advice for how to create a functional AND stylish small entryway:
ONE: Have a place to sit. (And make sure it is cute!)
Maybe I'm getting older… (or maybe my balance is off because my belly is growing) but I now appreciate having a spot to sit and put my shoes on in the morning. A simple stool, a bench or a chair in your foyer is a great way to meet that need… and add a little style to the space.
We've had this bench for a few years now. We bought it from an unfinished furniture store and had them paint it cherry red. The bench is a classic style and sturdy. I love how its punch of red color greets our visitors when they walk in. And now that the gallery wall behind it is gone, I think the bench stands out even more.
TWO: Hide your junk. Protect your furniture. (Grab some fun trays and bins!)
Sometimes when we are running out the door, we need to set down a drink or keys… and those things could ruin the finish on a piece of furniture. Using a small metal tray on the bench gives us a safe place to set those items down on the bench… and still leave room for us to sit down and put on our shoes.
On the lower shelf of the bench, I used a simple galvanized tub for some basic storage. It is a great place to toss shoes or other items we need near the door, but don't need out in the open. You can often find these metal bins inexpensively in the paint section of your hardware store or you can buy them online.
To add a little interest, I glued a house number to the front of mine.
THREE: Storage hooks are your best friend. (Especially if they make a stylish statement.)
When we took down the gallery wall, I knew I wanted to use two rows of simple hooks above the bench. Shaker peg hooks are a timeless and classic look that never goes out of style. Plus, they are super-duper functional!
I wanted LONG shaker peg hooks (3 to 4 feet in length) that extended the length of the bench below. Most of the hook racks I saw online or in the stores were only a couple of feet wide, like this cute (but too short) rack from Land of Nod. I contemplated trying to make my own peg and rail hooks, but then I found several versions online that looked promising. I eventually bought two of these White Shaker Peg Racks
from Peg and Rail and I'm so glad I did. The racks were sturdy, beautifully finished and easy to install… plus, it saved me the time and aggravation of making them myself.
FOUR: Keep those nosy neighbors at bay with pretty window treatments.
I personally can't stand lots of open windows that let the world look into our home. BUT, near the front door, I also like to be able to peek outside and see who is on our front stoop.
You can create any window covering you like to dress up your entryway. Want to know my solution for this problem? Paint the windowpanes to look like stained glass! I was able to cover most of the window with frosted paint to give us some semblance of privacy… but leave a few open spots in the design so we can look outside, too. You can read more about how I created this faux stained glass look in this post.
FIVE: Don't forget about other needs you may have before you walk out the door. (In case you are forgetful or a little vain like me!)
I swear. Pregnancy brain is real. I'm misplacing things more frequently lately, but I can honestly say that one thing I do not lose is my keys! We've had a small key hook behind our front door for years that helps with that need. If you don't have one, I highly recommend getting a cute key hook that represents you!
The other thing I like to do before I run out the door is take a quick look in the mirror. It might be a little vain, but I'm checking to make sure I don't have mascara running down my face or hair sticking up at a funny angle. That's the purpose of these two big, square mirrors near the front door… plus, the chunky frames add some style and vertical drama to the foyer.
Find a fun mirror you like and hang it in the entryway… it will add some personality, but still serve a purpose, too.
SIX: Make it pretty and personal.
The bench and wall hooks are highly functional, yet attractive on their own. But in a few small ways, I added a couple of items to make the area feel like 'us'  without overwhelming the small space.
A simple white pitcher on the tray is a clean and classic detail that speaks to our style. Later on, I can hang a wreath or some simple garland on the peg hooks to make the space feel festive around the holidays. Oh, and I can't forget about the ceilings and floors. Some day, I'd love to change out the ceiling fixture and rug for something with a little more personality.
But do you want to know what is my favorite part about this area? When people walk in the door, they will immediately be able to see 'who' lives here by the items hanging on the hooks. My purse, our dog's leash, my husband's hat… and I can't wait to see the little coats and bags of our little girl on the rack someday, too.
I couldn't resist hanging this little knit, white coat we recently received in the foyer, just to see how it looks. Aww.
Change is a coming for us… (I can't wait!)… and I'm trying to embrace and welcome that change in our home's décor, too.
Have your tastes or décor needs changed over the years? What was the reason?
Thanks for reading Madigan Made!
Content Copyright:2010-14. Madigan Made.