MAKE: an easy malted milk ball candy ice cream cake.
When I made this dessert this weekend, I got a few questions about it… namely, why did I decide to make an ice cream cake? (There wasn't a special occasion or anyone's birthday.)
Let me count the reasons why I wanted to make an ice cream cake:
Summer weather is finally here in Pennsylvania and I was craving a cool treat. Ice cream cakes and ice box treats have always been on my baking 'bucket' list.
I work with several people that love Whoppers candy and malted milk. I've always wanted to make a dessert out of the candies and malted milk powder.
Let's not forget that I'm pregnant. My nesting instincts and sweet tooth are hard to control these days.
But really, do I need a reason to make a cool, creamy and chocolate-y dessert? Good, I'm glad you agree!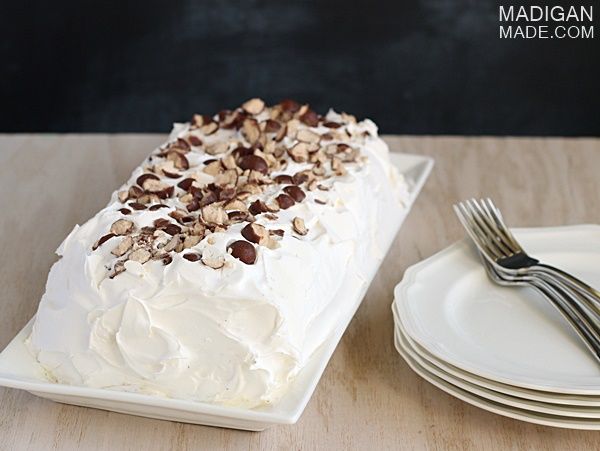 Do you need a reason to make this cake? I hope not! Especially when you see how easy it is to make and assemble.
Whoppers Malted Milk Ice Cream Cake Recipe
Inspired by this malted milk ice cream pie and ice cream sandwich cakes
Ingredients:
2 quarts good vanilla ice cream, softened
1/2 cup malted milk powder
15 ounces of malted milk balls
About 1 package of Nabisco chocolate wafers (also could substitute with chocolate graham crackers)
1 (8 ounce) container of frozen whipped topping, thawed
Directions:
Place the Whoppers candy in a plastic bag and use a rolling pin or mallet to crush up the candy. Reserve a few tablespoonsful for garnish on top of the cake.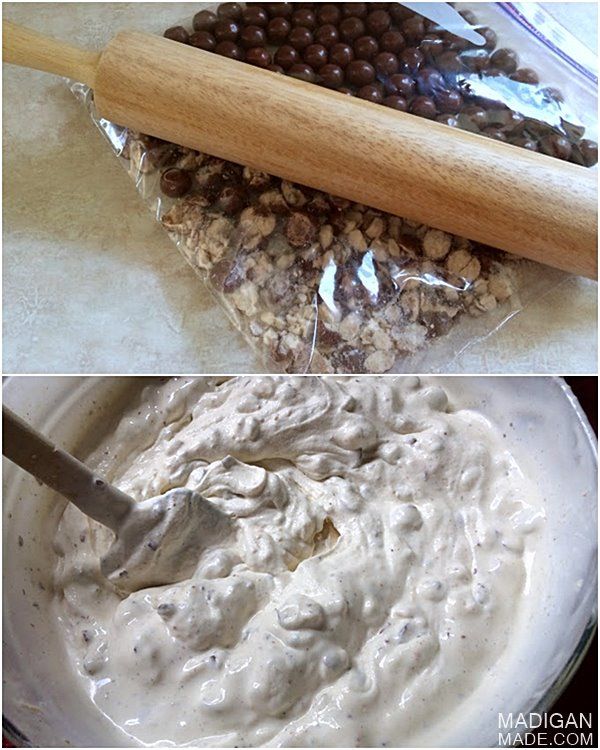 In a large bowl, fold and mix the remaining candy and the malted milk powder into the ice cream until well blended.

Line the interior of a large loaf pan with wax paper or foil. Place a layer of chocolate wafers along the bottom of the pan. (I did not consistently do this, but you can fill in any 'gaps' between the cookies using broken pieces to have a solid line of chocolate wafers in each layer.)
Spread about one-third of the ice cream mixture on top of the cookie wafers. Place a layer of wafer cookies on top of the ice cream and keep repeating these layers until you end with cookies on top.
Freeze the ice cream filled loaf pan in the freezer for several hours until the ice cream hardens.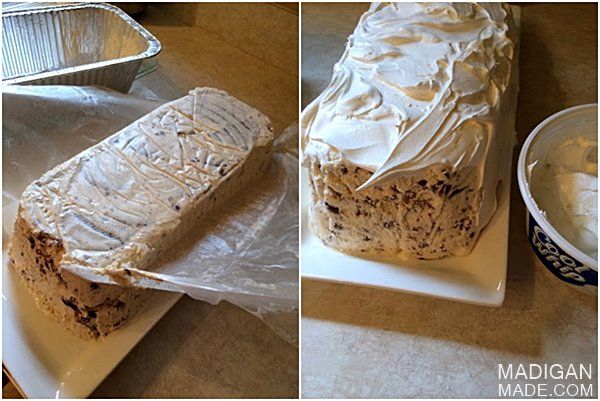 Remove the pan from the freezer and turn it upside-down onto a serving platter. Peel away the foil or wax paper from the cake. Ice all sides of the cake using the thawed whipped topping. Sprinkle with your reserved candy pieces on top of the cake.
Tent the cake and platter loosely with foil and place the cake back in the freezer until you are ready to serve it.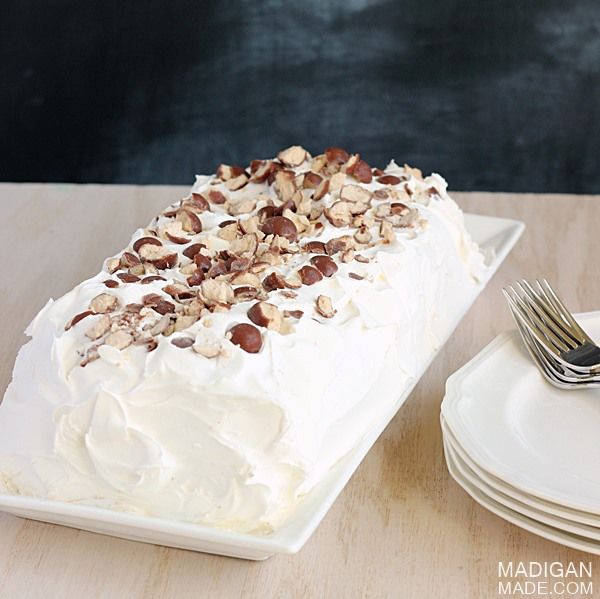 I brought the cake into work and came home with an empty plate. The cake was so good and perfect on a hot day. So, go and grab some of your favorite candy and ice cream and make this easy cake to enjoy this summer!