DWELL: a summer home tour filled with simple DIY décor.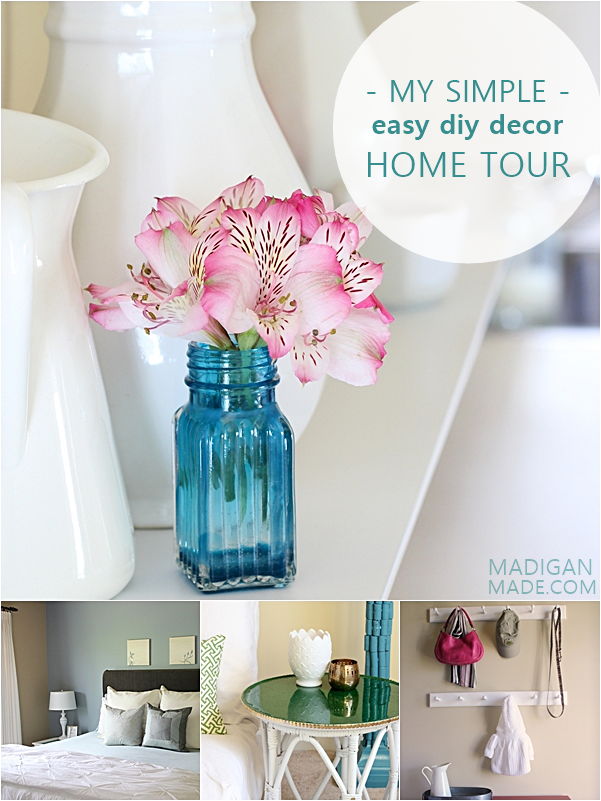 Today I'm excited to participate in the Summer Tour of Homes series hosted by Gina from The Shabby Creek Cottage .  As the weather gets nicer, I think many of us are eager to work on big house projects and/or decorate. A home tour is the perfect way to get a little DIY and décor inspiration!
If you are a regular reader here, I thought this tour would be a good way to update you on many of the rooms in our cozy home. And if you are visiting from Jennifer Rizzo 's or Gina's blog, welcome to my little stop on the home tour!
My regular readers already know this, but 2014 has been an exciting year for my husband and me. After many, many years of waiting, we are expecting our first child this summer!
As a result of that news, I've been in a bit of a nesting mode the past few months. I'm trying to work on some general house projects that I wanted to complete and, of course, decorate the nursery!
Let's start the tour, mmkay?
As you walk into our home, you enter our little foyer. With a baby on the way, I recently updated the entryway to be a bit more practical and functional… but I still wanted it to feel welcoming, too!
All the space needed was a fresh coat of paint, shaker peg hooks, a simple bench, a faux stained glass window treatment and a few decorations.
After the foyer, you walk into our family room (which actually used to be our dining room). Over the past two years, we painted the walls and bought some new, gray furniture. But my favorite part about the room is the vintage inspired gallery wall above the sectional.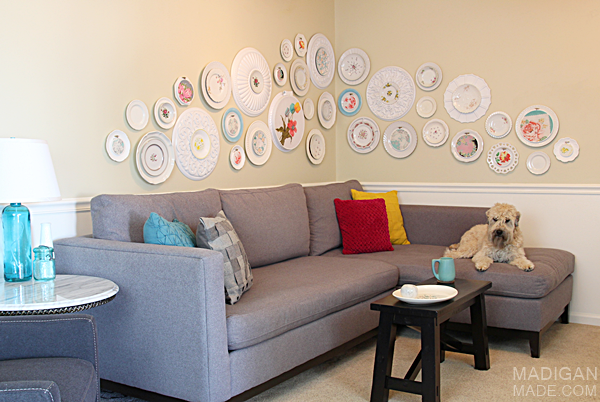 I created the display using a mixture of old plates, vintage handkerchiefs, ceiling medallions and embroidery hoops.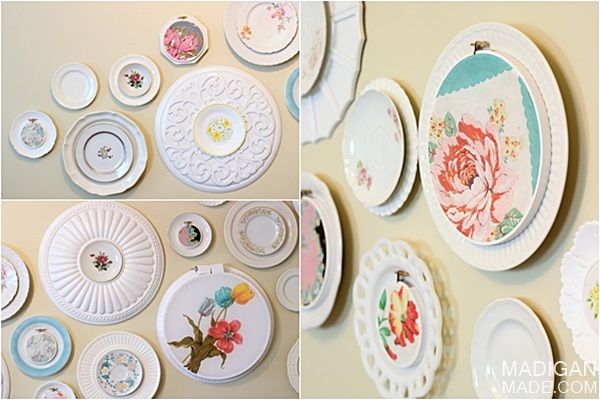 A few simple, solid color pillows in complementary colors sit below on the couch.
Next to the couch is a marble-topped table I picked up at a thrift store and a blue glass lamp that I made from a bottle.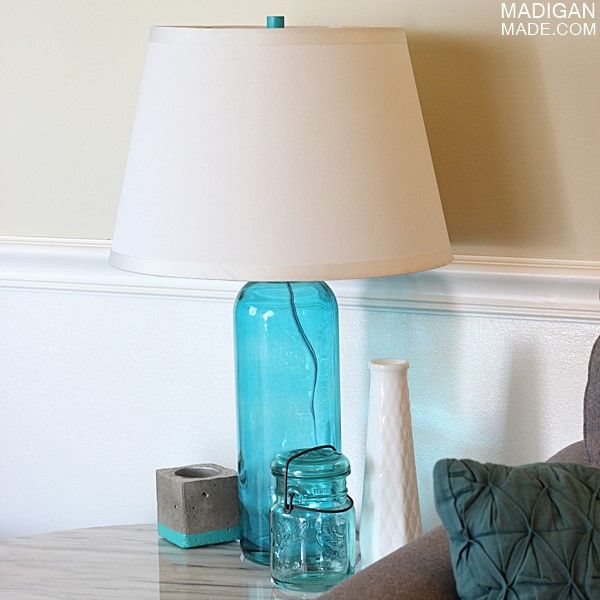 The blue glass complements the colors in the wall display while the little concrete vase sitting next to it reminds me of the square, gray couch in the room.
Going into our kitchen, I should forewarn you that this room is a permanent work-in-progress. Since we moved in eight years ago, I've slowly made some changes to the space.
We painted the cabinets, updated the flooring, bought new appliances and installed new light fixtures. Each little change made a big difference to the space. (Someday I'd love to update the countertops and add a backsplash, too.)
I've also added a few décor elements like DIY upholstered window cornices and some café shelving above our kitchen cart.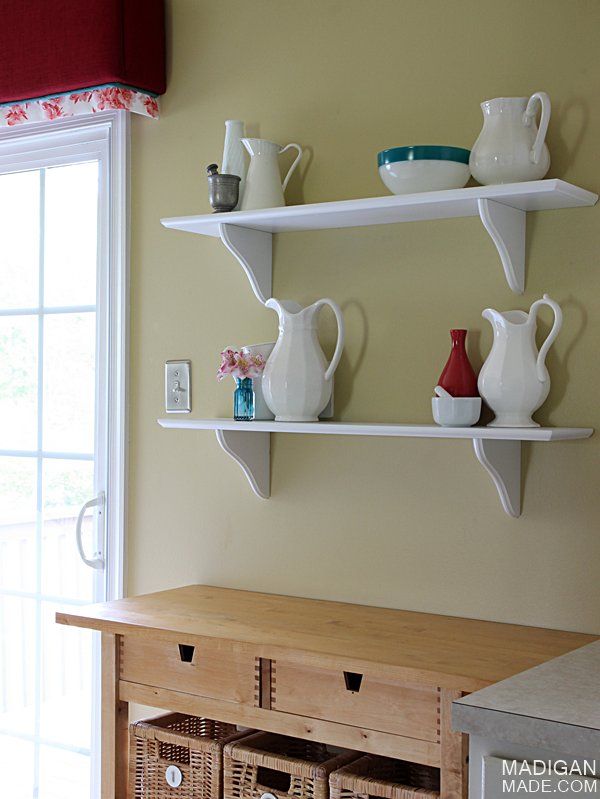 Behind our kitchen table, I used to have a large chalkboard that I changed out seasonally. But about a year and a half ago I updated that area to include a large installation of clipboards. I occasionally change out the contents of the clipboards for the season (or my mood!).
My favorite version is this oversized typography display using big stencils in the clipboards. I love the graphic impact it has on the wall!
Heading upstairs, our guest bath is small, but packed with some simple beach-inspired décor.
A cool blue color on the walls and lots of white help to bright the small space. I find that sea shells make easy vase filler and wall art!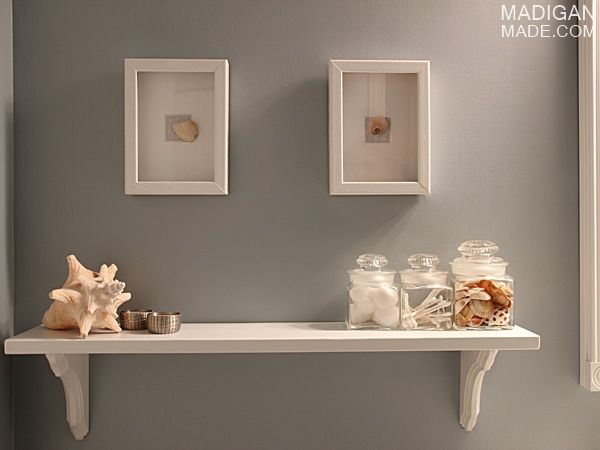 Our master bedroom is also decorated in a combination of blues…. with brown and white accents. I made a lot of the décor in this space, including the wall art above the bed and our upholstered headboard.
I painted and tiled two side tables to serve as our nightstands and they are one of my favorite DIY projects to date!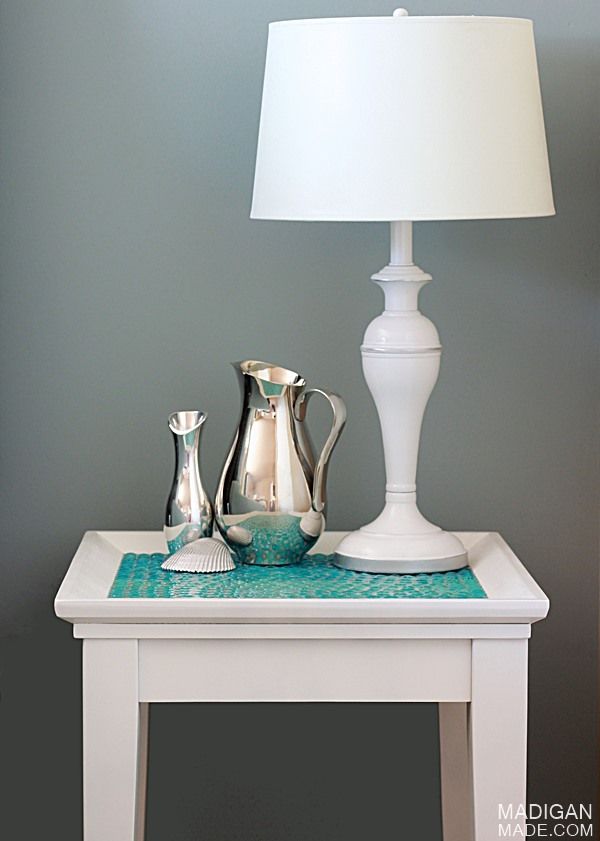 I LOVE how the glass gem marbles on the table tops sparkle like water every morning when we wake up!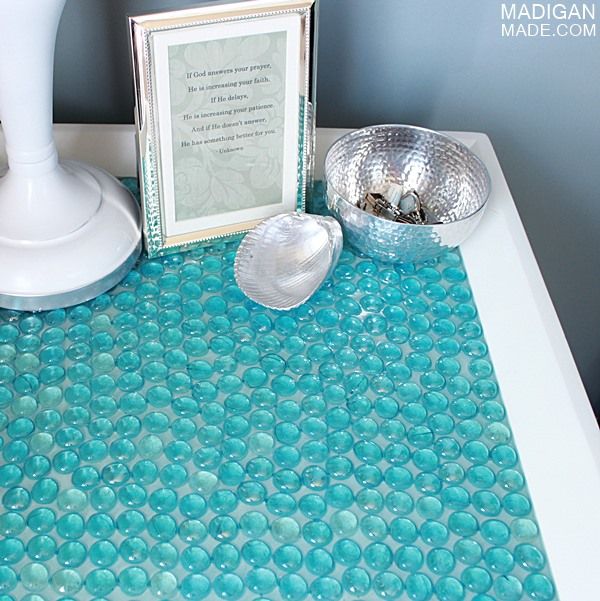 I also decided to frame some antique brooches that I wore in our wedding (in my hair, bouquet and on my dress). I love looking at them next to one of my favorite photos from our special day.
While we are on the topic of personal décor touches, let's move over to our one guest bedroom. This room represented many things to me over the years.
When we first moved into our home and painted this guest room yellow, I had always envisioned that the space would make the perfect nursery for a baby. But as I already alluded to, my husband and I struggled for many, many years with infertility.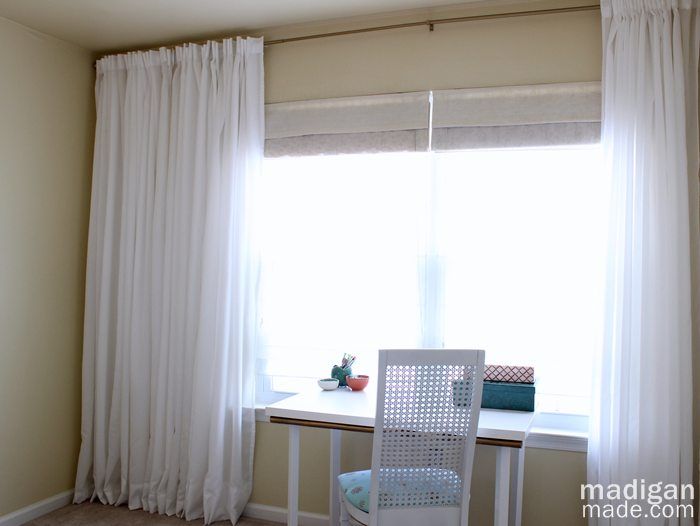 Then, about two years ago, I realized that an empty, unfinished room and living in limbo was no way to live. We needed to move on and live for today. So, I slowly transformed the room into a bright and colorful home office. I added lots of personal touches and DIY projects to the space… making it a great space to work in!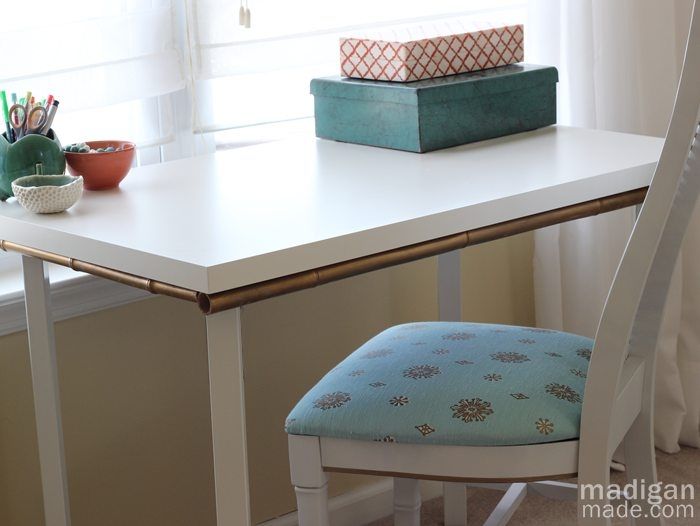 I created some extra long curtains and curtain rods  and updated an IKEA desk update with bamboo. Two DIY  wire frame memo boards are a great place to hold notes.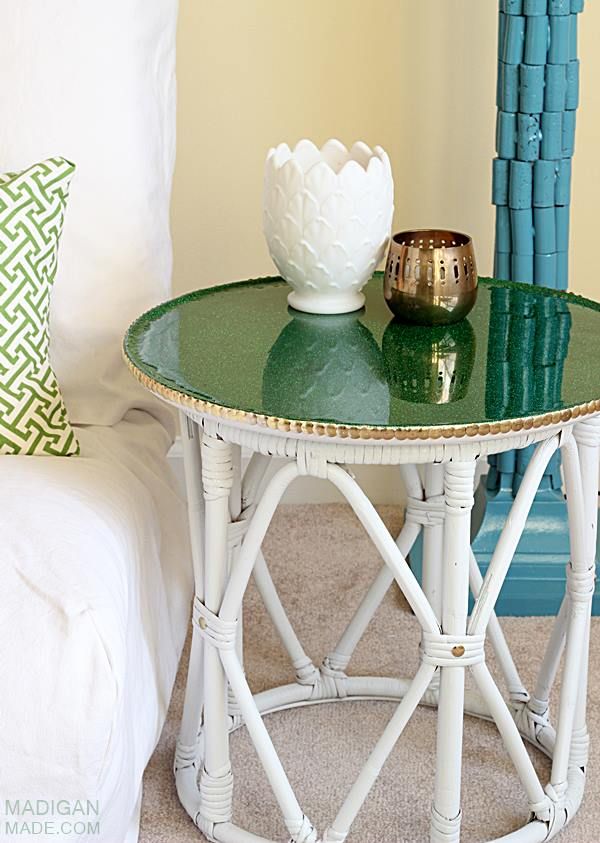 I included a place to sit in the office (and host the infrequent guest). I updated an old futon with a DIY slipcover and installed  a colorful gallery wall above it.  A wine cork covered lamp  and a glitter covered side table sit next to the couch area. (That's a lot of glitter and wine, right? Yes, I'm a big fan of both!)
The year after the home office was done, to our surprise, we learned this winter that we were expecting!! We are excited to be given this little gift of life and we can't wait to meet our baby girl. My husband and I decided to leave the office and use our other guest room for the baby's room. I've been decorating the nursery slowly and plan to share more about this space very soon.
You can read more about my pink, gray and vintage inspirations for the nursery here and our baby furniture here. (and get tons of sneak peeks of my projects on Instagram!)
Last, but not least, let's head outside. I have to confess that we haven't done much to our outdoor spaces lately. With the pregnancy, I haven't had the motivation to do a great deal of gardening or planting this summer… but we did hang a pretty hanging basket by our front door. (That counts as gardening, right?)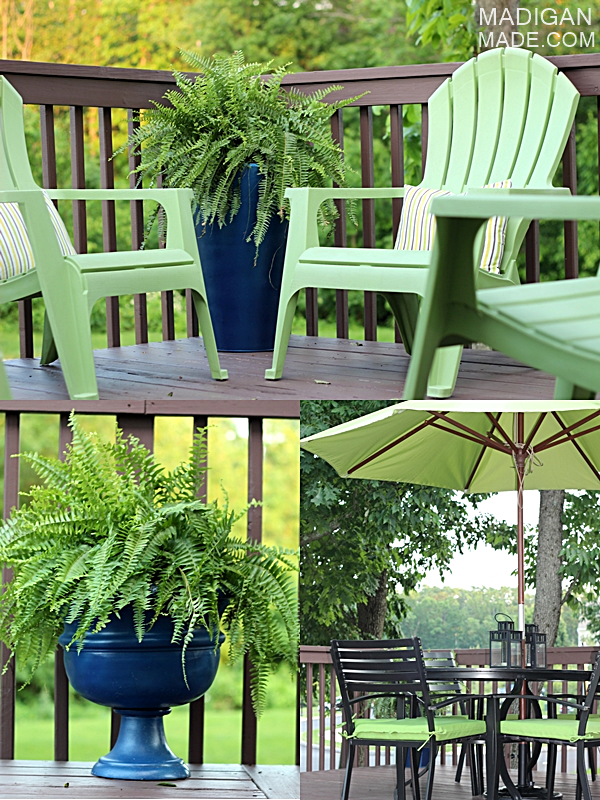 Out back on our deck, we recently set out our green and black deck furniture and put a few Boston ferns in my blue cobalt painted pots. It's not much, but I love how the bright green and deep blue accents instantly liven up the space. I can't wait to get out here more this summer. (and, of course, we can't wait to meet our baby!)
Thanks so much for stopping by and taking the tour of our little home! Be sure to stop by the next house on the tour and visit Lindsay from Makely School for Girls .
Looking for more inspiration to help you update and decorate your home this summer? There are tons of gorgeous homes on this Summer Tour of Homes. Stop by each one this week!
Monday, June 2nd
Tuesday, June 3rd
Wednesday, June 4th
Thursday, June 5th
Friday, June 6th