DWELL: make a cozy reading corner for the baby's nursery.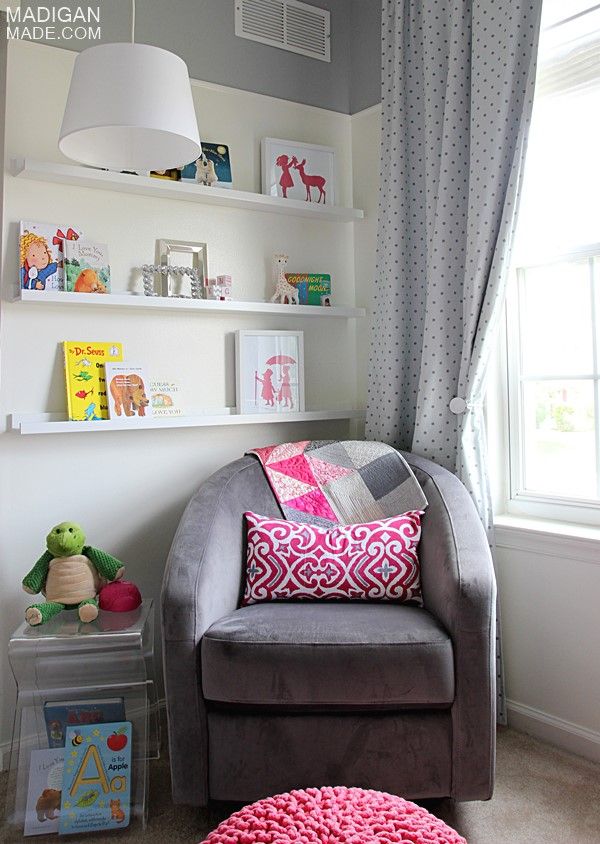 Go ahead… ask my parents. They will tell you that I was more than a bit of a bookworm growing up. I always had my nose in a book as a child. I read constantly. (Yes, I was that pre-teen that could devour the latest copy of The Babysitter's Club in a day!) I don't read as much as I'd like to these days… but I am SO looking forward to sharing my love of books with our future little baby girl. I can't wait to read to her and encourage her to enjoy books like my parents did with me.
So, it was important to me to have a corner of our baby's nursery that was conducive to reading to her. I also wanted a cozy space that we could use to rock and nurse her as well when she was little.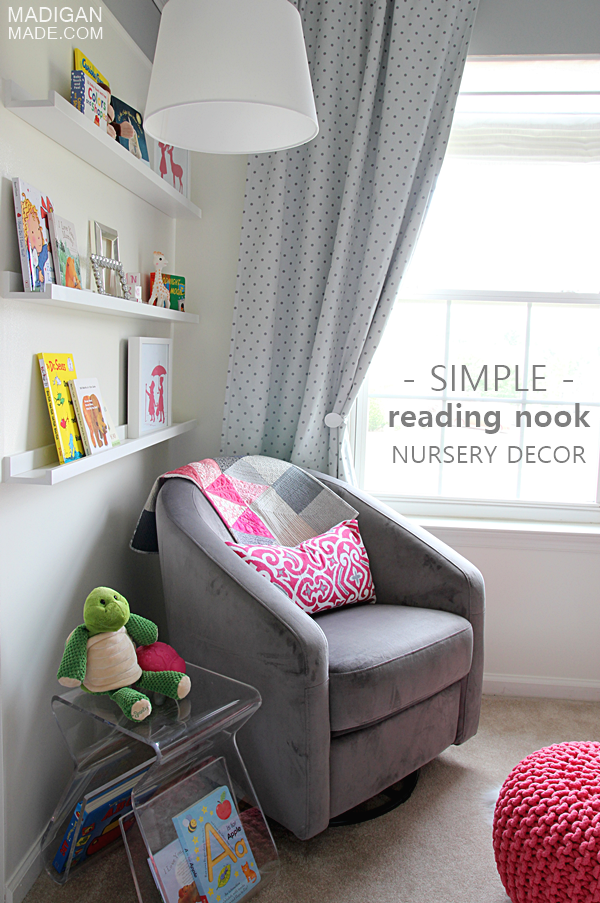 I created this small area of the room near the window to be our little "book nook". It required a few important things (in my mind) to meet all of our needs: a comfy chair, a place to rest/store things, lots of book storage, good lighting and fun/pretty décor.
This post contains affiliate links for your convenience. Please refer to my disclosure statement for more details.
We started planning the reading corner around a small modern glider we bought for the room. The rocker is the Madison Swivel Glider from babyletto. It is covered in a soft, gray microfiber material that I think will clean and hold up well around a child. I already find myself sitting and rocking in it almost daily as it is… it is very comfortable!  I love the modern style of the chair and the fact that it could easily transition into another part of the house down the road.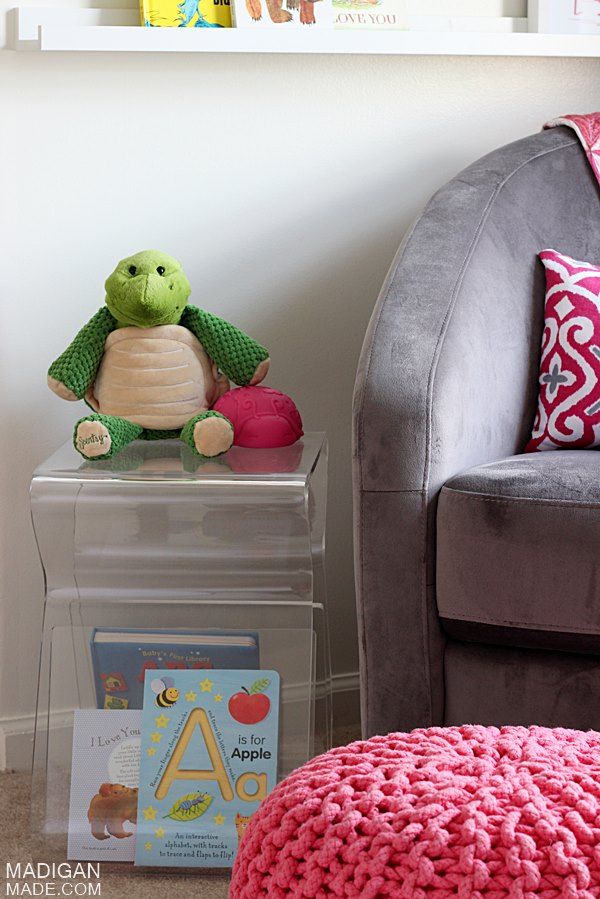 Next to the glider we placed a small side table/stool. When I am nursing, I'm sure it will come in handy for drinks/snacks and needed baby paraphernalia. I love the fact that the table is clear and it does not take up much space visually, The Lucite material compliments the other clear/crystal elements in the space. Plus, it is plastic  and  will hopefully be durable around a kid. And look at the storage below… perfect for more books!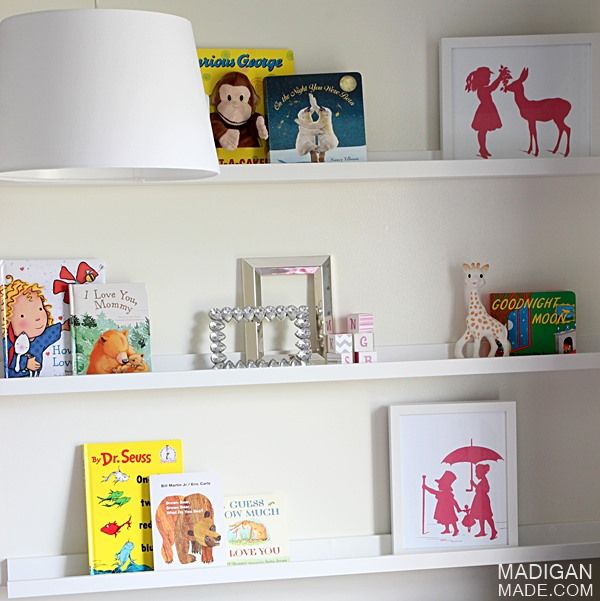 If you follow me on Instagram, a couple of months ago you may have spotted the three narrow shelves that I hung behind the glider. They are RIBBA picture ledges from IKEA and I'm using them as book ledges. My dad and I talked about trying to make some book ledges… but when I saw that these shelves were $15 a piece, I could not go wrong with this store-bought option!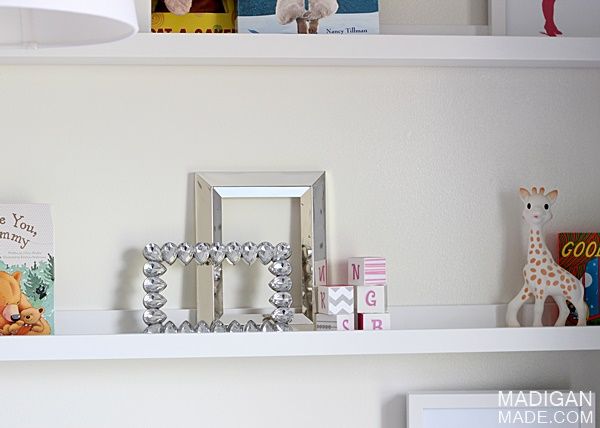 Right now I have some books on the shelves, plus a few toys and décor items. The empty silver and crystal frames are from Home Goods… and you may have notices my DIY baby blocks sitting next to the frames.
The other framed pink and white silhouette prints are free vintage graphics I downloaded, modified and printed from The Graphics Fairy (a deer and girl and two children playing). These silhouette prints compliment the large DIY wall art I made for the above the crib.
I can't wait to fill up these shelves with more books as the baby grows!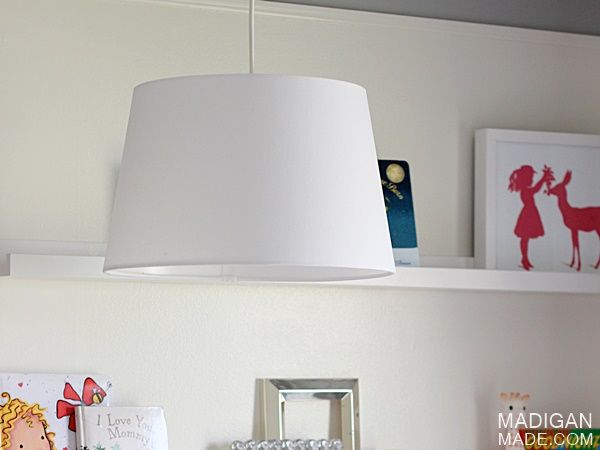 A reading area needs good lighting. I did not want to take up floor or table space with a lamp, so a hanging pendant lamp (using a JARA shade and HEMMA cord set from IKEA) above the side table seemed like the best way to go. The kit we used hangs from hooks in the ceiling and can be plugged into the wall below. (no need for fancy wiring!) We also added a dimmer attachment (the DIMMA cord dimmer from IKEA) to the lamp so that we can make the lighting soft and ambient during those late night feedings. (Thanks to my reader Deb for the dimmer idea!)
A few more things in this area help to amp up the cozy factor, too.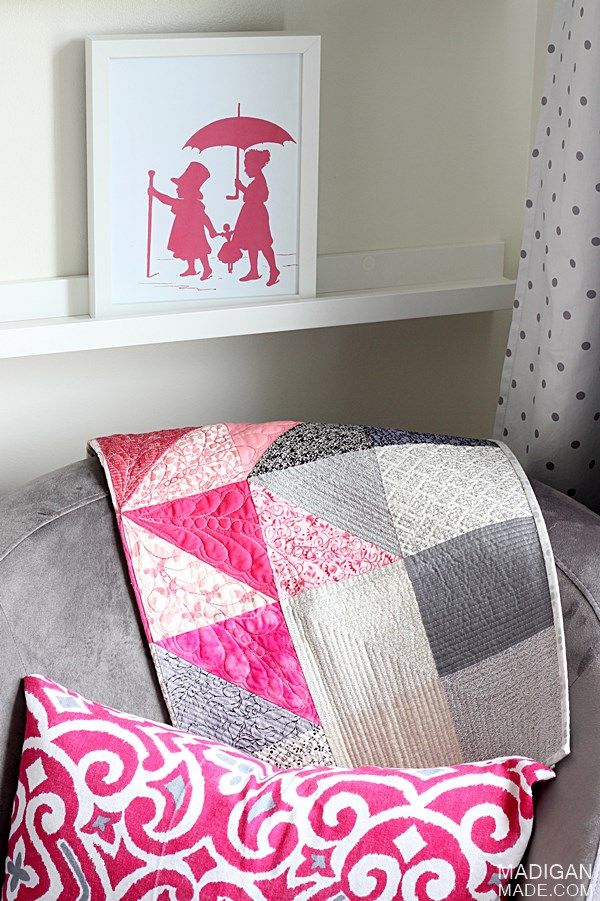 My blog girlfriend Carolina (from 30 Minute Crafts and Always Expect Moore) quilted this GORGEOUS baby blanket for our little girl that you see on the back of the glider. The colors are perfect  for the space and the quilt is soft. (Thanks so much, Cara!)
I sewed the long pillow
for the chair out of some gray and pink ikat fabric using my easy envelope pillow method.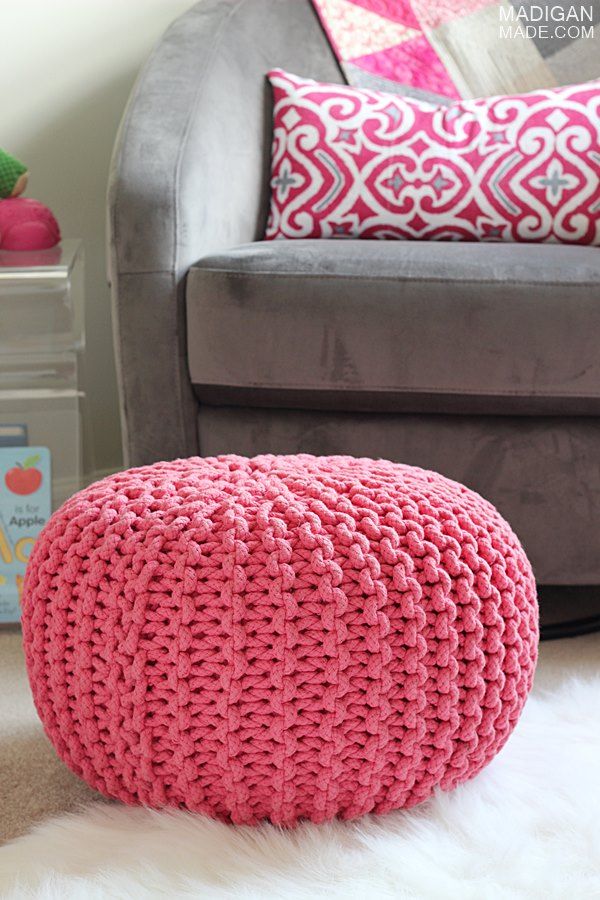 I had hoped to create a pouf-style ottoman to go with the glider, but time just got away from me. Instead, I settled on a bright, raspberry pink ottoman. The pink knitted pouf is from Restoration Hardware (you can find similar ones in different colors at One Kings Lane and Land of Nod). I love its size and nubby texture… it will be a great place to put up my feet while I'm in the glider. The ottoman will also transition into a great toddler seat as our babe grows.
You may have noticed our new faux sheepskin area rug
  that we have in the center of the room. When I was planning this space, I wanted a modern rug for the room. I thought about a printed rug, but I'm so glad I went with a solid color. The light, white hue helps to brighten up the space and the shagginess is cozy and adds more texture to the room. When we bought the rug, it shed regularly for the first couple of months but that has slowed down. The shaggy rug is soooo comfy to walk on… and my hubby and dog assure me (from personal experience!) that it will be a warm place to play and snuggle with our little gal, too!
I've shown you most of the areas of this nursery… I just have a few more things to share with you about this room. Are you sick of all my baby talk already? (I hope not!) With my due date fast approaching, I'm just glad this room is almost ready and I can't wait to show it all to you.