MAKE: an IKEA kid's chair hack with a photo transfer.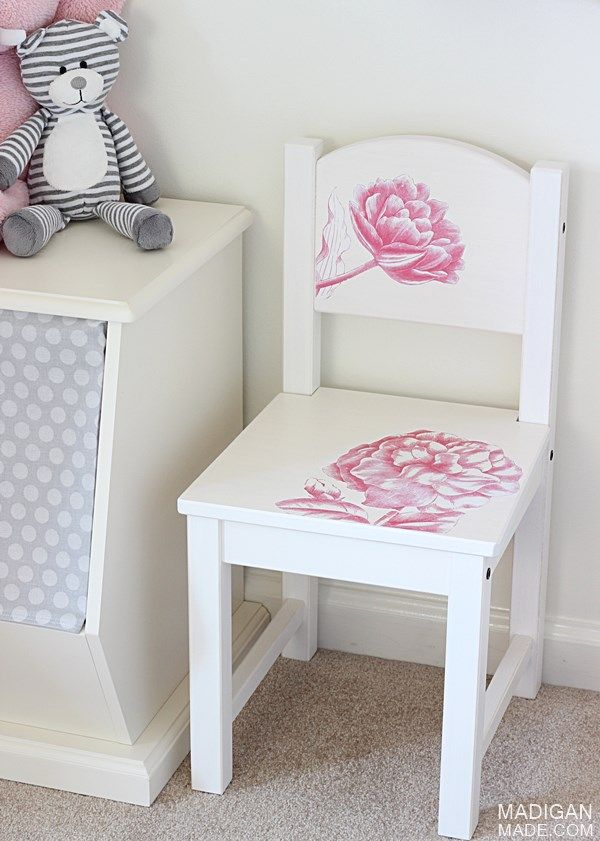 This chair is… A little pink. Flower-covered. A tiny size.
Any guesses where I plan to use this cute DIY chair?
If you said our baby girl's nursery… ding, ding, ding! You're right!
I couldn't resist picking up one of these cute SUNDVIK chairs for our little babe when I spotted them at IKEA. And, of course, I had to do a little something to it to make it 'ours'! A photo transfer image onto the wood seemed like a fun way to customize the chair.
Since I used vintage floral prints in the room, I figured that antique-looking botanicals would be the perfect motif for my project. To keep the chair from looking too fussy or shabby chic, I used only two large, crisp pink and white images.  Allowing a lot of white space and off-setting the flowers gave them a more modern feel.
Let me show you how I made this vintage floral kid's chair with a photo transfer:

Supplies used:
(This list contains affiliate links for your convenience. Please refer to my disclosure statement for more info.)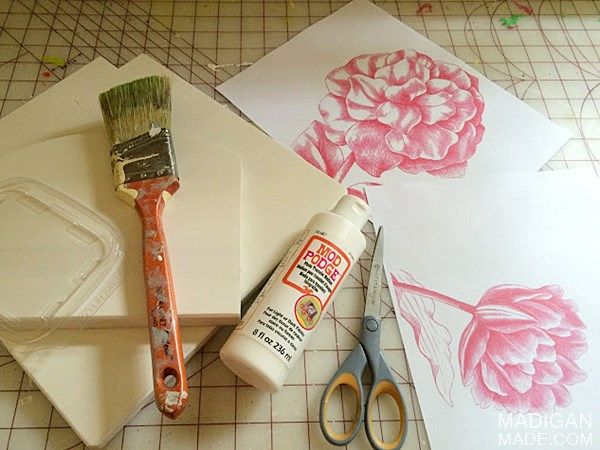 Steps taken:
I did NOT assemble the chair right away… I pulled out the seat and back pieces from the box and looked for prints that would work on each one. I found two free vintage floral images from The Graphics Fairy (a pretty tulip and a petunia). I downloaded the images and changed them from black and white to pink and white using photo editing software.
I printed off the mirror-image of what I wanted for each flower in sizes that would fit the chair. Then, I took the prints to a copy shop and had color photocopies of each of them made. (This is important! Images printed on an ink jet printer will not work.)
Using a craft knife, I carefully cut out each flower shape from the photocopy. I tried not to have any white edges of paper show around the flowers since that would transfer to the wood.
Then, I brushed a liberal coat of the photo transfer medium over the ink of the each printed flower (using wax paper or a craft mat underneath to protect my work area).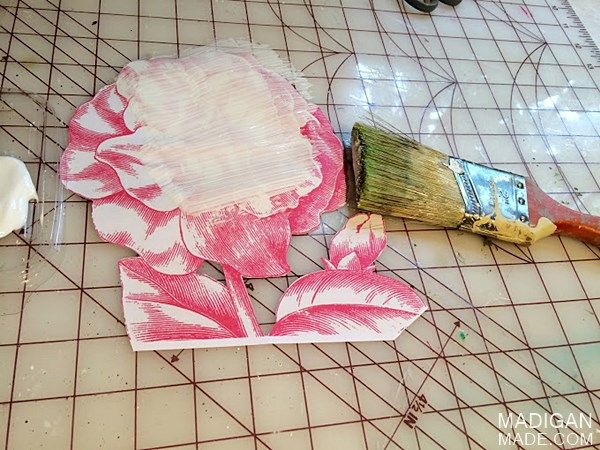 I carefully laid each flower glue-side down onto the seat and seat back where I wanted them. I used a squeegee tool to smooth out any bubble in the paper, working from the inside out.
The paper and glue needed to dry for 24 hours. Then, I used a wet rag and lightly dampened the paper. After letting that sit for a minute, I went back with a damp towel and gently started to rub the paper off, revealing the image below. The key is to work slow (or the image could tear) and do not rub too hard (or the image may rub off).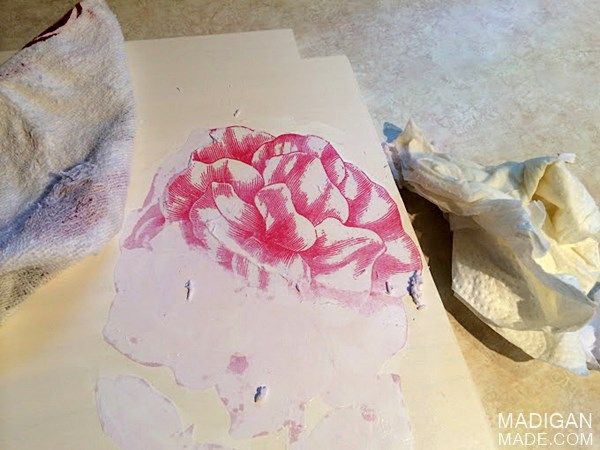 To protect the transferred image (since it could rub off!), I applied two thin coats of Mod Podge Hard coat formula. (Which is ideal for furniture projects since it is water-based and it dries to a durable finish.)
Once everything was dry, I followed the instructions and assembled the chair.
Obviously, our baby won't use the chair right away, but I set it next to some toy storage we have near her crib. This will make a cute, mini, play area for her some day in her little room.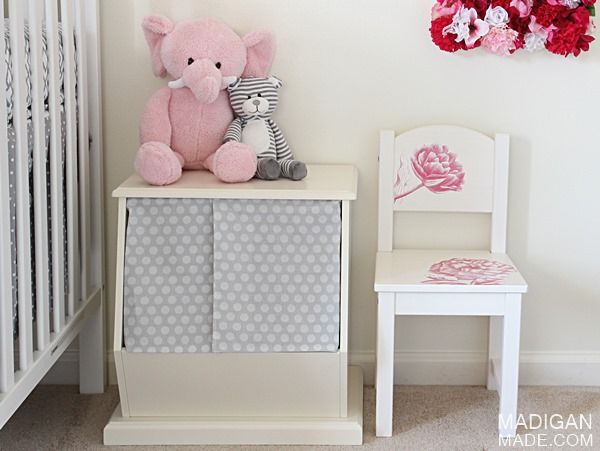 Isn't this little chair too sweet?? The flowers and colors work perfectly in the room with the other pink and gray elements. Part of me wants to make an adult sized version of this chair for myself!