MAKE: simple sewn pillows for the nursery.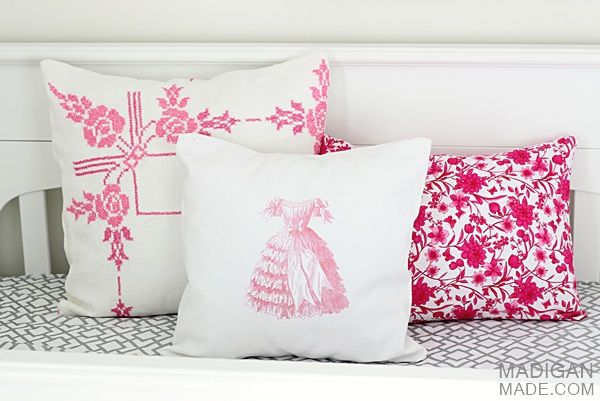 After I showed you the DIY crystal baby mobile last week, I wanted to tell you more about the crib area. The foundations of the room are simple and decorated in gray and white… but the room needed some feminine touches and I wanted to use some vintage-inspired elements, too. To do that with the crib, I decided to sew a few pillows for the room.
Now, I should point out that these pillows are purely decorative and will add a little more color to the nursery. We plan to pull them out when the baby is in the crib to avoid the risk of suffocation. But the pillows add a little interest to the crib and will come in handy for adults. My husband and I already hang out in the nursery some nights… He snuggles on the rug with the dog while I rock in the glider. The pillows come in handy for hubby when he is laying on the rug. We likely will continue to use the pillows when we are in that room and play on the floor with the baby, etc.
I sewed the white pillow in the center out of one piece of white cotton duck using my easy envelope pillow approach. Are you curious about the vintage party dress image in the center of the pillow?
I added that image to the fabric using Mod Podge Photo Transfer medium. You can get the full tutorial for how to do that on Mod Podge Rocks… I'm over there this week explaining how to transfer images to fabric.
The other two pillows were easy to sew from other fabric I had. The pillow on the left is made from an old vintage embroidered tablecloth. You saw part of this tablecloth already… if you remember, I used pieces of that fabric to make DIY wall art.
The floral print pillow on the far right is made with two fat quarters of fabric. The fabric is new, but the print reminds me of vintage floral images.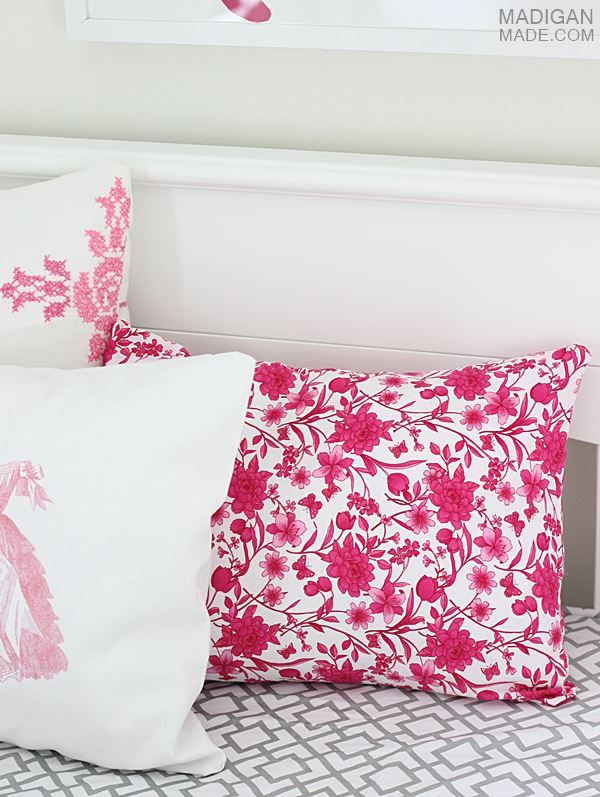 To sew these two pillows, I was not able to use one continuous piece of fabric. It makes the assembly process a little more cumbersome than my usual envelope pillow method using one piece of fabric but it is still pretty easy.
If you are interested in how to make an envelope pillow from two pieces of fabric (like fat quarters), these two diagrams step you through the basics of how to make one: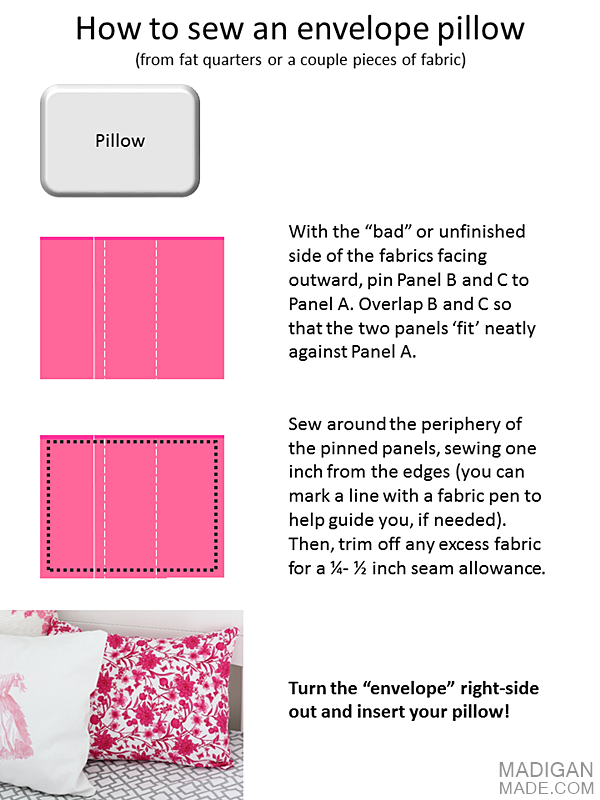 The pillows look so cute in the room and add that little bit of femininity the crib area needed. I love them with the gray and white bedding and the DIY crystal baby mobile above.
I also recently hung a cute pink and white children's print above the crib… I'll tell you more about this semi-DIY artwork soon!