MAKE:  a vintage image into DIY wall art.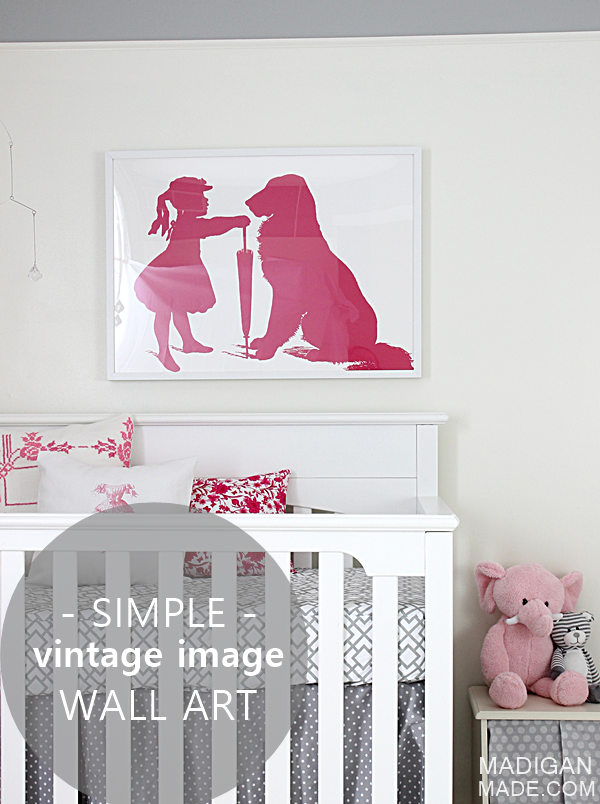 You saw a sneak peek of the artwork I hung about our baby's crib last week when I showed you the DIY vintage inspired pillows. Like most of the things in this nursery, I created the artwork for the space.
I've told y'all before that I'm a BIG fan of customized and personalized wall décor for your home. Why buy a print from a big box store that everyone else may have when it is easy to make your own art?
I've shown you many ways to create your own DIY wall art, but one thing I haven't tried yet (but always wanted to do) is to frame an oversized custom image or photo as art. What's the secret to getting this look without spending a fortune? Buy a large frame and head to your local copy shop for help!
I downloaded this adorable vintage girl and dog graphic from the Graphics Fairy. Then, using photo editing software, I converted the image from black and white to pink and white and enlarged it to the size I needed for my frame. (I used a large, white, IKEA RIBBA frame.)
I had the image printed at a copy shop as a large poster. It cost me about twenty dollars to get the print made. (After I had this one printed, I learned that for about six to nine dollars, I could've had this printed on large blueprint paper which would've been even cheaper. Oh well… next time.) After it was printed, I cut the poster to size and popped it in my frame.
You can follow this process to turn any of your favorite photos or images into wall art, you just need to ensure that the graphic you use has a high enough resolution to print clearly (ask your copy shop staff for advice, if you need it). I will say that since I enlarged the silhouette image so much, if you get really close, the edges of the silhouettes are a tiny bit pixelated. But, for cheap wall art, I think this printed image is fine!
To hang the frame, I used a wire along the back and traditional picture hanging hardware nails in the walls. But I also used several sets of those picture hanging strips along the edge of the frame. I wanted to be absolutely sure the frame was stable, did not swing or fall in the event our little girl tries to reach for it later on.
I love how this simple graphic looks next to the modern DIY crystal mobile and pillows below.
The sweet dog and girl image makes me smile. It works perfectly in our pink and gray nursery space. The vintage motif contrasts with the crisp, modern, white frame in just the way I had hoped. The image really pops against the white wall behind it.
And the best part about this project… is that the artwork is unique and special to this room, just the way I like it!
We have less than 4 weeks to go before the baby is scheduled to get here.The nursery is basically done and I have a few more corners of this room to show you… soon!