MAKE: a DIY modern silk flower wall art.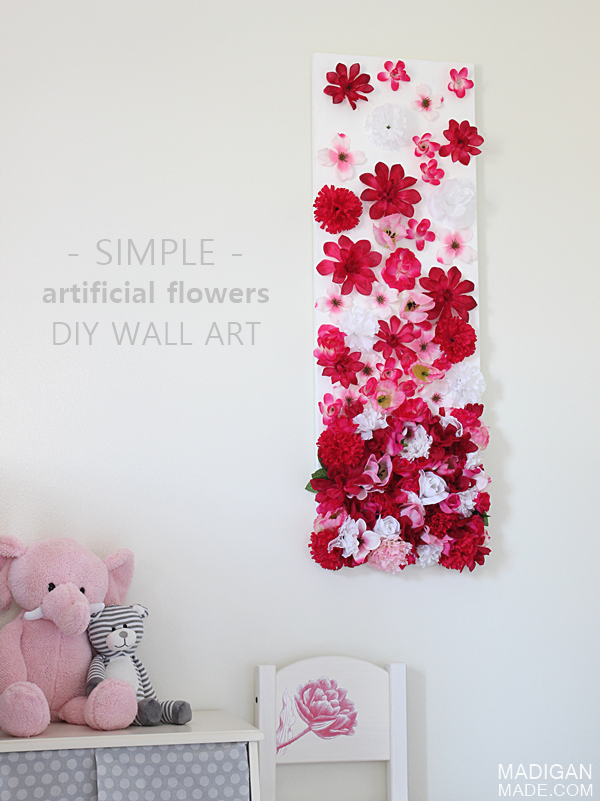 Artificial silk flowers. They evoke a stuffy-plastic-covered-sofa-like-your-grandma-may-have-owned-feel, don't they?
I've never been a fan of fake silk flower arrangements. In fact, I kinda detested them. Well, I'm having a slight change of heart these days… when used en masse in a non-traditional or modern way,  the pretty petals can create a lovely texture.
When my DIY alphabet nursery art idea crashed and burned into a hot, globby mess… I wondered what else I could cover the canvas with to make some art for the nursery.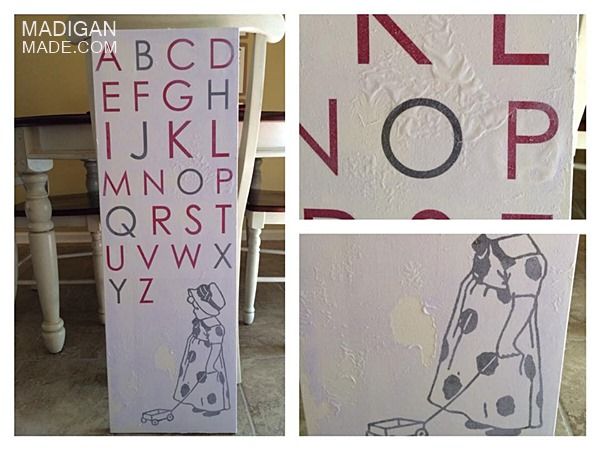 After working with artificial flowers recently to make a floral chocolate bouquet and then seeing this pretty faux flower covered clutch, I thought it might be fun to create with this often overlooked craft supply.
This approach was a cheap way to create wall art, too. I found a bunch of pink and white silk flowers on clearance at the craft store and at the dollar store… I already had the craft paint and glue on hand.
Let me show you I made my DIY silk flower wall art:
Supplies used:
(This list contains affiliate links for your convenience. Please refer to my disclosure statement for more info.)
Steps taken to make flower wall art: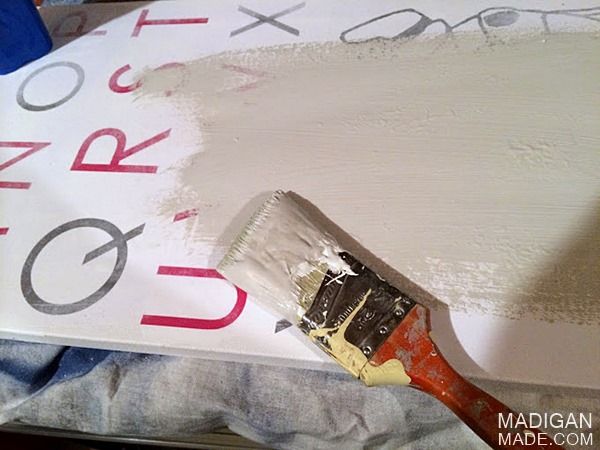 First, I painted over the failed DIY alphabet art canvas. I thought about using pale gray paint, but then I changed my mind and went with a clean, white look.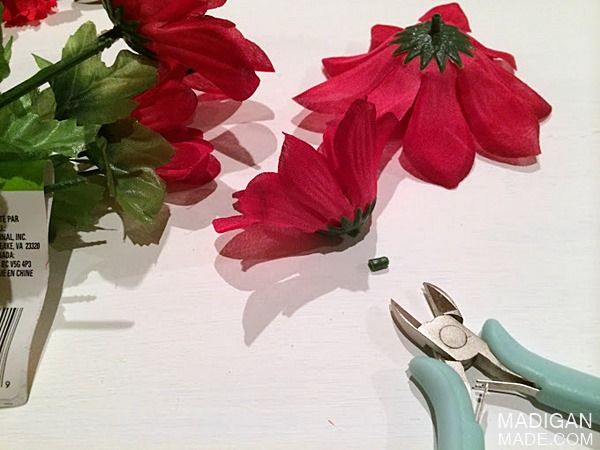 After the canvas dried, I pulled apart a bunch of the silk flowers and trimmed any excess plastic or wires from the flowers.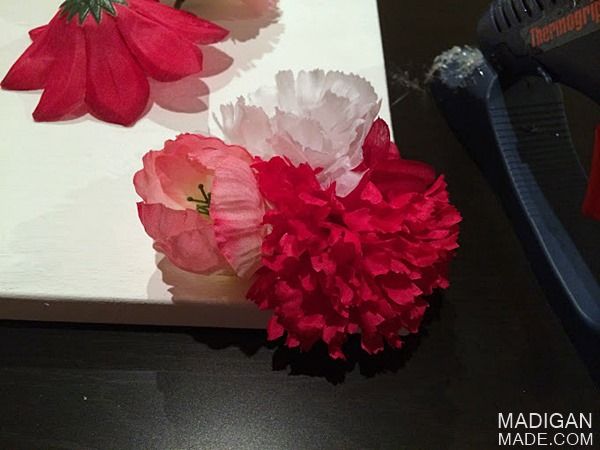 I glued the flower heads down to the canvas using my hot glue gun. Sometimes I needed to take the flowers apart and glue down each 'layer' of petals so that the bottom of the flowers laid flat against the canvas. I occasionally tacked down some of the outer petals as needed, too.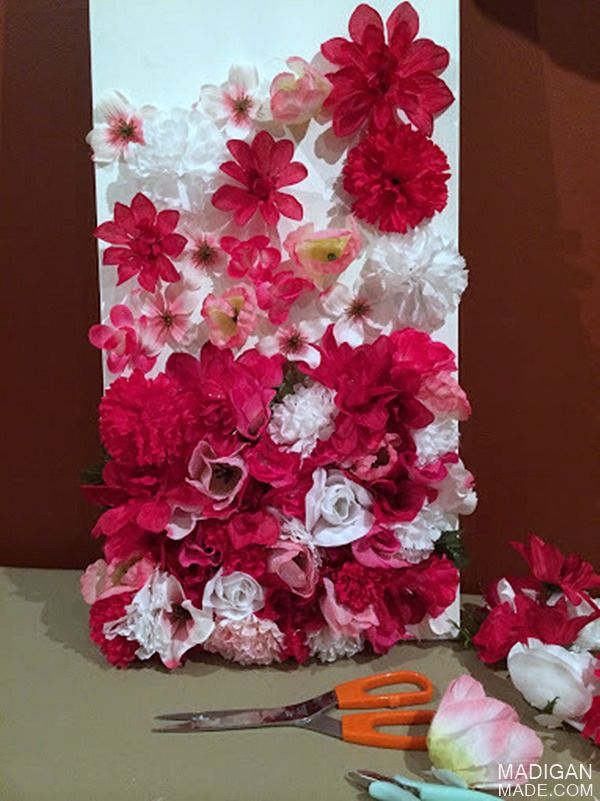 I worked from the bottom of the canvas, upwards. I started out by applying the flowers in a very condensed pattern and then loosened up the placement as I went higher on the canvas.
Once I glued down everything where I wanted them I used a hair dryer to clean up and melt any hot glue gun strings. (This is a little crafter's trick that works great!)
The end result is sweet, pretty and feminine. And the ruffle-y texture on the canvas is gorgeous! It's perfect for a little girl's room. (and sooo much better than the failed alphabet art!)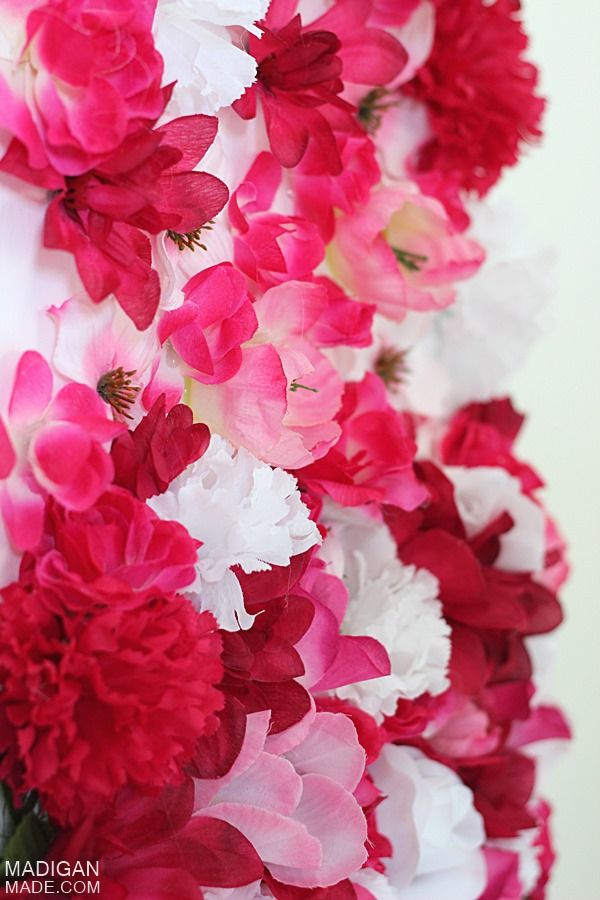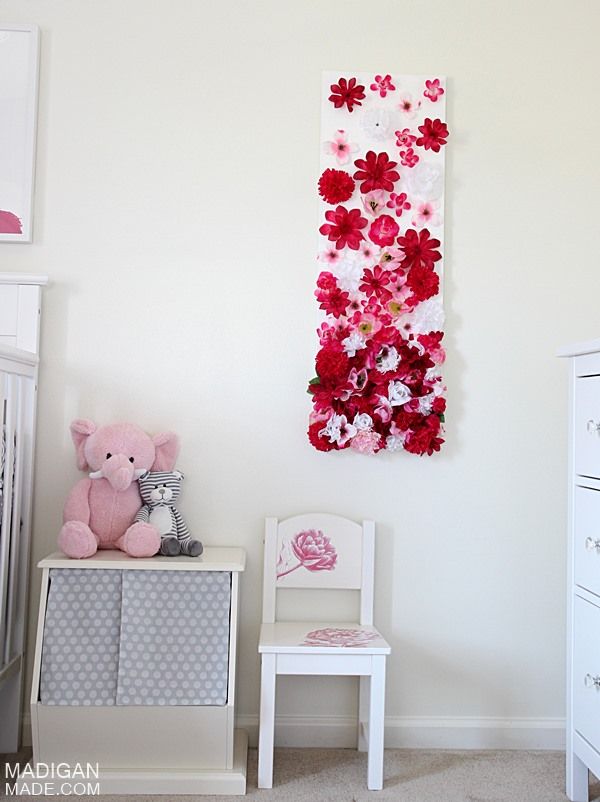 I love how the flowers look next to my DIY floral photo transfer kids chair. This area of the room looks like a little garden, doesn't it?  It will be a sweet little space for our future little girl to play in.