MAKE: a baby mobile inspired by a crystal chandelier.
A crafty gal that loves a little sparkle is sure to have a daughter that loves it, too, right? Well, I hope so! Especially when you consider how I am decorating her pink and gray nursery with things that glitter and shine.
If you remember, I wanted to incorporate some clear acrylic and crystal accents into the nursery space. You saw a few of these elements already, like our crystal drawer knobs, Lucite side table and faux oversized diamond décor. Every little girl's room needs a little twinkle and shimmer.
Well, nothing says 'sparkle' like a crystal chandelier!?? I thought about buying a mini chandelier to serve as a mobile for the nursery but after seeing this DIY crystal mobile idea, I decided to make my own… sort-of.  I used a premade wire mobile designed for photos that I found online as a base. I loved the simple, modern lines of mobile. With a few little hacks, I made the mobile my own. I just removed the clips that came with it and attached acrylic crystals to it instead.
I found the crystal accents in the wedding section of the craft store. The acrylic charms are lighter that using actual glass chandelier drops. (and won't break or shatter… which was important to me in a child's room.)
This project was a simple and inexpensive way to have a custom mobile in our baby's room. (compared to the cost of store-bought mobiles… and most of those were too cutesy for me anyways.) In fact, you could use this metal mobile "as-is" with the clips and hang whatever you want to it to create your own mobile. Baseball cards could be fun for a little boy's room or you could use colorful yarn pom-poms for a circus themed room. This metal frame would make a great base for anyone looking for a semi-DIY baby mobile.
Let me show you how I customized mine: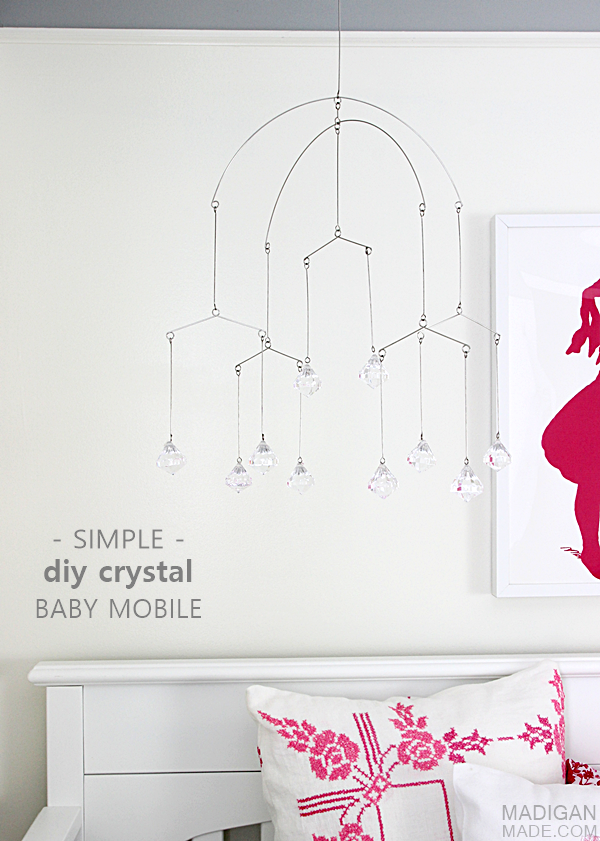 Semi-DIY Crystal Baby Mobile
Supplies used:
(This list contains affiliate links for your convenience. Please refer to my disclosure statement for more info.)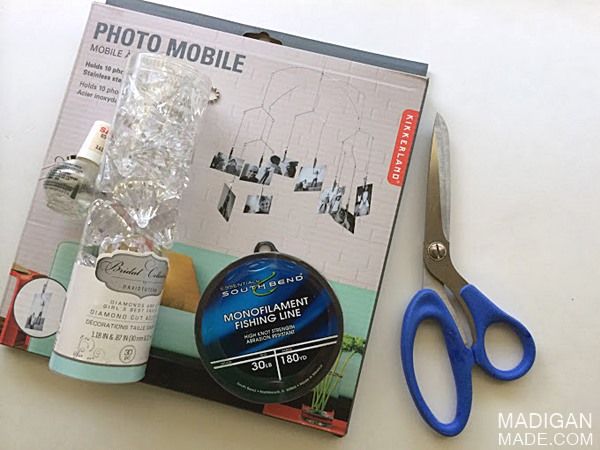 Instructions to make a modern crystal mobile:
First, I removed alligator clips from the metal photo mobile with pliers.
Then, I cut lengths of the monofilament line and securely tied a crystal charm to the loop at each end of the mobile. To help the knots stay put, I placed dollops of nail polish over each knot, too.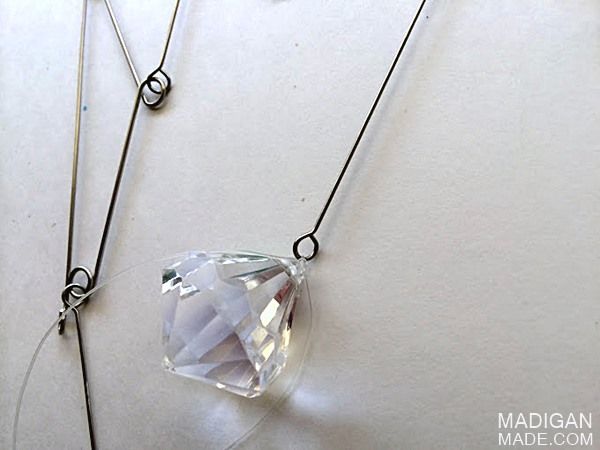 I hung the mobile from a heavy-duty ceiling hook that we mounted in the ceiling above the crib using more fishing line. (and also using more nail polish to secure those knots, too. I did not want to risk this mobile falling into the crib!)
I love the way this mobile turned out! It is simple and modern… but still reminds me of a chandelier in a way. It is the perfect way to add a little shine and crystal to this side of the nursery.
I have to say that this mobile is difficult to photograph since it hangs in the corner of the room. It is hard to see the metal and acrylic clearly in some of the photos but I have to tell you that in person these crystal charms sparkle. Their shape and movement can be easily seen against the white ceiling when you look from below. (Yes, I tested it! I wanted to make sure our baby would be able to see them.)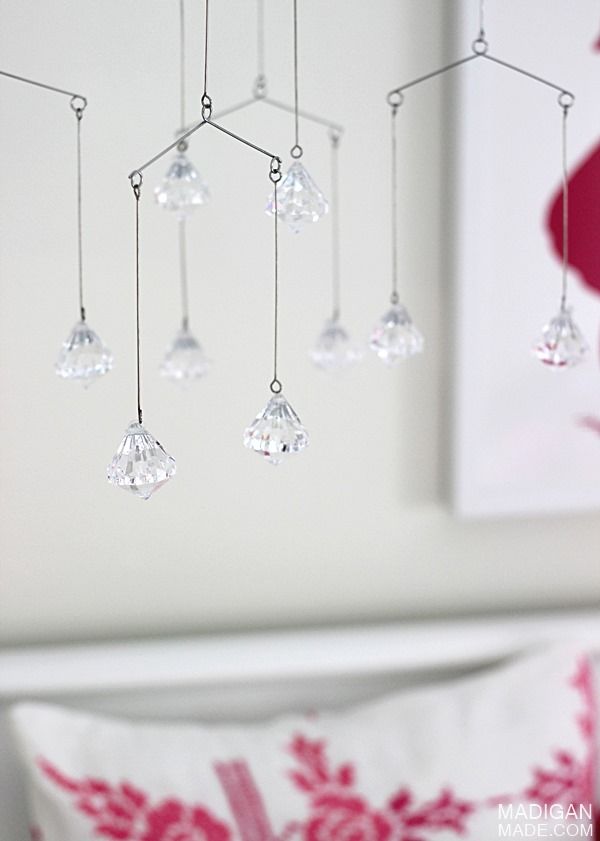 I'm glad I started with a store-bought mobile as a base for this project. The metal base of the mobile is well balanced.
With the slightest touch or breeze in the room, the crystals dance and move for a long time (and do not seem to tangle, either). The charms cast little prismatic rainbows around the room. Family and friends that come to see the nursery comment that the mobile reminds them of the movie Pollyanna… which is a sweet analogy and kinda the feeling I was going for with this project!  I'm hoping our daughter finds this space bright, positive and sparkly!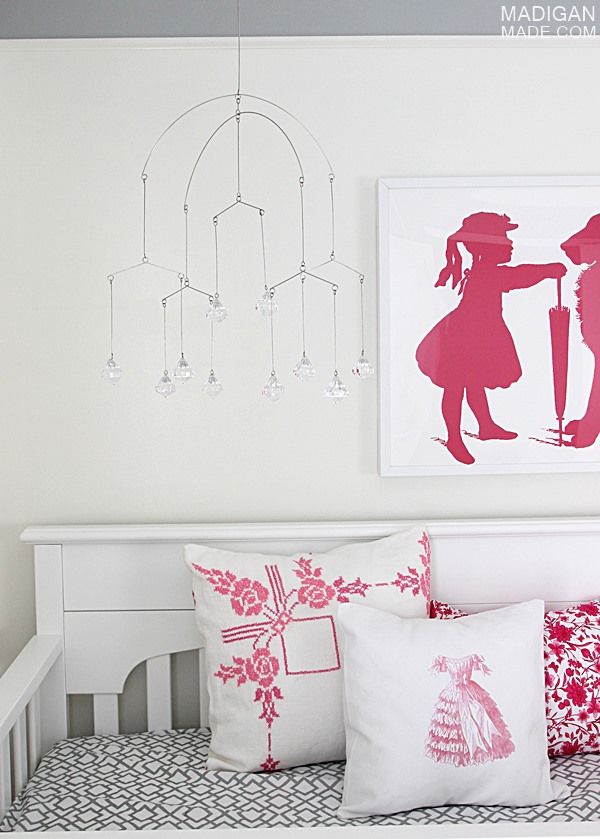 P.S. Are you a little curious about the pink pillows and artwork you see with the crib? I made those, too! I can't wait to tell you more about these projects next week. The nursery is almost complete (and baby is soon to arrive late next month! Eek!). Stay tuned!