DWELL: a vintage and modern nursery room.
I'm SO excited to finally share this room with you. It's been a labor of love for me as I get ready to welcome our little angel into the world. (Eek! Very, very soon!)
Many of you may recall the long road my husband and I had to get to this point in our lives. We struggled with infertility issues for many years… and after a long, long time, we realized we needed stop living in limbo and "live for today". One of our guest rooms (that I had pegged to be a nursery when we moved in) sat unused for many years as well. We realized we needed to move on and use that space. It eventually became my happy and colorful home office.
Then, this past winter, we were thrilled to learn we were expecting! After I found out we were having a baby, I immediately started to brainstorm about the décor for our little babe. (who we learned was going to be a girl!)
We decided to use our other guest bedroom for the nursery. Here is what the space looked like before: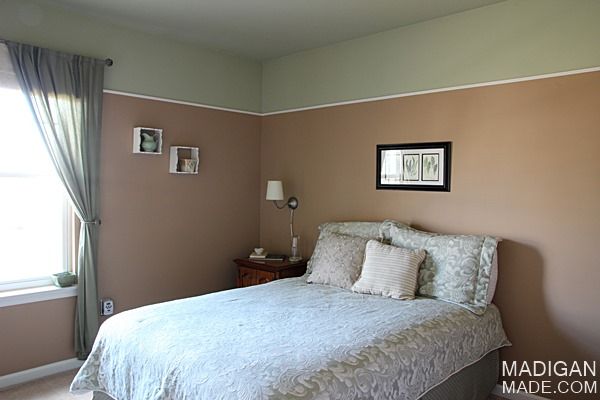 I was inspired by pink and gray hues for the room's color scheme. I wanted a fresh combination of both vintage and modern elements in the space. It was also important for me to have the room have that 'special' or precious vibe that made it feel feminine (but not too girly or princess-y… it's a word). I think I achieved that feeling with some of the floral and vintage motifs I used… plus I sprinkled a lot of crystal and sparkly elements around the room.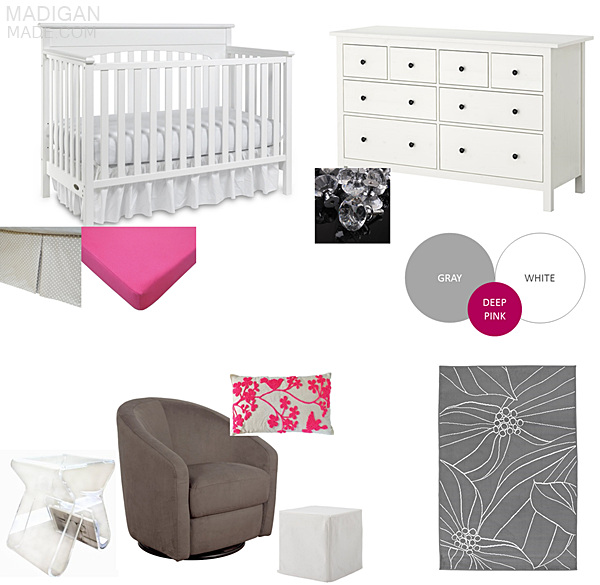 The hardest decision was what kind of baby furniture to buy for this room… and after those pieces were decided on, the rest of the decorating was fun and creative. Many of the décor items you see in this room I created for the space myself. I've shown you most of those projects already. Y'all know my philosophy by now… When you can't find what you want, make it!
Please click on the photo or the descriptive link below each set of pictures if you wanted more details about an element. I also added a source list at the bottom of this post, if you were curious about where to locate some of the store bought finds.
Let's take a little tour around this cute room that is finally finished: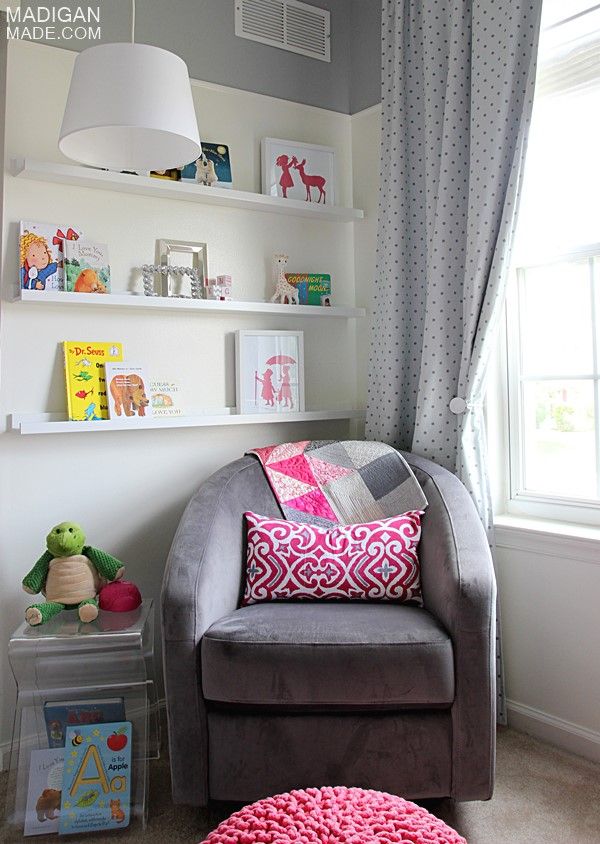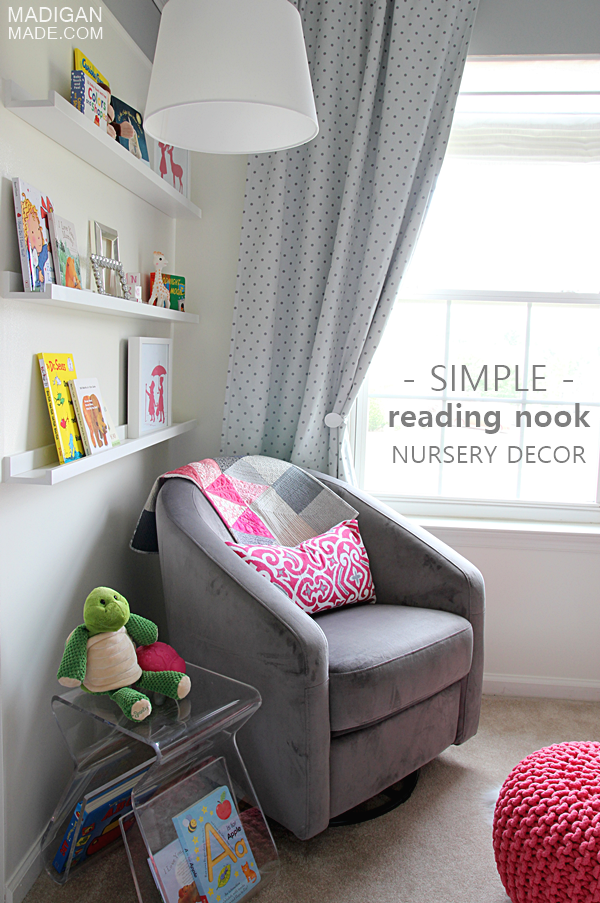 | Cozy nursery reading nook with glider and book ledges |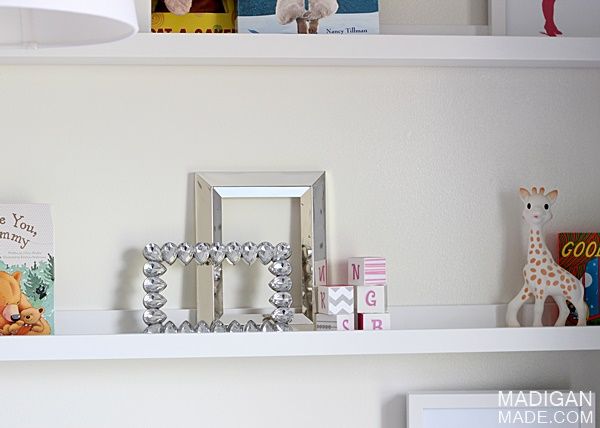 | DIY baby blocks |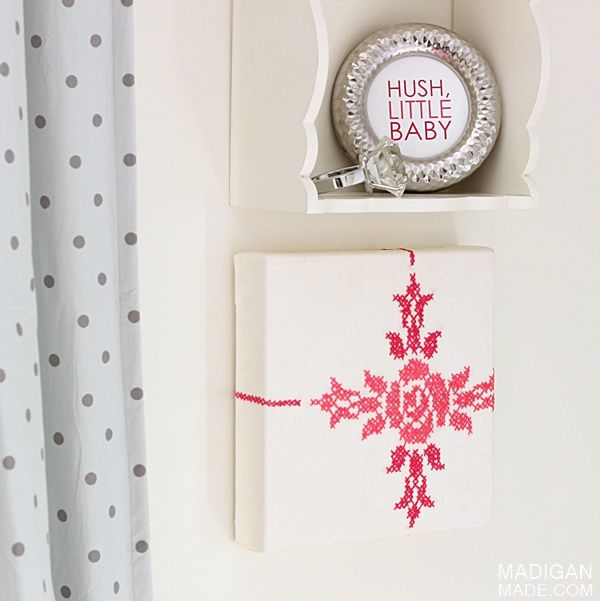 | Vintage fabric wrapped DIY wall art | Simple (free) nursery art print |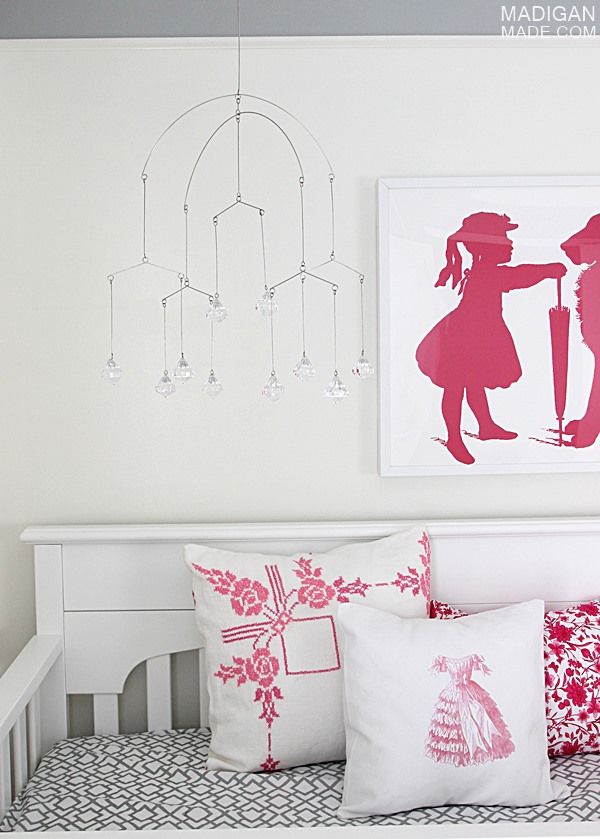 | DIY crystal nursery mobile |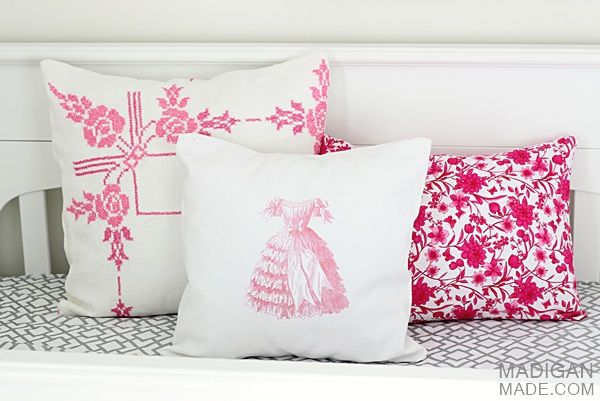 | Vintage inspired DIY pillows |
| DIY large-scale vintage graphic artwork |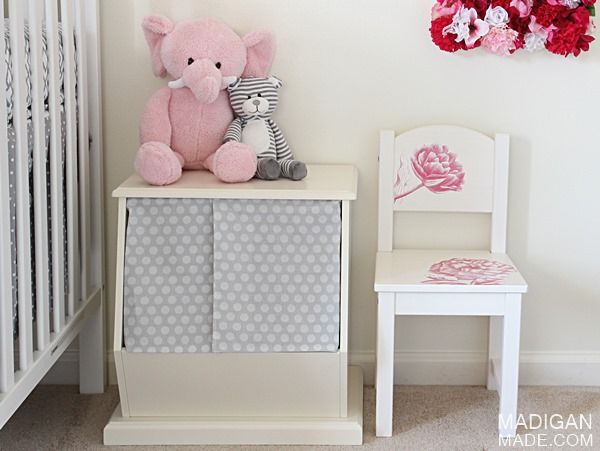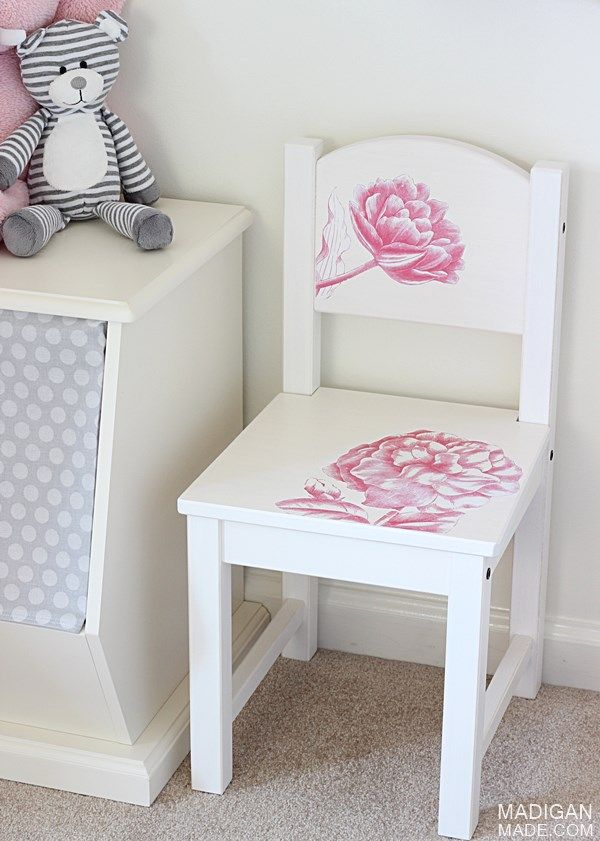 | Easy customized child's chair using a vintage image transfer process |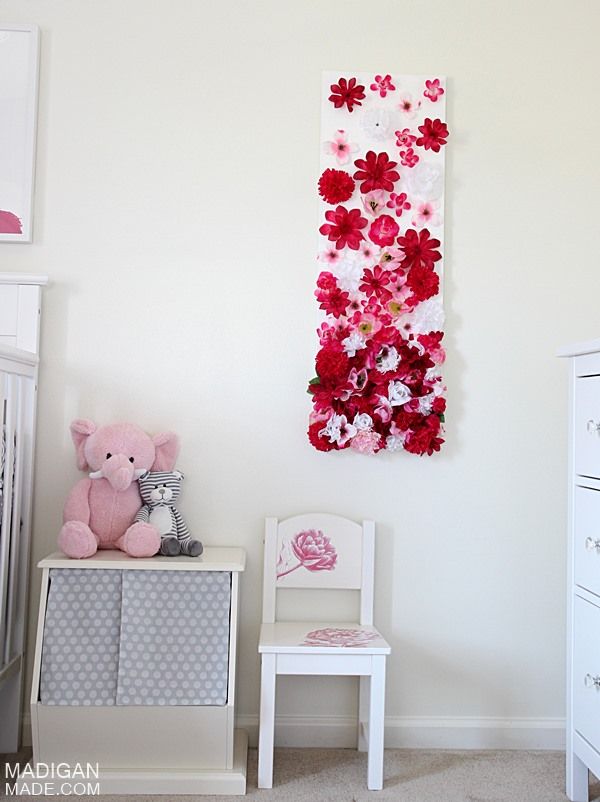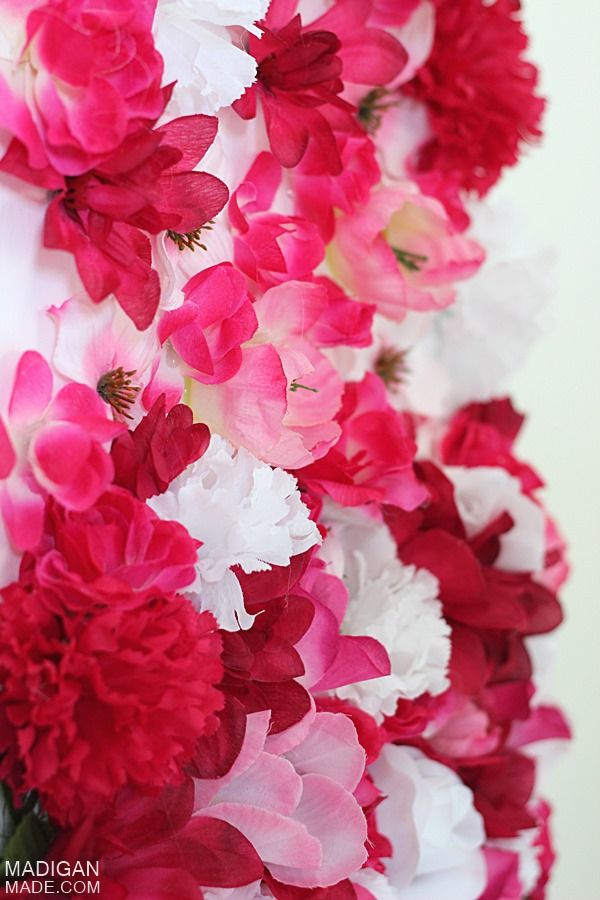 | Artificial silk flower DIY wall art |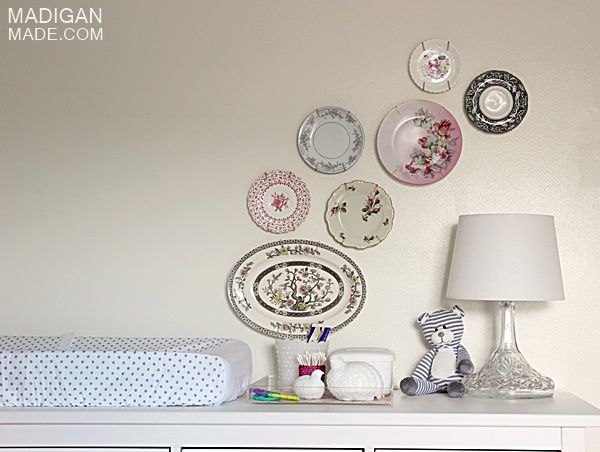 | IKEA HEMNES dresser as a changing table area |
| DIY crystal lamp from a decanter |
Every time I walk into this room now… I can't help but smile. The nursery feels bright, happy, sparkly and feminine. It will be a great space to share with our little girl.
And for a quick bump update… here I am at 37 weeks in the space! We are ready and waiting this month!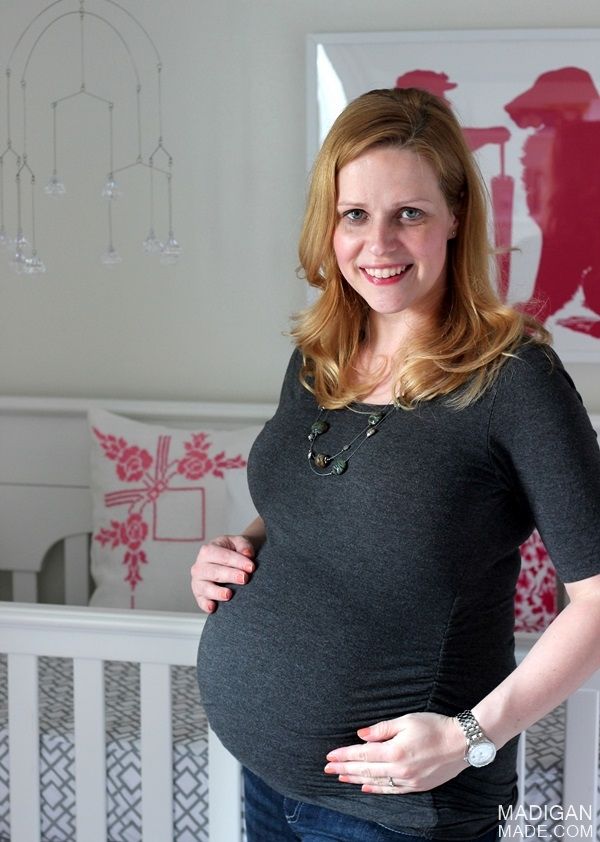 I do realize that we'll need to make changes to parts of this room to baby-proof it as our little girl grows. Starting now, the pillows will be pulled out of the crib anytime she is sleeping in there. The crib mattress can easily be lowered once she starts to roll and move. As she starts to reach for things, we can shorten the fishing line to raise the crystal mobile higher up and close to the ceiling. Eventually, if our little lady is really curious and possibly climbs, we may need to relocate some of the glass and ceramic pieces on her dresser. We will cross those bridges when we get to them.
Right now, I love this space and I'm looking forward to sharing it and all of its pretty details with our sweet little angel. Making memories in this space with her will only make this room even more special!
Nursery source list:
This list contains affiliate links for your convenience. Please refer to my disclosure statement for more details.