Make: baby burp cloths from cloth diapers.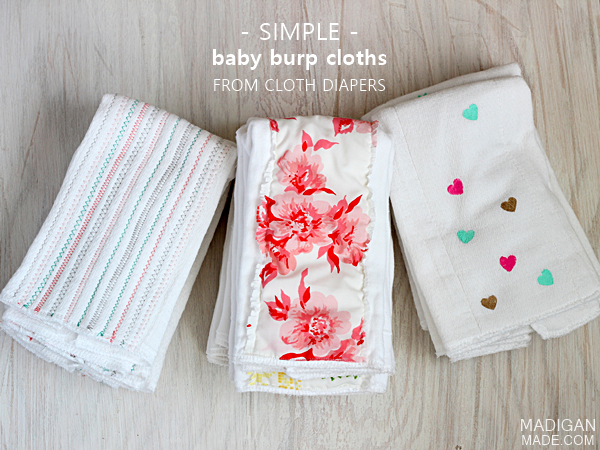 You know someone is having a baby when that wave of baby gear and gifts starts to flood their house. My husband and I were both surprised and grateful about all gifts everyone gave us for our little girl. As my due date approached and my baby showers were over, I started to sort and organize all of this cute gear. (Who knew we needed all of this stuff to raise one very tiny human?!)
It was then that I realized that while we had tons of cute clothes for our babe… we had no burp cloths to clean her up!
What's a crafty (pregnant) girl to do? It seemed silly to go out and spend $10 to get one or two burp cloths at the store… I knew I could make my own!
Traditional cloth diapers are very absorbent and can be used as simple baby burp cloths. And I knew with a little crafting, the diapers could be decorated to make cute burp cloths.
I decided to make a bunch of baby burp cloths from cloth diapers and I decorated them in 3 ways… let me show you how you can make your own!
ONE: Paint the fabric to make graphic patterns on burp cloths.
Cut out small, fun shapes in freezer paper using paper punches. Iron the freezer paper "stencils" to the diaper fabric with the shiny side down in the pattern you want. Gather some craft paint in fun colors and some fabric medium. Mix the craft paint with the fabric medium (usually a 1:1 or 2:1 ratio, but follow the instructions that came with the medium). Paint the stencil shapes and allow the paint to dry. Peel the stencils off the fabric to reveal your cute shapes on the burp cloths. Set the paint by ironing the back of the diapers or tossing the cloths in the dryer (again, follow the instructions that come with the fabric medium you used).
You'll end up with cute and graphic burp cloths like these:
TWO: Sew fabric to the cloth diapers for fun, colorful burp cloths.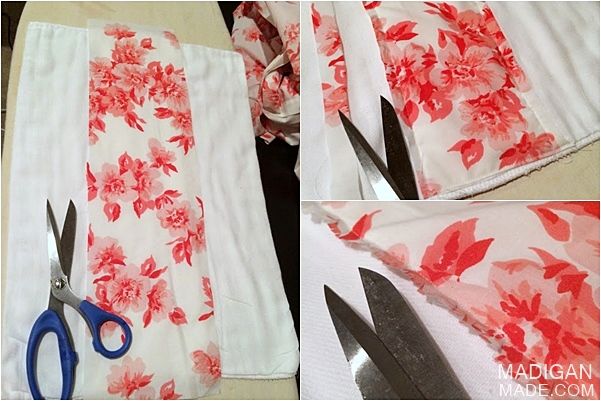 Cut a panel of some cute (prewashed) fabric that will fit down the center of the diaper. (I used two vintage floral printed sheets.) Fold over and iron the short ends of the fabric to fit along the edges of the diaper and sew these ends down. Leaving the unfinished edges out, then sew two lines along the edges down the middle of the diaper. Allow 1/2 to 1 inch of the fabric outside the stitched line. Trim excess fabric from the edges to create about a 1/4 inch seam allowance.  Using scissors, cut the fabric overhang almost to the sewn line to create fringe. Wash the burp cloth at least once prior to use to enhance the fringe-y effect.
(Alternatively, if you don't like fringed edges, just fold over and sew down the panel of fabric for a cleaner look.)
I love how the vintage fabric adds a little charm to something so utilitarian:
THREE: Add stitched lines to the diapers for textured burp cloths.

This approach is super easy, just a little time consuming. Use your sewing machine to sew a bunch of stiches lengthwise down the center of the diaper. Use different colored threads and styles of stitches to create a pretty, quilted texture. Be sure to backstitch at the beginning and end of each line to prevent the threads from coming undone. The beauty of this approach is that you can create your own unique stripe-y pattern. I didn't worry too much about sewing straight, evenly spaced lines… I wanted a more random look. (TIP: Thread your machine with one color thread and run stitch lines over all the burp cloths you are working with… then change thread color and run more lines, etc.)
I love the resulting striped texture of these burp cloths:
All three styles of these burp cloths are getting a regular workout in our house these days with our sweet little girl. You can make your own for personal use… or they'd also make a great baby shower gift for someone you know, too!