Dwell: DIY simple and modern headboard.
When I'm faced with a room décor decision… I have to remind myself that the simplest solutions usually are the best!
With the upcoming arrival of our little girl, this past spring my husband and I knew we needed to shift things around in our upstairs bedrooms. We first turned our old guestroom into our little girl's pink and gray nursery. But the big debate for my husband and me was what to do with the other spare room, my bright and colorful home office:
We asked ourselves: Do we keep the office space? (If you remember, it was originally pegged to be a future nursery until we had infertility issues.) Do we look for a nice sofa with a sofa bed in it? Or do we just convert it to a guest room? At the end of the day, we concluded that we needed a guest room with a real bed in it, but we'd keep my office desk in there to give me a small space to work when needed.
I loved the color scheme (teal, green, orange and white with gold accents) of the room when it was an office. Except for the slipcovered futon couch, I decided to keep most of the décor and furniture from that space. We just added a bed (from the old guestroom) and moved some things around.
To ground the space and give it a focal point, I made a very simple headboard for the bed. Since all of the other furniture in the space was white (my white desk and white painted side table), I wanted the headboard and bedding to be white, too. To tie the headboard into the color scheme, I added some green and gold trim along the edges.
So, when I was six months pregnant, I decided to make my own simple headboard for the room. I considered several different ideas for the design of it (Do I use an old door? make a padded headboard?) but I ended up using just a plain, white piece of wood to serve as a simple headboard. If you can hang a heavy picture on your wall, you can make this headboard! (Though, if you are six months pregnant, I do suggest enlisting a little help to move and hang it!)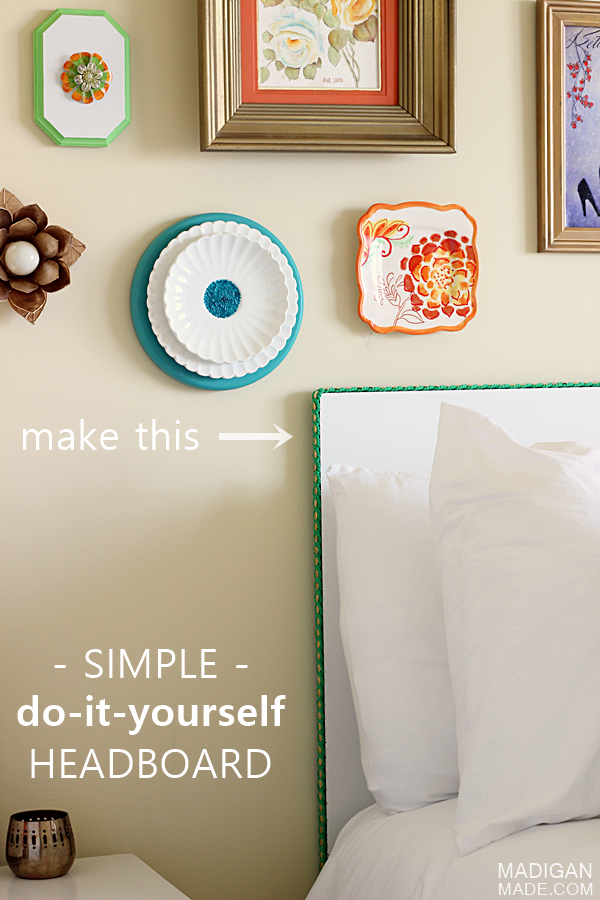 To create this headboard I used a precut panel of melamine shelving (3/4" x 23 3/4" x 4'). It was the perfect size for a headboard for full sized mattress and only cost $14 at Home Depot. Plus, I loved that the melamine surface will be easy to clean and required no painting! The edges just needed a little finishing.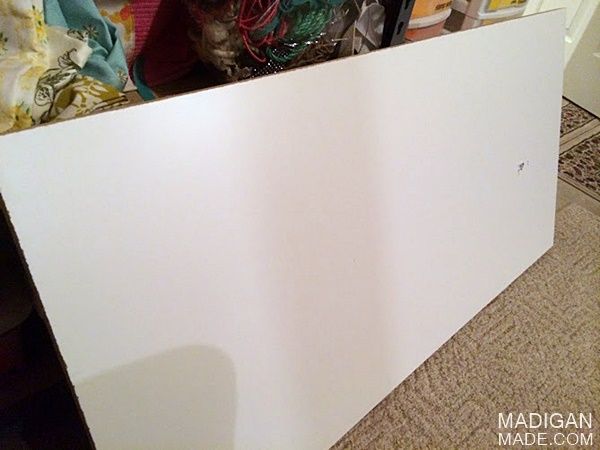 To turn the board into a headboard, I first painted the raw edges of it with kelly green craft paint.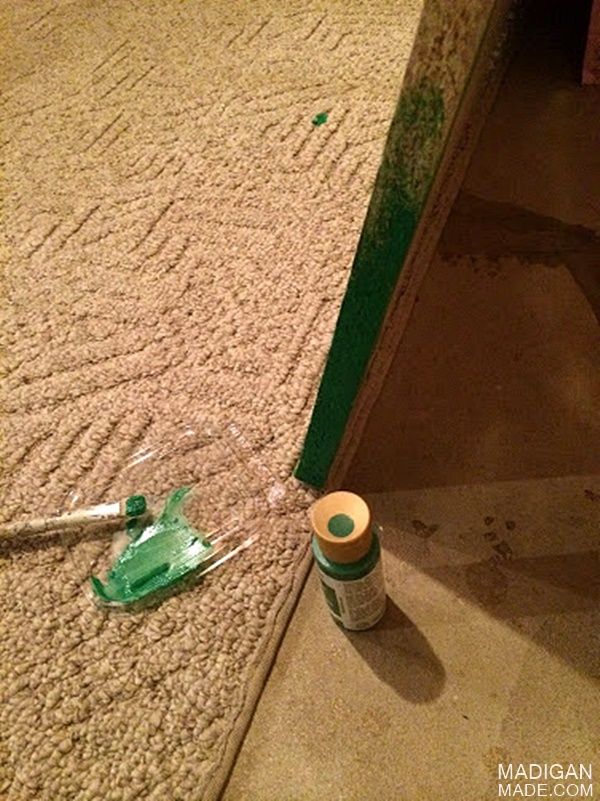 Then, I glued some green braided trim around the perimeter of the board using a combination of hot glue and white craft glue.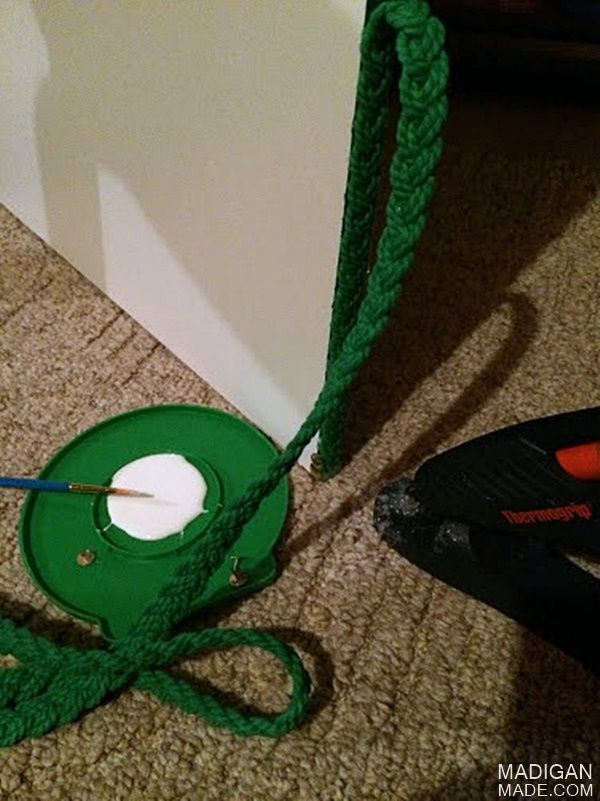 I felt like the headboard needed something else, so I brought in some gold accents by hammering brass thumbtacks through the trim. To help secure the tacks, I dipped the pointed end of each tack in glue before hammering them down.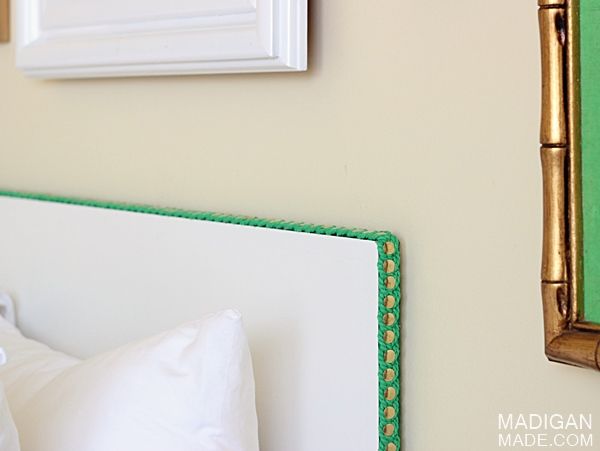 To hang my new headboard on the wall I used two French cleats or picture/mirror hanging kit
. (<—affiliate link) A French cleat is two angled metal strips that interlock and hold the piece up securely. You attach one piece to the picture/mirror you want to hang and the other piece on the wall.  (I made sure to use heavy duty wall anchors when attaching the metal strips to my wall.)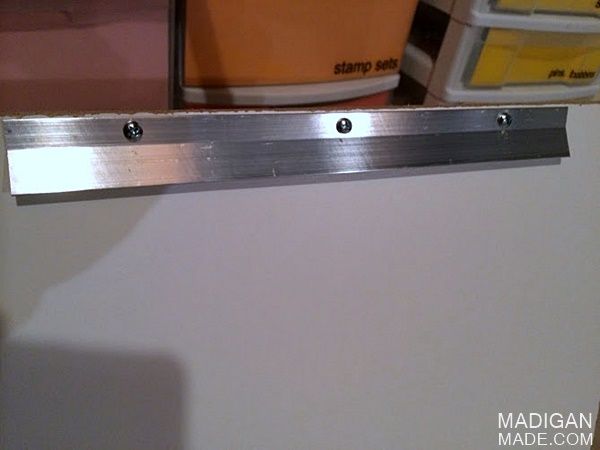 I love the white bedding with the white headboard… it is simple, clean and fresh. All the bed needed was a little bit of color and the colorful DIY pillows I used prior in the office were the perfect addition.
I moved the pictures from the colorful gallery wall art around to surround and frame the headboard.
My white bamboo trimmed desk sits next to the bed. It will be a little place I can work from… plus our guests can use it as a nightstand, too.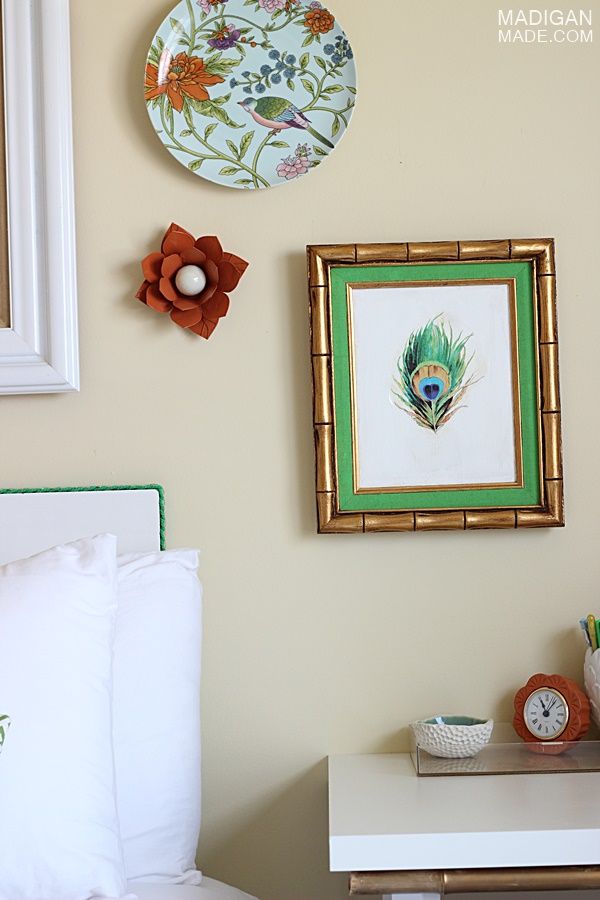 Now this bedroom feels light and bright, just like our office did. And the clean white headboard is the perfect focal point! Simple is always best in my book!