MAKE: easy DIY coasters from tile.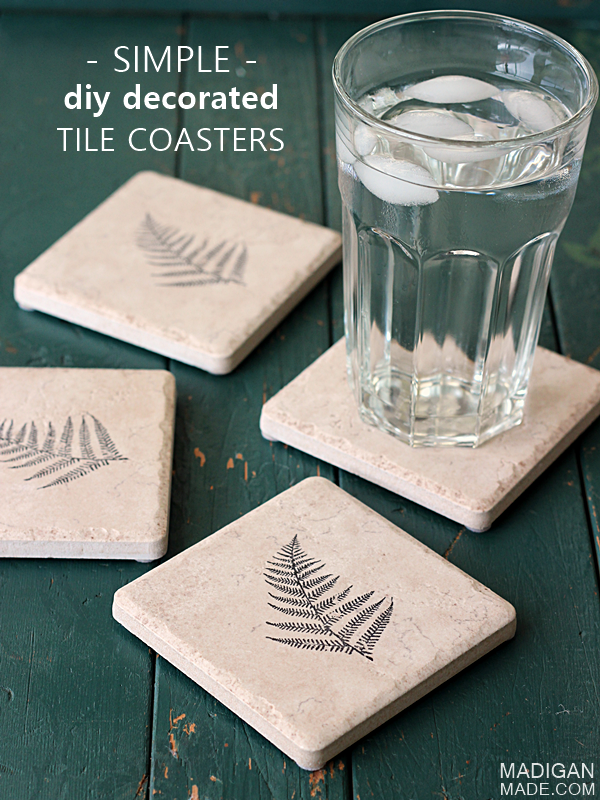 I hate to say it…but the holidays are right around the corner. Can you believe there are only 51 days till Christmas!?
Do you want to give out a few handmade gifts for the holiday but you don't have much time? Or money? I have an easy and inexpensive DIY gift idea that you can make this season!
Over the past 10 years, I've occasionally made these simple tile coasters for friends, colleagues and family. They make great presents for teachers, co-workers, and neighbors. I was cleaning out my craft supplies this summer and found a few leftover sets of the coasters. I wanted to show them to you because I thought y'all would appreciate this simple craft project!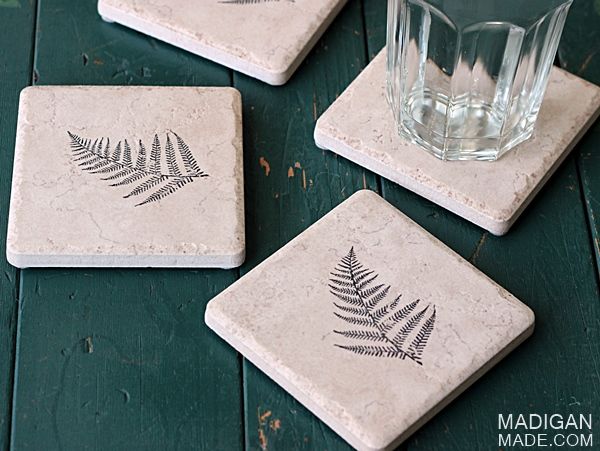 (This post contains affiliate links for your convenience. Please refer to my disclosure statement for details.)
To make these coasters, you start with 4"x4" porcelain tiles. You can find loose tile inexpensively at Lowes or Home Depot. You will also need a pretty stamp. Keep in mind that sometimes the image does not stamp 'cleanly' on tile, so I prefer motifs that will look good faded (like the fern stamp I used
). Finally, you also need  self-adhesive round felt pads
, clear acrylic spray sealer, rubbing alcohol and a multi-surface stamp ink pad. (The type of stamp pad is important. You cannot use a regular craft stamp pad… it needs to work on many surfaces. I prefer to use  StazOn ink pads
.)
First, clean the tile surface with rubbing alcohol and allow it to dry. Then, firmly stamp your image onto each tile. You can use a different image for each coaster or the same for all of your coasters.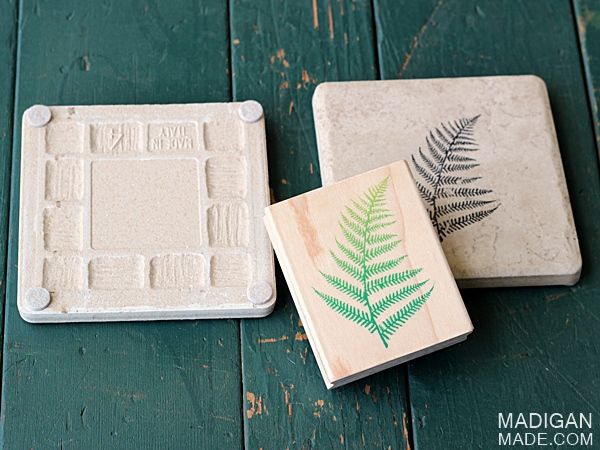 Generally, I've found that the StazOn stamp ink is pretty durable on tile. It is even resistant to liquids. But to help keep the ink from moving at all, I often do bake the tiles after the ink dries. (Place the tiles in the oven and turn the oven on to 300 or 325 degrees and bake for about 30 minutes. Allow the tiles to cool completely in the oven before removing them.) Then, I'll spray a few light coats of a clear acrylic sealer over top, too, to be extra sure that the ink does not come off.
(I think that a waterproof/dishwasher safe decoupage like Dishwasher Safe Mod Podge
would also work well to seal the image on the tile. The manufacturer of StazOn recommends sealing stamped tile with Diamond Glaze
. I've never used it but that product might be another good option.)
Once the image is sealed, place felt pads on the bottom corners of each tile and the coaster are ready to use!
I like to give these coasters out in sets of four. To wrap them, I've placed them in boxes, clear bags or just tied with ribbon. Since 4×4 tile is relatively cheap, each coaster set can cost only a couple of dollars to make!
They are a lovely handmade gift to give someone, don't you think?